Governor Harry Roe Hughes has a Star Named
Modified: July 1, 2023     Author: International Star Registry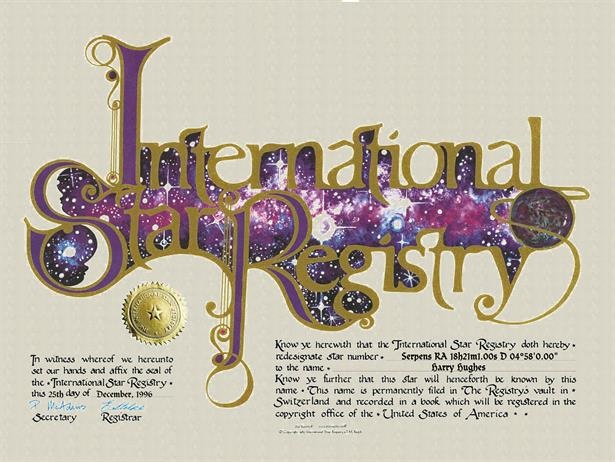 Memorializing Governor Harry Roe Hughes: A Legacy of Leadership and Stellar Achievements 
Harry Roe Hughes, a prominent figure in American politics, left an indelible mark on the state of Maryland during his tenure as the 57th Governor from 1979 to 1987.[1][2] Born on November 13, 1926, Governor Hughes dedicated his life to public service, exhibiting unwavering commitment and exceptional leadership. In 1996 someone bestowed the honor of naming a star after him in the Serpens constellation with International Star Registry. Throughout his career, he spearheaded transformative initiatives, leaving a lasting legacy that continues to inspire and shape Maryland's future. 
Governor Hughes' journey to political prominence began with his humble roots in Denton, Maryland. Fueled by an unwavering desire to effect positive change, he embarked on a career dedicated to public service. After serving in the United States Navy during World War II, Hughes pursued higher education at the University of Maryland, where he earned a Bachelor of Science degree in business administration and a Juris Doctor degree from the School of Law. 
Harry Hughes' political career took flight in 1954 when he was elected to the Maryland House of Delegates. His commitment to public service and tireless advocacy for the citizens of Maryland propelled him to the position of Secretary of Transportation in 1970, under Governor Marvin Mandel. In this role, Hughes demonstrated exceptional leadership and a keen understanding of the state's infrastructure needs, leading to significant advancements in transportation systems and infrastructure projects. 
The crowning achievement of Governor Hughes' political career was his election as Maryland's 57th Governor in 1978. Throughout his two terms in office, he championed progressive policies, focusing on education, the environment, and economic development. Recognizing the importance of education as a cornerstone of progress, Hughes prioritized funding for schools and spearheaded initiatives to enhance the quality of education in Maryland. His dedication to education laid the foundation for a brighter future for generations to come. 
Governor Hughes also demonstrated a deep commitment to environmental conservation. Recognizing the fragility of Maryland's natural resources, he implemented policies to protect the Chesapeake Bay, one of the state's most precious ecological treasures. Under his leadership, significant strides were made in the restoration and preservation of the Bay, ensuring its longevity for future generations to enjoy. 
Beyond his accomplishments in governance, Governor Hughes was also the recipient of a unique and heartfelt gift. As a testament to his remarkable achievements, someone chose to record a star name in his honor through  International Star Registry. The star, named "Harry Hughes," was officially recorded on December 25, 1996, and can be located at coordinates Serpens RA 18h 21m 1.00s D 04° 58′ 0.00″. This extraordinary gesture symbolizes the lasting impact Governor Hughes had on the lives of many and serves as a celestial tribute to his legacy. Others with stars named in the same constellation include, Rush Limbaugh, Ozzy Osbourne, Jennifer Hudson.
Astronomy, the study of celestial bodies and their intricate systems, holds a profound fascination for humanity. The International Star Registry recognizes this fascination and offers an extraordinary opportunity to record a star name, providing individuals with a unique and personalized way to commemorate special occasions or honor the memory of a loved one. With a wide range of star packages available, the International Star Registry offers a truly unforgettable and heartfelt gift that can be cherished for a lifetime. 
Whether it is an anniversary celebration, Christmas gift, or a token of love on Valentine's Day, the act of naming a star through the International Star Registry holds deep sentimental value. It represents a thoughtful and enduring gesture, as well as a testament to the lasting impact of a cherished individual. The International Star Registry understands the significance of these unique memorial gift ideas, and their dedication to offering exceptional and unforgettable experiences has made them the most trusted name in the industry. 
In conclusion, Governor Harry Roe Hughes will forever be remembered as a transformative leader and dedicated public servant who left an indelible mark on the state of Maryland. His tireless efforts in education, environmental conservation, and infrastructure development continue to shape the future of the state. The act of naming a star, such as the one recorded for Governor Hughes through the International Star Registry, serves as a celestial tribute to his enduring legacy. His memory will forever be etched in the hearts and minds of those who had the privilege of witnessing his remarkable contributions to Maryland and the nation. 
References:
"Harry Roe Hughes." Wikipedia. https://en.wikipedia.org/wiki/Harry_Roe_Hughes
"Harry R. Hughes, Governor of Maryland." Maryland State Archives. http://msa.maryland.gov