Black Ultimate
Name a Star Kit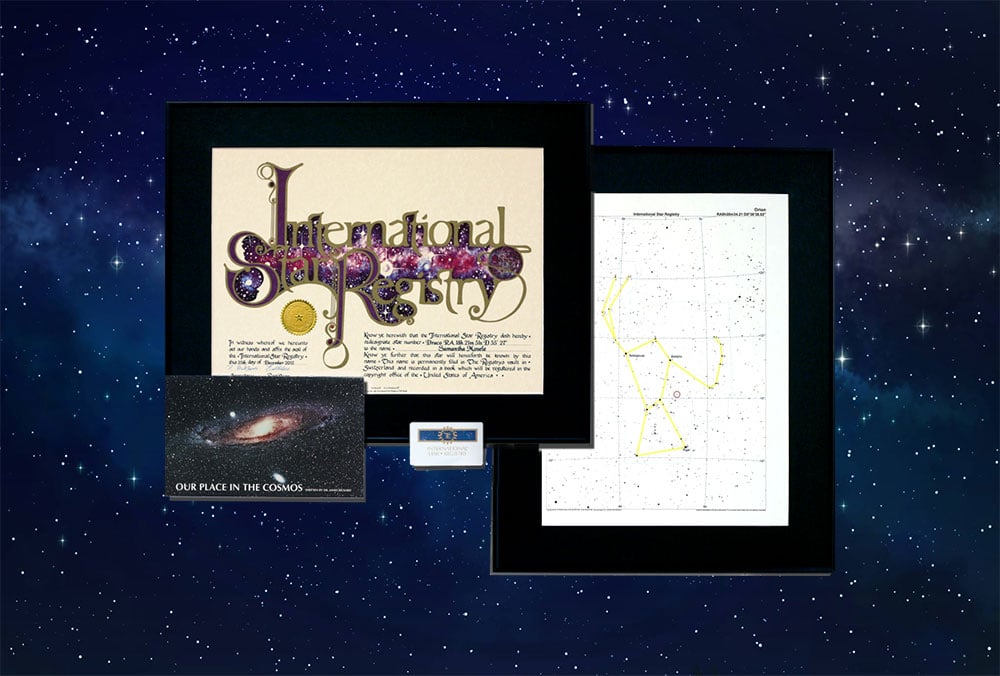 Deliver your gift professionally framed and ready to display! When you buy a star package choose the Ultimate Star Kit, your certificate and your Personalized Star Chart both arrive in 16" x 20" matching gold metallic frames.
Your Black Ultimate Name a Star gift package includes:
Your name a star certificate and your personalized star chart will both arrive professionally framed and ready to display.
The Black Ultimate Star Kit includes 2 sleek black metallic frames. Both your certificate and star chart will be matted with a luxurious black suede matboard.
A booklet on astronomy written by a professional astronomer with additional sky charts.
A letter of congratulations or memorial for the recipient.
A personalized wallet card imprinted with the star name and coordinates.
The new star name will be recorded in the book "Your Place in the Cosmos," which will be registered in the US Copyright Office.
The ultimate occasion deserves the ultimate gift.
From marriage proposals, to 30th birthday gift ideas, to meaningful memorial gifts, naming a star is a tribute that will shine in the heavens forever. There are few unique gifts that are as moving and eternal as naming a star in the sky.