Chelsea Victoria Clinton: A Life of Advocacy and Achievements
Modified: July 1, 2023     Author: International Star Registry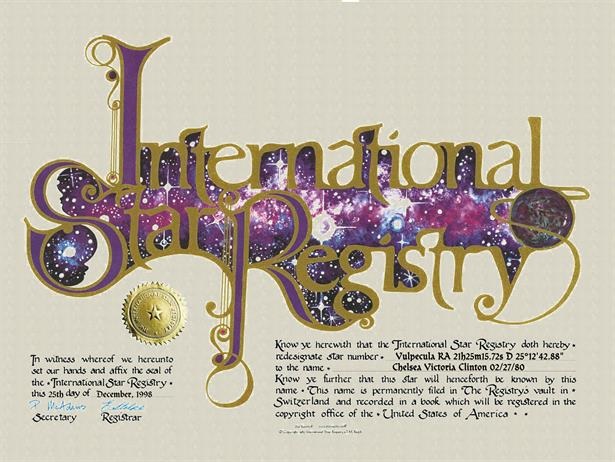 Chelsea Victoria Clinton, born on February 27, 1980, is a remarkable American writer and dedicated global health advocate. As the only child of former U.S. President Bill Clinton and former U.S. Secretary of State Hillary Clinton, Chelsea has carved her own path in the world of advocacy and education. Her journey has been one of commitment to positive change, making her a shining example of using influence for the greater good.  Growing up in the spotlight, Chelsea's early life was spent in Little Rock, Arkansas, during her father's inaugural term as governor. She attended public schools until her family's move to the White House when her father became president, where she transitioned to the private Sidwell Friends School. Her educational journey continued with a bachelor's degree from Stanford University, and she later pursued higher education at the University of Oxford and Columbia University, earning master's degrees. In 2014, Chelsea achieved a Doctor of Philosophy in international relations from the University of Oxford.  Chelsea's commitment to making a positive impact on the world is evident through her work with the Clinton Foundation and Clinton Global Initiative. Her dedication to these organizations led her to a prominent role on their board, allowing her to influence and shape projects that address pressing global issues. Notably, she has focused on promoting health and education initiatives that make a tangible difference in underserved communities around the world. 
One gift marked a significant moment in Chelsea's life – a star named in her honor through International Star Registry. On December 25, 1998, a star in the constellation Vulpecula was dedicated to Chelsea Victoria Clinton, forever commemorating her birthdate of February 27, 1980. The star's coordinates, located at Vulpecula RA 21h 25m 15.72s D 25° 12′ 42.88″, position it as a twinkling beacon in the night sky, a reminder of Chelsea's contributions to the world.  Astronomy enthusiasts will appreciate that Vulpecula, the Little Fox constellation, is a relatively small constellation rich in celestial wonders. It houses a dazzling assortment of stars and deep-sky objects, making it a popular choice for stargazing. The addition of Chelsea's dedicated star adds a touch of personal significance to the constellation, making it a part of her inspiring narrative. 
International Star Registry offers a unique and touching way to celebrate life's special moments. Whether it's a birthday, Mother's Day, graduation, or anniversary, naming a star is a gift that transcends the ordinary. This sentiment is particularly fitting for Chelsea's star, which was named in honor of her birthdate and achievements.  International Star Registry's "name a star" packages allow individuals to create lasting memories through the act of dedicating a star to a loved one, making it a perfect choice for those seeking distinctive and memorable gift ideas.  As Chelsea's life and career have shown, dedication to creating positive change can take many forms. Beyond her advocacy work, she has authored and co-authored bestselling children's non-fiction books and scholarly works for adults, contributing to both educational and policy realms. Her articles and opinion pieces published in major media outlets demonstrate her passion for informing and inspiring others. 
Chelsea's professional journey has included impactful roles at McKinsey & Company, Avenue Capital Group, and New York University. Her dedication to education and the arts is evident through her involvement on several prominent boards, such as the School of American Ballet, Common Sense Media, Weill Cornell Medical College, Expedia Group, and IAC/InterActiveCorp. Her influence extends across a diverse range of fields, showcasing her commitment to making a positive impact from various angles.  In conclusion, Chelsea Victoria Clinton's life is a testament to the power of advocacy, education, and meaningful connections. From her beginnings in the political spotlight to her current role as a global health advocate and writer, Chelsea's impact is undeniable. Her star, carefully named and recorded by International Star Registry, adds a touch of celestial wonder to her already impressive journey, forever lighting up the night sky as a symbol of her accomplishments and dedication. 
References: