Mother's Day Gift Giving: Name a Star for Mom
Modified: October 5, 2023     Author: International Star Registry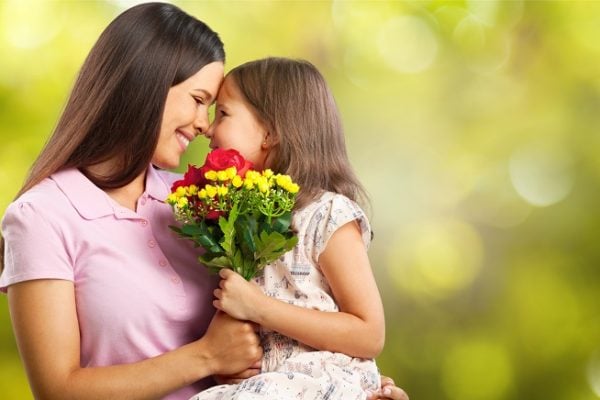 "Motherhood: All love begins and ends there." —Robert Browning  
Who can adore a handful of yellow dandelions, a finger painting, or a popsicle stick picture frame just because it was a gift from you? There are few people in the world who will ever love us like our mother, except perhaps our grandmother. They hold a special place in our hearts, offering unconditional love and support throughout our lives.  Thank your mom this year for raising you, teaching you what it means to be an adult, loving you through your toughest times, and doing those millions of everyday things for you that kids can take for granted. Whether it was carpool and homemade cookies, caring for a scraped knee, or coming home at the end of a long workday, your mom gave it her all.  
Once a year we are reminded to show our appreciation to these important women in our lives – our mothers, grandmothers, aunts, and others who have loved us like a mother. On this joyous day, families come together to celebrate not only their beloved moms but also the other incredible women who hold a motherly place in their hearts. We shower them with heartfelt gifts, Mother's Day bouquets, and acts of kindness, cherishing their presence in our lives. 
This year, give a unique gift that will dazzle her. Name a star for Mother's Day. Whether the special woman you wish to honor is your mom, stepmother, your mother-in-law, your wife, or a special mentor, when you tell mom there is a star that will shine it her name for eternity, it is an honor she will never forget.   Naming a star makes a fantastic surprise. It's an honor most moms would adore but would never arrange for themselves. This special tribute lets her know how much she means to you and how grateful you are for her constant love and care.  
Imagine the look on her face when she receives your gift of a star. She will open her gift box to find the famous International Star Registry gift package. Just like celebrities and royalty who have had stars named after them, she'll receive the same beautiful 12" x 16" parchment certificate personalized just for her. This is the iconic International Star Registry star certificate that has been proudly displayed in movies, on television, and in homes worldwide since 1979.  
She'll also receive a personalized star chart with the new star name and telescopic coordinates. The location of her star will be indicated and circled. The package will also contain a booklet about astronomy written exclusively for International Star Registry customers by a professional astronomer. 
And you can make her gift even more dazzling! International Star Registry offers the option of adding engraved sterling silver jewelry, allowing your mom to keep her star always close to her heart. Her personalized charm will be custom engraved with the name of the star, the star's location, and the year you presented it to her, making it a precious keepsake she'll treasure forever. 
You can also make Mom's life a little easier this Mother's Day.  Don't make her run out to a frame shop and pay for framing. International Star Registry offers beautiful framing options, so your package arrives ready to display. Imagine the joy in your mom's eyes when she opens her framed gift and realizes that a star shines forever in her name. 
For an extra touch of elegance, add the artistic beauty of hand-lettered calligraphy. Our staff artist will inscribe your mother's name on her certificate in a lovely, modified italic script. We also offer an exclusive Photographic Sky Image with the location of the newly named star indicated and circled.    
"When you are a mother, you are never really alone in your thoughts. A mother always has to think twice, once for herself and once for her child."—Sophia Loren 
Like every star in the sky, every mom is unique. Naming a star is a special honor for nearly every interest. Your mother may be an astronomy buff, an astrology aficionado, a sci-fi fanatic, or a romantic dreamer with her head in the stars. You may have a mom who travels the globe, hangs out in the garden, or spends time outdoors every chance she gets. Whatever your mom's interests, when you name a star, she has a gift that will follow her everywhere and always shine over her. 
On this special day, we all want to surprise Mom with a thoughtful gift that symbolizes the depth of our affection. While traditional presents like Mother's Day flowers and cards are wonderful, this year, let Mom know she is your guiding star. Show her that her love and support have been the constant light in your life, just as stars illuminate the darkness of the night sky.  
Naming a star for your mom through the International Star Registry is a unique and unforgettable gift that will immortalize her name among the stars, symbolizing the eternal love you hold for her.  Give mom the most luminous honor in the universe when you name a star for her. It's a gift that tells her she is your bright star this Mother's Day and for eternity. 
"It may be possible to gild pure gold, but who can make his mother more beautiful?" – Mahatma Gandhi  
FAQ
Q. Is naming a star a good Mother's Day gift?
A. Yes, A star shines brighter than any diamond. When you name a star for your mom, you are giving a gift that lasts forever. 
Q. What is the best gift package for my mom?
A. When you name a star with International Star Registry there are a variety of package options to make your gift extraordinary. Select from framing options, fine jewelry or a photographic image of her star's location. We even offer hand calligraphy for an elegant flair. 
Q. Mother's day is right around the corner. Do you offer express shipping?
A. Yes, we offer express shipping on the website. We have artisans on staff so your calligraphy and framing are produced quickly and expertly. Most packages ship within 1 – 2 business days.