Governor Mario Matthew Cuomo has a Star Named
Modified: July 1, 2023     Author: International Star Registry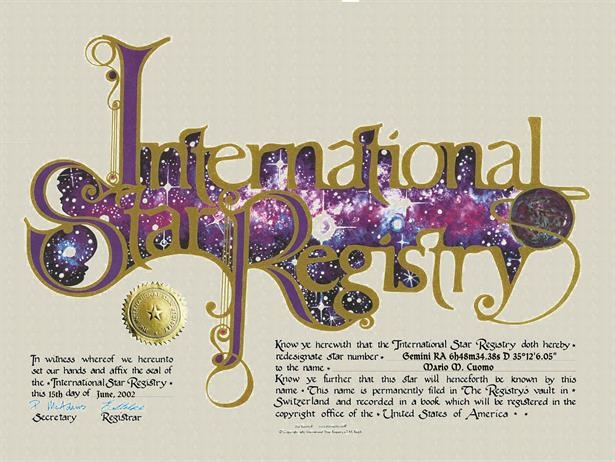 Mario Matthew Cuomo, a prominent American lawyer and politician, left an indelible mark on the state of New York and the Democratic Party. Serving as the 52nd governor of New York for three terms, from 1983 to 1994, Cuomo's political career was characterized by his liberal views, impassioned speeches, and commitment to public service. His remarkable journey and accomplishments continue to be honored, including the record of a star name, Mario M. Cuomo, bestowed upon him as a gift from the International Star Registry on June 15, 2002. 
Born on June 15, 1932, in Queens, New York, Mario Cuomo began his political career after earning a law degree from St. John's University in 1956. Following a successful tenure as a trial lawyer, he ventured into public service, serving as the lieutenant governor of New York from 1979 to 1982 and the secretary of State of New York from 1975 to 1978. Cuomo's political acumen and dedication earned him the opportunity to lead the state he loved, becoming its governor in 1983. 
Throughout his tenure as governor, Mario Cuomo championed progressive causes, firmly establishing himself as a leading figure in the Democratic Party. His most notable address came during the 1984 Democratic National Convention, where he delivered a stirring keynote speech. In his speech, Cuomo eloquently criticized the policies of the Reagan administration, evoking the famous phrase, "Mr. President, you ought to know that this nation is more a 'Tale of Two Cities' than it is just a shining 'city on a hill.'" His words resonated deeply with the American public and solidified his status as a progressive icon. 
Cuomo's refusal to seek the Democratic nomination for president in both 1988 and 1992 earned him the nickname "Hamlet on the Hudson." Although he had the potential to secure the nomination, Cuomo opted to focus on his responsibilities as governor and remain a formidable advocate for the people of New York. Despite his popularity and influence, he faced defeat in his bid for a fourth term as governor in the Republican Revolution of 1994, losing to George Pataki. 
Following his retirement from politics, Mario Cuomo joined the prestigious New York law firm of Willkie Farr & Gallagher, where he continued to contribute his legal expertise. Even after leaving the political arena, his impact on public discourse and policy remained profound. Cuomo's legacy lives on through his sons, Andrew Cuomo, who served as the governor of New York, and Christopher Cuomo, a well-known journalist. 
In commemoration of Governor Mario Matthew Cuomo's life and achievements, a star was named in his honor. On June 15, 2002, the International Star Registry granted the star name "Mario M. Cuomo." Located in the Gemini constellation, its celestial coordinates are Gemini RA 6h 48m 34.38s D 35° 12′ 6.05″. Others with stars named in this constellation include, Pete Wentz, Denzel Whitaker, Jennifer Beals, Richard Hatch, and Adriana Francesca Lima.
The Gemini constellation holds significance in astrology, representing duality and the twins Castor and Pollux. It is believed that individuals born under the Gemini zodiac sign possess adaptable and communicative qualities. 
The International Star Registry offers a unique and meaningful way to celebrate life's special moments, such as weddings, Mother's Day, or as a memorial tribute. By allowing individuals to record a star name for their loved ones, the Registry provides a tangible and lasting connection to the vast beauty of the universe. Naming a star after someone serves as a timeless reminder of their impact and serves as an extraordinary gift. 
For those seeking remembrance gifts for a friend or unique memorial gift ideas, the International Star Registry offers a range of packages to suit different preferences and budgets. These star packages allow individuals to symbolically honor the memory of a loved one while marveling at the brilliance of a named star. It is a remarkable way to pay tribute to someone special and create a lasting legacy. 
In conclusion, Governor Mario Matthew Cuomo's contributions to the political landscape of New York and the Democratic Party are forever etched in history. His liberal ideals, impassioned speeches, and dedication to public service have left an indelible mark. The record of a star name, Mario M. Cuomo, granted by the International Star Registry, serves as a beautiful testament to his enduring legacy. As the star continues to shine in the Gemini constellation, may it remind us all of Governor Cuomo's unwavering commitment to justice, equality, and the pursuit of a better society. 
References: