Adriana Francesca Lima Has a Star Named after Her
Modified: July 1, 2023     Author: International Star Registry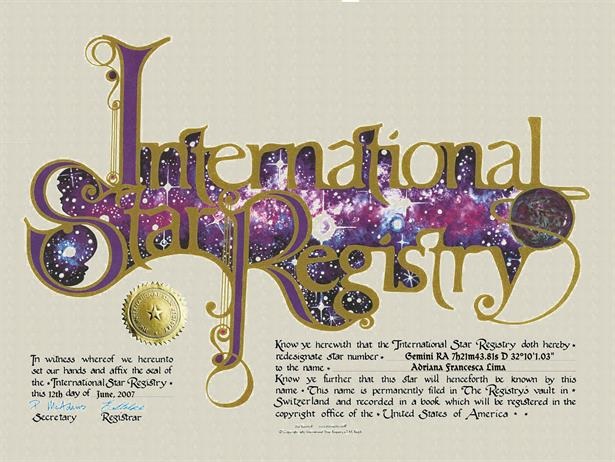 Adriana Francesca Lima, born on June 12, 1981, is a renowned Brazilian model who has left an indelible mark on the fashion industry. With her captivating beauty, flawless figure, and magnetic personality, Lima has captivated the world and achieved remarkable success throughout her illustrious career.  At the young age of 15, Lima's star began to rise when she won Ford's prestigious "Supermodel of Brazil" competition. The following year, she further solidified her talent and potential by securing the second place in the Ford "Supermodel of the World" competition. These accolades caught the attention of Elite Model Management in New York City, leading to a pivotal moment in Lima's life as she signed with them and embarked on her journey to global stardom.  One of Lima's most iconic roles was as a Victoria's Secret Angel, a position she held from 1999 to 2018. With her graceful walk, enchanting smile, and undeniable charm, she became synonymous with the brand's renowned lingerie fashion shows. In fact, Lima's contributions to Victoria's Secret were so significant that she was recognized as the longest-running model in the brand's history. Furthermore, in 2017, she was honored with the title of "the most valuable Victoria's Secret Angel," a testament to her unparalleled impact and influence. 
Lima's influence extends beyond the Victoria's Secret runway. Since 2003, she has been a cherished spokesmodel for Maybelline cosmetics, captivating audiences with her radiant beauty and inspiring confidence. Her appearances in Super Bowl and Kia Motors commercials have further solidified her status as an international icon and a face that transcends boundaries.  Recognized as one of the "New Supers" by models.com, Lima's star continues to shine brightly in the fashion world. Her incredible talent, combined with her professionalism and dedication, has made her one of the most sought-after models in the industry. Since 2014, she has consistently ranked as the world's second highest-paid model, amassing an impressive fortune through her hard work and commitment. In 2012, she secured the 4th position on Forbes' top-earning models list, with an estimated earning of $7.3 million in a single year. Lima's financial success only grew from there, as she claimed the 3rd position in 2013, the 2nd position in both 2014 and 2015, and maintained her position in second place with earnings of $10.5 million in 2016.  Lima's influence goes beyond the realm of fashion. She has served as a brand ambassador for numerous renowned companies, including the Barcelona-based clothing brand Desigual, the Italian brand Calzedonia's Beachwear collection, and the ready-to-wear collection of Sportmax. Currently, Lima acts as an ambassador for esteemed brands such as IWC, Puma, Maybelline, and Chopard. Her collaborations with these iconic brands further solidify her status as a style and fashion icon. 
In an extraordinary tribute to Lima's remarkable achievements, someone decided to record a star name for her as a gift from the International Star Registry. On June 12, 2007, a star in the Gemini constellation was officially named "Adriana Francesca Lima." This star, located at Gemini RA 7h 21m 43.81s D 32° 10′ 1.03″, shines brightly as a symbol of Lima's radiant presence and undeniable impact on the world.  The Gemini constellation, where Adriana Francesca Lima's named star resides, holds its own special significance. Represented by the mythological twins Castor and Pollux, the Gemini constellation is associated with duality, intellect, and communication. These traits reflect Lima's multifaceted career and her ability to connect with audiences worldwide. The Gemini constellation's celestial beauty is now forever intertwined with the luminosity of Adriana Francesca Lima's stardom.  Astrology enthusiasts are fascinated by the cosmos and the influence it may have on our lives. Although the scientific community does not endorse astrology as a definitive predictive tool, many people find personal meaning and guidance in its interpretations. Astrology revolves around the belief that celestial bodies, including stars and constellations, influence human behavior, relationships, and personality traits. With her radiant energy and magnetic charm, Adriana Francesca Lima aligns with the characteristics often associated with the Gemini zodiac sign, including adaptability, versatility, and a gift for communication. 
The International Star Registry's unique gift of recording a star name holds a special place among the remarkable experiences and accolades in Lima's life. Offering individuals the opportunity to buy a star package and name a star after their loved ones, International Star Registry allows for everlasting and meaningful connections to the celestial world. Whether as a holiday gift, a gesture of love on Valentine's Day, or a tribute to the unconditional love of a mother on Mother's Day, the act of naming a star symbolizes a bond that transcends time and distance.  In conclusion, Adriana Francesca Lima's life and career are a testament to the power of beauty, talent, and perseverance. From her early victories in modeling competitions to her groundbreaking role as a Victoria's Secret Angel, Lima has solidified her place as a global fashion icon. Her undeniable charm, professionalism, and dedication have made her one of the highest-paid models in the world. As an ambassador for esteemed brands and a beloved face in the fashion industry, Lima continues to inspire and captivate audiences worldwide. The honor of having a star named after her by the International Star Registry adds a celestial dimension to Lima's extraordinary legacy, forever immortalizing her luminous presence in the heavens above. 
References: