Governor John Bowden Connally has a Star Named
Modified: July 1, 2023     Author: International Star Registry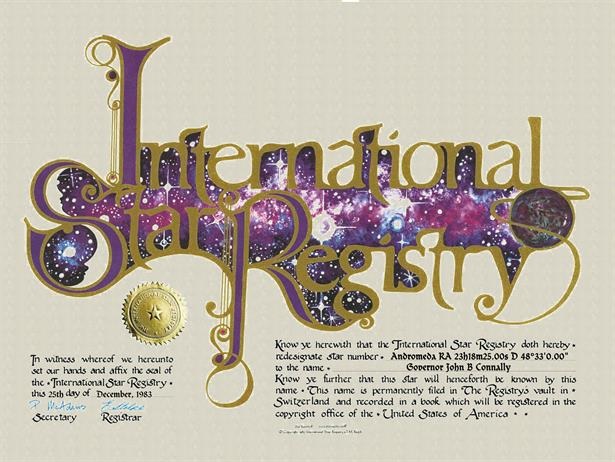 Memorializing Governor John Bowden Connally: A Legacy of Leadership and Accomplishments 
John Bowden Connally Jr., a remarkable American politician, left an indelible mark on Texas and the United States during his distinguished career. As the 39th governor of Texas and the 61st United States Secretary of the Treasury, Connally's contributions to public service and his transition from the Democratic to the Republican Party have solidified his place in history. Just like the star on the Texas flag, he has a star named after him in the Andromeda constellation through International Star Registry.
Born on February 27, 1917, in Floresville, Texas, John Connally embarked on a legal career after graduating from the prestigious University of Texas at Austin. However, his journey took a different turn with the outbreak of World War II. He joined the staff of James Forrestal and Dwight D. Eisenhower, working diligently to support the war effort. Connally later transferred to the Asiatic-Pacific Theater, displaying his dedication to serving his country. 
After the war, Connally became an aide to Senator Lyndon B. Johnson, forging a partnership that would shape his political trajectory. In 1961, when Johnson assumed the vice presidency, he used his influence to secure Connally's appointment as the United States Secretary of the Navy. However, destiny had other plans for Connally, and he left the Kennedy Administration in December 1961 to pursue the governorship of Texas. 
Connally's tenure as Governor of Texas from 1963 to 1969 was defined by his conservative Democratic values. Unfortunately, it was also marked by a tragic event that would forever be etched in American history. On that fateful day in 1963, Connally was riding in the presidential limousine with President John F. Kennedy when the nation was shattered by an assassin's bullet. Although he was seriously wounded, Connally displayed resilience and determination throughout his recovery. 
In 1971, President Richard Nixon, a Republican, recognized Connally's exceptional abilities and appointed him as the United States Secretary of the Treasury. It was during his time in this influential position that Connally oversaw the significant decision to remove the U.S. dollar from the gold standard, an event commonly referred to as the Nixon shock. Connally's leadership and expertise played a pivotal role in navigating the complexities of the American economy during a time of transformation. 
Stepping down from the Cabinet in 1972, Connally took on a new role as the head of Democrats for Nixon, a prominent organization that campaigned for Nixon's re-election. Although he was considered a potential replacement for Vice President Spiro Agnew after his resignation in 1973, President Nixon ultimately chose Gerald Ford. Connally's political aspirations did not wane, as he sought the Republican nomination for president in the 1980 election. However, he withdrew from the race after the initial set of primaries, leaving a lasting impact on the political landscape. 
Governor John Bowden Connally's incredible journey and his invaluable contributions to the state of Texas and the United States of America are deserving of recognition and remembrance. It is in this spirit of honoring his legacy that someone chose to record a star name as a unique gift from the International Star Registry. 
The star name, "Governor John B Connally," serves as a celestial tribute to a leader who inspired generations through his unwavering commitment to public service. The star was officially recorded on December 25, 1983, and can be found in the constellation Andromeda, situated at the coordinates Andromeda RA 23h 18m 25.00s D 48° 33′ 0.00″.  He joins the famous ranks with others, such as Hilary Duff, Christopher Plummer, June Lockhart, Loretta Lynn, Katy Perry, and Whitney Houston.
Andromeda, named after the mythological princess, is one of the most recognizable constellations in the night sky, captivating stargazers with its ethereal beauty. 
The International Star Registry offers a remarkable opportunity to commemorate special occasions and celebrate the lives of loved ones. By naming a star, one can create a lasting memory that transcends time and space. Whether it is for a wedding, graduation, or memorial, the act of naming a star encapsulates the emotions and significance attached to these milestone moments. It serves as a reminder of the cherished memories and the profound impact that individuals like Governor John Bowden Connally have had on our lives. 
For those seeking remembrance gifts for a friend or sympathy gifts, the International Star Registry provides a heartfelt and meaningful option. It allows individuals to express their love, admiration, and condolences through the symbolic act of naming a star. The star's eternal presence in the night sky becomes a testament to the enduring legacy of those we hold dear. 
In conclusion, Governor John Bowden Connally's life and career were marked by a commitment to service and a dedication to making a difference. From his early days in Texas to his influential roles in the Kennedy and Nixon administrations, Connally's impact on American politics was profound. By recording a star name in his honor, we pay tribute to his remarkable achievements and ensure that his legacy continues to shine brightly for generations to come. 
References: