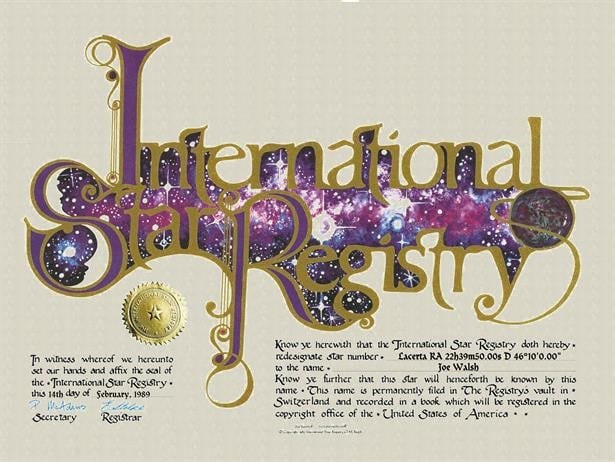 We have the distinct pleasure of celebrating the 76th birthday of a musical legend, Joe Walsh. Renowned for his exceptional guitar skills and contributions to rock music, Joe Walsh has not only left an indelible mark on the music world but also in the heavens above. Through International Star Registry, he has a star named after him, making for an extraordinary 76th birthday gift idea. In this blog post, discuss Joe Walsh's remarkable career and explore how you can buy a star as a heartfelt tribute to a loved one.
A Star-Studded Tribute
Joe Walsh's illustrious career spans decades, and his musical journey has been nothing short of extraordinary. On this special occasion, we not only celebrate his remarkable contributions to music but also honor the celestial tribute he received through International Star Registry.
Career Highlights
The Eagles: Joe Walsh is perhaps best known for his role as a guitarist and vocalist in the iconic rock band, The Eagles. He joined the band in 1975 and played a pivotal role in shaping their sound. His distinctive guitar solos and songwriting contributions helped propel The Eagles to legendary status, with hits like "Hotel California" and "Life in the Fast Lane."

Solo Career: Before and after his time with The Eagles, Joe Walsh enjoyed a successful solo career. His solo albums, including "But Seriously, Folks…" and "The Smoker You Drink, the Player You Get," produced timeless classics like "Rocky Mountain Way" and "Life's Been Good."

James Gang: Joe Walsh's journey in the music industry began with the James Gang. As their guitarist and vocalist, he helped define their sound and gained recognition for his exceptional guitar skills.

The Ringo Starr All-Starr Band: Joe Walsh's versatility as a musician led him to collaborate with other legendary artists. He became a member of the Ringo Starr All-Starr Band, showcasing his talents alongside fellow music icons.
How to Buy a Star
Now, let's explore how you can buy a star, inspired by Joe Walsh's celestial tribute, as a unique 76th birthday gift idea:
Visit Starregistry.com: International Star Registry is known for its dedication to naming stars for special occasions since 1979.

Pick the Perfect Constellation: Browse the catalog to find a constellation that resonates with the person you're honoring. 

Personalize the Package: Star Registry offers customizable packages that include a star certificate, star map, and additional commemorative items. Personalize the certificate with the recipient's name and dedication date.

Receive the Star Kit: Once your order is confirmed, you'll receive a star kit containing all the documents and materials associated with the chosen star.
Conclusion
As Joe Walsh celebrates his 76th birthday, we not only pay tribute to his extraordinary career but also to the star that bears his name through International Star Registry. This unique gift idea serves as a reminder of the enduring connection between music and the cosmos. Joe Walsh's star will continue to shine brightly in the night sky, much like his legacy in the world of rock and roll. So, if you're looking for a heartfelt 76th birthday gift idea for a loved one, consider buying a star and giving them a piece of the universe to cherish forever. Happy birthday, Joe Walsh, and thank you for the timeless gift of your music!