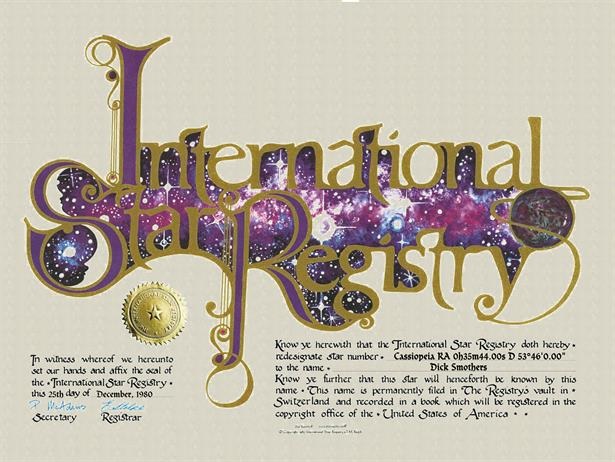 As we approach November 20, 2023, we have the privilege of celebrating the 84th birthday of a true entertainment legend, Dick Smothers. Not only is this day special because it marks another year in the life of this iconic comedian, actor, and musician, but it's also a perfect opportunity to marvel at the stars—literally. Dick Smothers has a star named after him through International Star Registry, and in this blog post, we'll explore both his remarkable career and how to buy a star in honor of a loved one.
A Star-Studded Tribute
Dick Smothers' contributions to the world of entertainment have spanned decades and have been nothing short of extraordinary. His wit, charm, and comedic genius have endeared him to audiences around the world. And now, he's forever immortalized in the night sky, thanks to the International Star Registry.
Career Highlights
The Smothers Brothers: Dick Smothers is perhaps best known for his collaboration with his brother, Tom Smothers. Together, they formed "The Smothers Brothers," a comedy duo that made waves in the 1960s and 1970s. Their blend of humor, music, and satire made them household names. Their television show, "The Smothers Brothers Comedy Hour," pushed boundaries and challenged societal norms during a time of great change in America.

Stand-Up Comedy: Before and after "The Smothers Brothers Comedy Hour," Dick Smothers made his mark in stand-up comedy. His quick wit and unique comedic style resonated with audiences, and his performances were a hit in venues across the country.

Music: Dick is not just a comedian but also a talented musician. He played a significant role in The Smothers Brothers' musical performances, showcasing his skills on the guitar and as a vocalist. The combination of humor and music was a winning formula for their act.

Acting: Dick Smothers also pursued an acting career beyond his comedic endeavors. He appeared in various television shows and films, including appearances on "The New Dick Van Dyke Show" and "Diagnosis: Murder."
How to Buy a Star
Now, let's shift our focus to the celestial tribute that Dick Smothers has received—an honor that anyone can bestow upon a loved one or cherished individual through International Star Registry. Here's a brief guide on how to buy a star:
Start by visiting starregistry.com.  International Star Registry is "the star naming company" and has been dedicated to naming stars for special occasions since 1979.

Select Your Constellation: Explore the constellations and choose one that you feel is a perfect fit for the person you're honoring.

Customize Your Package:  You can personalize the certificate with the name of the recipient and a special message.

Complete the Naming: Provide the necessary information, including the name of the star recipient and the special date of dedication, to complete the process.

Receive Your Star Kit: Once your order is confirmed, you'll receive a star kit that includes all the documents and materials associated with the star you've named.
Conclusion
On Dick Smothers' 84th birthday, we celebrate not only his incredible career but also the everlasting tribute he has received—a star named in his honor through International Star Registry. This serves as a reminder that anyone can give the gift of a star to a loved one, creating a timeless connection to the cosmos. Dick Smothers' star will continue to shine brightly in the night sky, just as his legacy continues to illuminate the world of entertainment. Happy birthday, Dick Smothers, and thank you for a lifetime of laughter and inspiration!