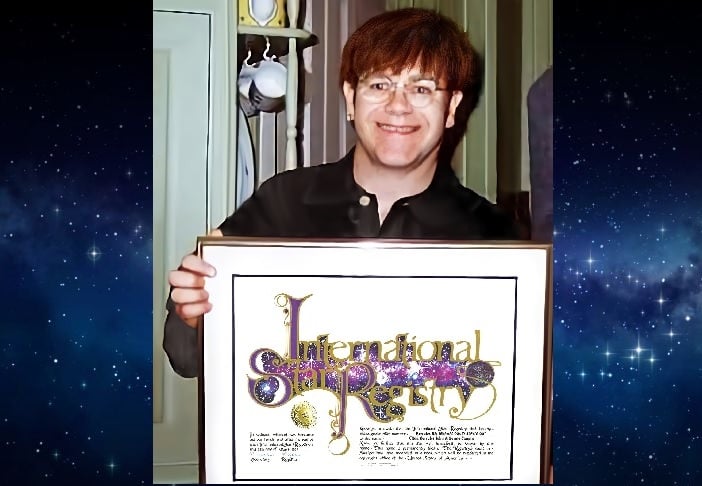 A 50th Birthday gift should be extraordinary and unforgettable.
Elton John has SEVERAL stars named for him!
What do you give one of the Brightest stars in Rock and Roll History?  On March 24, 1997 "Rocket Man" Elton John received a star in his name for his 50th Birthday called "Elton Hercules John & Bernie Taupin" which is shown here in this picture. 
The first star named for Elton John was given as a Christmas Gift. It is located in the constellation Lacerta. Lacerta, the Lizard, is a beautiful constellation in the northern sky and truly a hidden gem. Because it is less famous, it is home to many of the brightest stars left for naming. It is viewable year-round. If you name a star in Lacerta, we can choose a location near the star named for Elton John.
The second star named for him is the star package pictured here. This special 50th birthday gift is located in the constellation Hercules. This is a wonderfully appropriate choice because it is Sir Elton's middle name. The constellation Hercules, named for the mythical demi-god, shines in the northern hemisphere between the constellations Lyra, the harp, and Corona Borealis, the northern crown.
Elton John was knighted by Queen Elizabeth II on February 24, 1998 and the most recent star named for him in 1999 includes his title. It is called "Sir Elton John" and is in the constellation Cepheus, the king of all the constellations. This constellation is part of the celestial royal family and stands atop the Milky Way at the head of the northern circumpolar region of the sky. It can easily be found all year round from throughout the northern hemisphere.
Elton Hercules John & Bernie Taupin – Hercules RA 18h 3m 55.00s D 40° 4′ 0.00″
Elton John – Lacerta RA 22h 1m 57.00s D 40° 39′ 0.00″
Sir Elton John – Cepheus RA 21h 21m 52.58s D 60° 50′ 7.96″
Buy a star package to name a star for the superstar in your life!
#eltonjohn #rocketman #50thbirthday #birthday #sireltonjohn #nameastar #buyastar #starregistry #internationalstarregistry #holidaygifts #celebrity #christmasgift