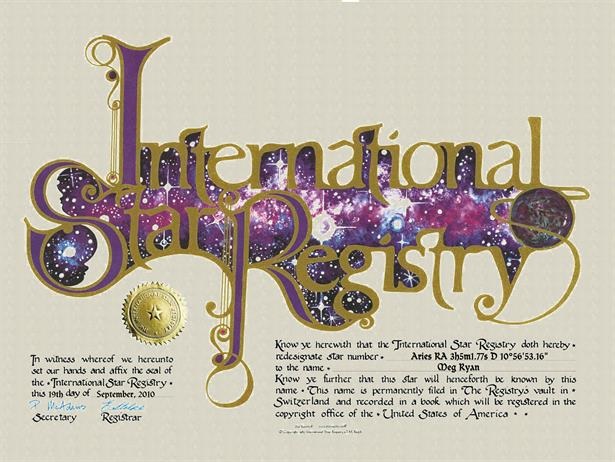 Honoring Meg Ryan on Her Birthday
On November 19, we have the privilege of celebrating the birthday of one of Hollywood's most beloved actresses, Meg Ryan. Known for her captivating performances and timeless charm, Meg has left an indelible mark on the world of entertainment. As we commemorate this special day, let's take a closer look at her remarkable career and a unique way someone chose to honor someone special: naming a star after them.
Meg Ryan's Stellar Career
Meg Ryan's journey in the world of film began in the 1980s, and it didn't take long for her to become a household name. Her effervescent smile and relatable characters made her a favorite among audiences. Some of her most iconic roles include "When Harry Met Sally," "Sleepless in Seattle," and "You've Got Mail." These films, among many others, have solidified her status as a romantic comedy queen and earned her a place in the hearts of movie lovers worldwide.
Name a Star After Someone Special
While Meg Ryan's career has shone brightly on the silver screen, there's another way to celebrate someone's luminance: by naming a star after them. International Star Registry offers a unique opportunity to commemorate loved ones or honor favorite celebrities by naming a star in their honor. Here are some reasons why this celestial gift is perfect for all occasions:
Eternal Symbolism: Stars have been symbols of hope, guidance, and eternal love throughout history. By naming a star after someone, you're creating a lasting tribute that will shine in the night sky for generations to come.

Personalized Gift: International Star Registry allows you to personalize the star's name, pick a constellation, and even include a heartfelt message. This level of customization ensures that the gift is truly one-of-a-kind.

Versatile Occasion: Whether it's a birthday, anniversary, wedding, graduation, or a simple gesture of love and appreciation, naming a star is a versatile and meaningful gift choice.
 How to Name a Star After Someone
If you're inspired to name a star after someone special, here's a simple guide to get started:
Visit International Star Registry's website and explore their star-naming packages.

Choose a package that aligns with your budget and preferences. These packages often include a certificate of record, a star chart, and detailed information about the star's coordinates.

Personalize the star's name, pick a constellation, and add a heartfelt message to make it uniquely yours.

Complete the purchase, and your star's name will be officially recorded in International Star Registry's published catalogue.

Receive the star-naming certificate and other materials, which can be presented as a beautiful, thoughtful gift.
On this special day, we extend our warmest birthday wishes to Meg Ryan, a true Hollywood legend. Her talent and charisma have brightened our screens for decades, and now, her name shines among the stars. Naming a star after someone is a beautiful and symbolic gesture that adds a touch of celestial magic to any occasion. Whether you're celebrating a birthday, an anniversary, or simply want to express your love and admiration, this unique gift allows you to reach for the stars, quite literally, and create a lasting memory that will illuminate the night sky forever. Happy Birthday, Meg Ryan, and may your star continue to twinkle with the same enchantment that you've brought to our lives!