There Is a Star Named for Jimmy Carter
Modified: July 1, 2023     Author: International Star Registry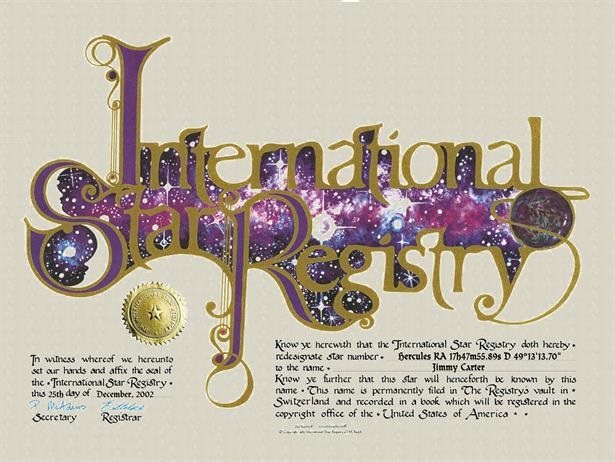 James Earl Carter Jr., better known as Jimmy Carter, was born on October 1, 1924, in Plains, Georgia. His journey from a humble background to becoming the 39th President of the United States is an inspiring tale of dedication, service, and leadership. Carter's career was marked by his commitment to civil rights, foreign policy achievements, and numerous accomplishments in both his political and post-presidential life. 
Carter's early years were shaped by his military service and family business. After graduating from the U.S. Naval Academy in 1946, he served in the U.S. Navy's submarine service. Later, he returned home to Georgia, where he managed and revived his family's peanut-growing business. It was during this time that he actively supported the civil rights movement, standing against racial segregation and becoming an influential figure within the Democratic Party. 
In 1963, Carter began his political career by serving in the Georgia State Senate until 1967. His successful tenure as a senator led him to become the 76th Governor of Georgia, serving from 1971 to 1975. Despite not being widely known outside Georgia, Carter surprised the nation when he secured the Democratic nomination and went on to win the 1976 U.S. presidential election, narrowly defeating the incumbent Republican President Gerald Ford. 
During his presidency, Carter implemented several notable policies and initiatives. He pardoned all Vietnam War draft evaders, aiming to heal the wounds of the divisive war. Concerned about the country's energy future, Carter devised a comprehensive national energy policy that emphasized conservation, price control, and the development of new technologies.  One of Carter's most significant foreign policy achievements was the successful negotiation of the Camp David Accords in 1978. This historic agreement brought about peace between Israel and Egypt and established a framework for resolving conflicts in the Middle East. He also brokered the Panama Canal Treaties and pursued the second round of Strategic Arms Limitation Talks, demonstrating his commitment to global diplomacy and disarmament. 
Carter's presidency was not without challenges. The nation faced stagflation, a combination of high inflation and stagnant economic growth. Additionally, his tenure was marked by the 1979–1981 Iran hostage crisis, the 1979 energy crisis, the Three Mile Island accident, the Nicaraguan Revolution, and the Soviet invasion of Afghanistan. In response to the Soviet invasion, Carter took a tough stance against the Soviets, escalating the Cold War and leading the international boycott of the 1980 Summer Olympics in Moscow. 
Despite his accomplishments, Carter faced strong opposition during the 1980 presidential election, ultimately losing to Republican nominee Ronald Reagan in a landslide. However, Carter's impact did not end with his presidency. 
After leaving the White House, Carter continued his dedication to public service. He founded the Carter Center, a non-profit organization committed to promoting human rights, advancing peace, and eradicating infectious diseases. Carter's efforts in international diplomacy and election monitoring earned him the Nobel Peace Prize in 2002.  Beyond his involvement in the Carter Center, he actively participated in Habitat for Humanity, a non-profit housing organization that aimed to provide affordable homes for those in need. Carter's commitment to philanthropy, diplomacy, and humanitarian efforts has solidified his legacy as a post-presidential trailblazer. 
Now, let's turn our gaze to the stars. In an extraordinary gesture of admiration, someone named a star after Jimmy Carter through the International Star Registry. The star's name is "James E Carter," and it was officially recorded on December 25, 1998, in the constellation Draco, specifically at the coordinates RA 19h 16m 15.08s D 70° 6′ 33.82″. Draco is a prominent northern constellation known for its winding shape, resembling a dragon in mythology. In astronomy, Draco holds various notable celestial objects, including several binary stars and exoplanets. 
For astrology enthusiasts, naming a star in honor of a beloved figure like Jimmy Carter can hold profound meaning and symbolism. It serves as a timeless tribute that allows individuals to connect their admiration for the former president with the vast and awe-inspiring cosmos. 
The International Star Registry offers a unique opportunity to record a star name, allowing anyone to immortalize their affection for someone special or mark significant occasions. With the "buy a star package," individuals can choose a star in the night sky and have it officially recorded, accompanied by a certificate of authenticity. 
In conclusion, Jimmy Carter's life and career exemplify the values of public service and dedication to making the world a better place. His accomplishments as a statesman, diplomat, and humanitarian have left a lasting impact on both the nation and the international community. Similarly, the International Star Registry presents a remarkable and unique gift idea for various occasions. Whether it's a birthday, Mother's Day, or Father's Day, naming a star can be a thoughtful and enduring way to celebrate and honor loved ones. 
Other stars named for Jimmy Carter:
James E Carter    
Draco RA 19h 16m 15.08s D 70° 6′ 33.82″  
December 25, 1998 
Jimmy Carter  
Hercules RA 17h 47m 55.89s D 49° 13′ 13.70″  
December 25, 2002 
FAQ
Q. Where are the stars named for President Carter? 
A. Jimmy Carter has 2 stars named for him. The star named James E Carter is located in the constellation Draco, which is viewable year-round in the northern sky.
The star named Jimmy Carter is located in Hercules, the hero and is best viewed in June. 
Q. Can I name a star near President Carter's star?   
A. Yes, when you buy a star package to name a star you may select any of the 88 constellations. You will see a dropdown menu on the order page.
Q. How long will these stars keep their names?  
A. When you name a star, it is named forever! President Carter's stars are permanently published in "Your Place in the Cosmos, Volume V" (1999) and "Your Place in the Cosmos, Volume VII" (2004). These exclusive star catalogs are registered in the US Copyright Office.
References: