Governor Julian M. Carroll: A Named Star in Hercules | International Star Registry
Modified: July 1, 2023     Author: International Star Registry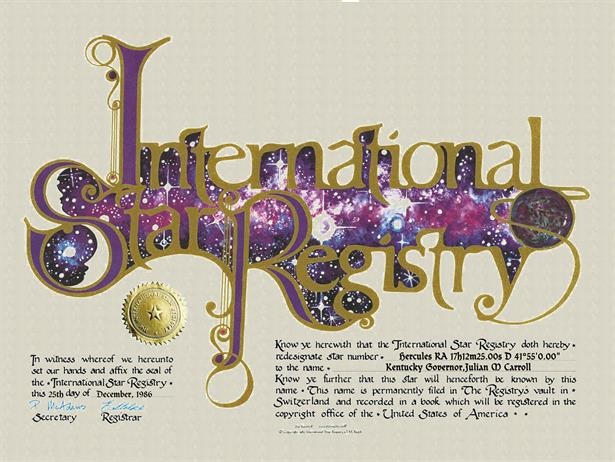 Julian Morton Carroll was the 54th Governor of Kentucky, serving from 1974 to 1979. Born on April 16, 1931, in Paducah, Kentucky, he graduated from the University of Kentucky with a degree in journalism. Carroll went on to serve in the Kentucky House of Representatives and the Kentucky State Senate before becoming the Lieutenant Governor of Kentucky in 1971. He assumed the governorship in 1974 when his predecessor, Wendell H. Ford, resigned to become a U.S. Senator. 
During his tenure as Governor, Carroll focused on improving education and healthcare in Kentucky. He expanded Medicaid coverage, increased funding for schools, and signed legislation that required school buses to have seat belts. He also championed economic development, attracting new industries to the state and creating jobs. 
Carroll was a popular Governor, known for his folksy charm and dedication to the people of Kentucky. He was honored in 1986 when someone named a star after him as a gift from the International Star Registry. The star was given the name "Kentucky Governor, Julian M Carroll" and recorded on December 25, 1986, in the constellation Hercules at coordinates RA 17h 12m 25.00s D 41° 55′ 0.00″. 
Hercules is a constellation in the northern hemisphere, located between the constellations of Lyra and Ophiuchus. According to Greek mythology, Hercules was a hero known for his strength and courage. The constellation represents the hero holding a club and the skin of the Nemean lion, which he defeated as one of his twelve labors. In astrology, the constellation is associated with strength, bravery, and determination. 
The International Star Registry is a company that allows people to name and record stars. Founded in 1979, it has become a popular way for people to commemorate special occasions, such as birthdays, anniversaries, and graduations. The process is simple: customers choose a star name, and the International Star Registry records it in their official listing. Customers can also purchase a "buy a star package," which includes a certificate and other commemorative items. 
Naming a star after someone is a unique and thoughtful gift that can be used for any gifting occasion. It is a way to show someone how much they mean to you and to commemorate a special moment in their life. The International Star Registry offers a wide range of options, from basic star name packages to more elaborate gift sets. Customers can choose from a variety of constellations, including popular ones like Orion and Cassiopeia, or lesser-known ones like Triangulum and Crux. 
In conclusion, Julian Morton Carroll was a beloved Governor of Kentucky who dedicated his career to improving the lives of his fellow citizens. His legacy lives on through the star named after him, which serves as a reminder of his strength, courage, and dedication. The International Star Registry is a unique and meaningful way to commemorate special occasions and honor the people we love. Whether it's for a birthday, anniversary, or graduation, naming a star is a gift that will be cherished for years to come. 
References: 
FAQ
Q. What can I name my star?
A. When it comes to naming your star, the possibilities are endless. You can choose any name that you want for your star, making it a special and unique gift for any occasion. Whether you want to name a star after a loved one, commemorate a special event, or honor a special memory, International Star Registry is the perfect place to create a lasting and meaningful gift.
Q. Where is Governor Carroll's star located?
A. Governor Carroll's star is in the Hercules constellation. Hercules is the most visible from the Northern hemisphere.