Tara Reid: A Shining Star in Hollywood
Updated: November 7, 2023     Author: International Star Registry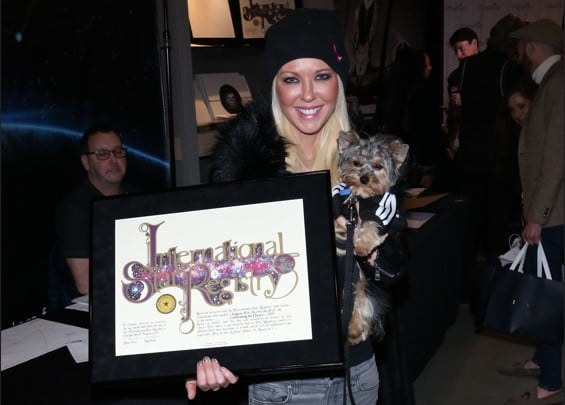 Introduction: A Star Named Tara Reid In a celestial gesture of recognition, a star was named after Tara Reid through International Star Registry on November 08, 2009, in the Scorpius constellation. This unique honor adds another bright spot to the life and career of Tara Reid, an American actress and model who has made a mark in the entertainment industry. You can learn more about Tara Reid by visiting her Wikipedia page here.
The Beauty of Astronomy and Scorpius Astronomy, the study of celestial objects and the universe as a whole, has always captivated humankind. It allows us to explore the mysteries of space and the cosmos. The Scorpius constellation, where Tara Reid's star is located, is one of the most fascinating parts of the night sky. Positioned in the southern hemisphere, Scorpius is known for its distinct shape resembling a scorpion, and its prominent star, Antares, often called the "heart of the scorpion." Scorpius is associated with the zodiac sign Scorpio, which is known for its intensity, determination, and resourcefulness.
Tara Reid's Early Life and Career Tara Donna Reid was born on November 8, 1975. She embarked on her acting journey at a young age, making her film debut in 1987 in "A Return to Salem's Lot." However, it was in the late '90s that Tara Reid gained widespread recognition with her role as Vicky in the iconic "American Pie" film series, which includes "American Pie" (1999), "American Pie 2" (2001), and "American Reunion" (2012). Her portrayal of Bunny Lebowski in "The Big Lebowski" (1998) also added to her growing popularity.
Expanding Her Horizons Tara Reid's diverse career in the entertainment industry includes appearances in films like "Urban Legend" (1998), "Dr. T & the Women" (2000), "Josie and the Pussycats" (2001), "Van Wilder" (2002), "My Boss's Daughter" (2003), and "Alone in the Dark" (2005). Beyond her work in films, she ventured into reality television with her own travel show, "Taradise," on the E! network in 2005. Her participation in the 2011 British reality series "Celebrity Big Brother 8," where she placed 8th, showcased her versatility and made her a beloved figure on TV.
Recording a Star Name: The Perfect Gift As you celebrate special occasions like birthdays, Christmas, anniversaries, or even seek unique 70th birthday gift ideas, consider the extraordinary gesture of recording a star name through International Star Registry. It's a meaningful and timeless way to honor someone you love. You can buy a star package and name a star after someone, creating a lasting connection between them and the cosmos. To get started, visit www.starregistry.com.
Conclusion: Tara Reid's Star Shines Bright Tara Reid's journey in the entertainment industry has been nothing short of remarkable. From her breakthrough roles in "American Pie" to her ventures in reality TV and her enduring presence in Hollywood, she has carved her own constellation of success. Just like the star named after her in the Scorpius constellation, Tara Reid's star continues to shine brightly, reminding us of the infinite possibilities in the universe of fame and talent.
---
References: