Charles M. Schulz: A Legacy Among the Stars
Modified: July 1, 2023     Author: International Star Registry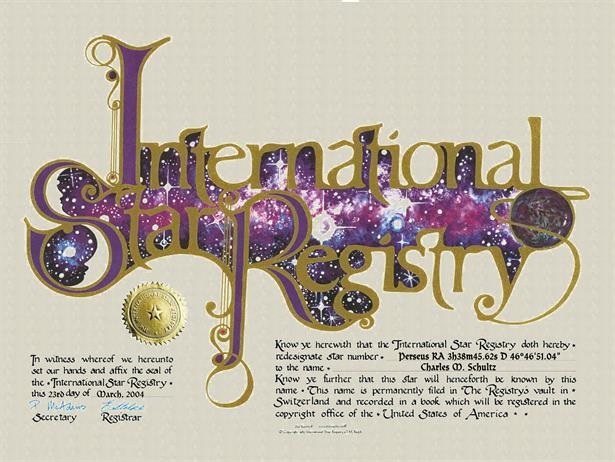 Charles Monroe "Sparky" Schulz, born on November 26, 1922, and departing from this world on February 12, 2000, left behind a legacy that has forever etched his name in the annals of comic art history. An illustrious American cartoonist, he is celebrated as the brilliant mind behind the beloved comic strip Peanuts, introducing the iconic characters Charlie Brown and Snoopy into the hearts of millions. Schulz's influence has transcended generations, with his artistry resonating deeply within the world of cartoons and beyond.  Charles M. Schulz's artistic journey began with a modest dream and an unparalleled passion for cartooning. A trailblazer in his own right, Schulz brought Peanuts to life in the 1950s, and it quickly evolved into a cultural phenomenon that redefined the comic strip landscape. The clean lines and minimalist illustrations that characterized his work provided a refreshing departure from the norm, setting a precedent for modern comic art.  "Peanuts pretty much defines the modern comic strip," observed Bill Watterson, creator of Calvin and Hobbes, "so even now it's hard to see it with fresh eyes." Schulz's creations encompassed a myriad of themes, from sarcastic humor to unfiltered emotional truths, touching the hearts of readers worldwide. His whimsical portrayal of household pets' inner thoughts and the genuine portrayal of children's experiences resonated with audiences on a profound level, making Peanuts a household name. 
March 23, 2004, marked a significant milestone in paying homage to Charles M. Schulz's enduring legacy. A unique gift from International Star Registry adorned the night sky, capturing Schulz's brilliance in a celestial event. The star, aptly named Charles M. Schultz, now radiates in the Perseus constellation, with its coordinates precisely situated at Perseus RA 3h 38m 45.62s D 46° 46′ 51.04″. This celestial dedication not only celebrates Schulz's monumental contributions but also immortalizes his name among the stars he so masterfully depicted in his art.  Perseus, a prominent constellation in the northern sky, finds itself home to Charles M. Schultz's dedicated star. Positioned within the celestial sphere, Perseus RA 3h 38m 45.62s D 46° 46′ 51.04″ guides stargazers' gazes to an area rich in cosmic wonders. Named after the legendary hero Perseus from Greek mythology, this constellation boasts mesmerizing objects like the Double Cluster, a pair of open star clusters that adorn the night sky with their dazzling splendor. 
International Star Registry, renowned for its unique and heartfelt offerings, provides a timeless gift that resonates with all ages. The ability to name a star is a rare and meaningful gesture, allowing individuals to commemorate special occasions with a touch of celestial magic. Whether it's a birthday, Father's Day celebration, or a wedding, a star package from the International Star Registry serves as an enduring testament of love and affection.  Searching for the perfect 21st birthday gift ideas? Look no further than International Star Registry's star-naming packages. Marking two decades of life with a star named after the birthday celebrant is a symbolic gesture that transcends time and space. Just as Charles M. Schulz's star shines eternally, so too will the memory of this unique and thoughtful present. 
In the realm of comic artistry, Charles M. Schulz's legacy shines brilliantly, with Peanuts standing as a testament to his unparalleled genius. And now, among the constellations, his name graces the celestial canvas, a gift from International Star Registry that immortalizes his contributions to the world of cartoons and creativity. 
In the grand tapestry of human history, Charles M. Schulz's star name gleams with everlasting luminosity, a testament to the indelible mark he left on art and culture. 
References: