Calvin Klein: A Stellar Journey in Fashion and Beyond
Modified: July 1, 2023     Author: International Star Registry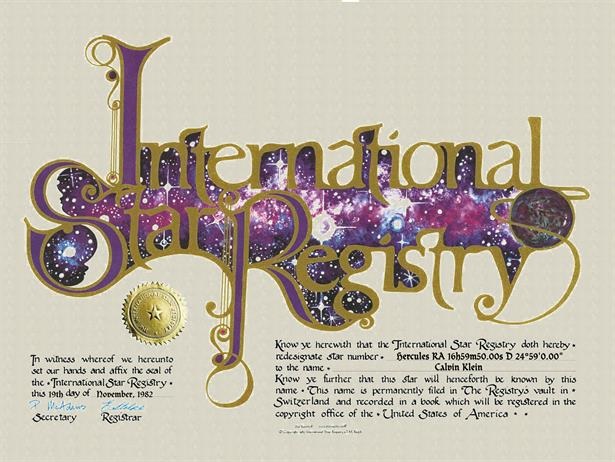 Calvin Richard Klein, a luminary figure in the world of fashion and design, was born on November 19, 1942. His journey from humble beginnings to establishing the iconic Calvin Klein Inc. has left an indelible mark on the fashion industry. Beyond his contributions to fashion, his legacy shines even brighter with a unique star named in his honor.  Calvin Klein's passion for design ignited at an early age. Born and raised in the Bronx, New York, he showed an affinity for sketching and sewing, hinting at his future in the world of fashion. Graduating from the Fashion Institute of Technology in 1962, he honed his skills while working in New York City's garment district.  In 1968, Klein took a giant leap and founded the company that would eventually evolve into Calvin Klein Inc. His initial foray into fashion was with a coat shop, but his innovative designs and forward-thinking approach quickly led to the creation of a full-fledged fashion empire.  Klein's impact on the fashion industry was nothing short of revolutionary. He dared to challenge conventional norms, introducing clean lines, minimalism, and understated elegance to his designs. His breakthrough moment arrived with the launch of a line of coats that garnered critical acclaim. This success marked the beginning of a remarkable journey that would redefine fashion standards. 
By the 1970s, Calvin Klein had expanded his brand into denim, underwear, and fragrances. The launch of his signature jeans with a simple yet iconic logo propelled him to global recognition. The provocative and boundary-pushing advertising campaigns associated with his brand also contributed to its popularity.  Calvin Klein's influence extended beyond clothing. His creative vision extended to accessories, fragrances, watches, and jewelry, solidifying his status as a true lifestyle brand. His innovative fragrances, including the iconic CK One, became synonymous with modernity and sophistication.  In a truly celestial gesture, Calvin Klein received a unique and extraordinary gift from International Star Registry. On November 19, 1982, a star was christened in his name, forever marking his place in the cosmos. Situated in the constellation Hercules, the star's coordinates are RA 16h 59m 50.00s D 24° 59′ 0.00″.  The constellation Hercules, named after the mythological hero, is a prominent constellation in the northern sky. Known for its distinctive shape resembling a keystone, it holds a rich history in astronomy and mythology. The inclusion of Calvin Klein's star within this constellation adds a celestial touch to his already stellar legacy. 
International Star Registry offers a truly unique and memorable gift for various occasions, from Christmas and christenings to birthdays and milestone celebrations. The ability to name a star after a loved one or an influential figure like Calvin Klein adds a personal touch to the vastness of the universe. It's not just a gift; it's a gesture that transcends time and space.  For those seeking distinctive gift ideas, International Star Registry offers a range of buy-a-star packages that cater to different preferences and budgets. The act of naming a star after someone allows you to immortalize their memory while also contributing to astronomical research and exploration.  As Calvin Klein celebrates his own milestones, the act of naming a star serves as a meaningful 70th birthday gift idea. Just as the stars continue to shine for generations, this gesture reflects the enduring impact of a person's life and legacy. 
In conclusion, Calvin Klein's journey from a budding designer to a global fashion icon is a testament to his innovation, vision, and dedication. His contributions to fashion, design, and fragrance have left an indelible mark on the industry. The celestial honor of having a star named after him by International Star Registry reflects the far-reaching impact of his legacy. Embracing the cosmos through the act of naming a star serves as a timeless and extraordinary gift, echoing the boundless influence of Calvin Klein himself.