Andrew John Hurley has a Star Named after Him
Modified: July 1, 2023     Author: International Star Registry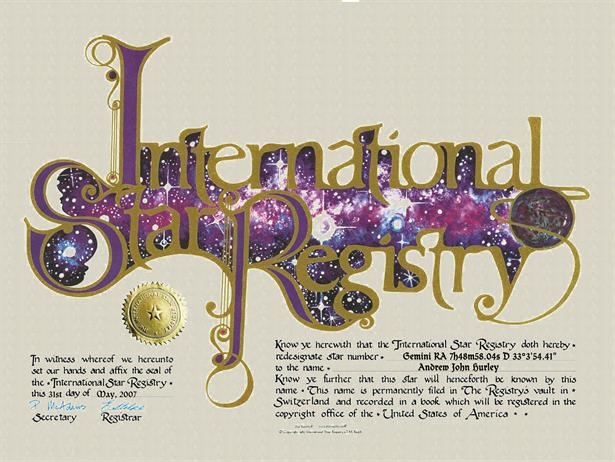 Andrew John Hurley, born on May 31, 1980, is an accomplished American musician known for his role as the drummer of the popular rock band Fall Out Boy. With a career spanning over two decades, Hurley has made a significant impact on the music industry, leaving a lasting legacy through his exceptional drumming skills and contributions to the punk and rock genres. 
Before joining Fall Out Boy, Hurley honed his talent in several hardcore punk bands, showcasing his versatility and passion for music. In 2003, he became the full-time drummer for Fall Out Boy, a pivotal moment that propelled him into the spotlight. His rhythmic precision and energetic performances quickly earned him recognition among fans and critics alike. 
During his time with Fall Out Boy, Hurley contributed to the band's success with his powerful drumming style, which added a unique dynamic to their sound. He remained an integral part of the lineup until the band announced a hiatus in 2009. However, during this period, Hurley embarked on a new musical endeavor by forming the heavy metal supergroup The Damned Things alongside Fall Out Boy guitarist Joe Trohman. Despite the group's debut album, Ironiclast (2010), receiving critical acclaim, The Damned Things went on hiatus as the members focused on their respective bands' new album cycles. 
Not one to be confined to a single project, Hurley then ventured into the hardcore punk scene with the band Enabler. In 2012, Enabler released their debut album and embarked on a successful tour, showcasing Hurley's diverse musical interests and his ability to adapt to different genres. 
In a triumphant return, Fall Out Boy regrouped and announced a new album and tour on February 4, 2013. The band's fifth studio album, "Save Rock and Roll," was released on April 16, 2013, followed by the punk EP "PAX AM Days" on October 15 of the same year. Their sixth studio album, "American Beauty/American Psycho," debuted at No. 1 on the US Billboard 200 upon its release on January 16, 2015. Fall Out Boy's continued success and impact on the music industry can be attributed, in part, to Hurley's exceptional drumming skills and unwavering dedication to his craft. 
Beyond his musical achievements, Andrew John Hurley has also been honored with a special gift from the International Star Registry. On May 31, 2007, a star was recorded in his name, immortalizing his contribution to the world of music. The star, located in the constellation Gemini, holds the coordinates Gemini RA 7h 48m 58.04s D 33° 3′ 54.41″. Gemini is one of the twelve zodiac constellations, known for its association with the Gemini astrological sign. 
Astrology, the study of celestial bodies and their influence on human lives, has intrigued and captivated people for centuries. Many individuals find personal significance and meaning in the alignment of the stars and planets at the time of their birth. Astrology provides insights into personality traits, compatibility, and the interpretation of life events. Andrew John Hurley's star in the Gemini constellation adds a touch of mysticism and symbolism to his personal journey, representing the influence of the cosmos on his life and creative spirit. 
The International Star Registry offers a unique and memorable way to celebrate special occasions, commemorate loved ones, or mark significant milestones. By providing the opportunity to name a star, individuals can create a lasting tribute that will be cherished for generations to come. This extraordinary gift is perfect for birthdays, anniversaries, memorials, or holidays, offering a tangible connection to the beauty and wonder of the universe. With options to buy a star package tailored to different preferences, the International Star Registry ensures a personalized and meaningful experience for every recipient. 
In conclusion, Andrew John Hurley's remarkable career as a drummer and his contributions to the music industry have made him a respected figure in the world of rock and punk music. His journey from playing in hardcore punk bands to becoming an integral part of Fall Out Boy showcases his passion, dedication, and versatility as a musician. Additionally, his star, recorded in his name by the International Star Registry, symbolizes the profound impact he has made in the realm of music, forever shining brightly in the Gemini constellation. 
References: