Calista Flockhart: A Shining Star in Hollywood and Beyond
Modified: July 1, 2023     Author: International Star Registry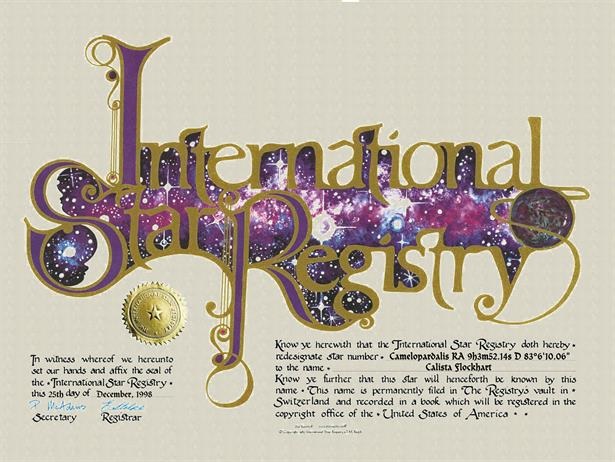 Calista Kay Flockhart, born on November 11, 1964, is an illustrious American actress whose captivating performances have left an indelible mark on both television and film. Her journey from a young aspiring artist to a seasoned Hollywood star has been nothing short of remarkable, garnering acclaim, accolades, and a special star dedication that resonates with the cosmos.  Flockhart's ascent to stardom began with her iconic portrayal of the titular character in the Fox television series Ally McBeal (1997–2002). This role catapulted her into the limelight, earning her a coveted Golden Globe Award in 1998. Notably, her brilliant portrayal of Ally McBeal also led to three nominations for the Primetime Emmy Award for Outstanding Lead Actress in a Comedy Series. With her infectious charisma and undeniable talent, Flockhart captured the hearts of audiences worldwide, solidifying her status as a household name.  In the realm of television, Flockhart continued to shine. From 2006 to 2011, she graced the small screen as Kitty Walker in the ABC drama series Brothers & Sisters, captivating audiences with her nuanced performance and bringing depth to her character. Her ability to connect with viewers through her performances showcased her range and versatility as an actress. 
Transitioning seamlessly between television and film, Flockhart showcased her prowess on the big screen as well. Her notable roles in films such as The Birdcage (1996), A Midsummer Night's Dream (1999), and Things You Can Tell Just by Looking at Her (2000) highlighted her ability to seamlessly adapt to different genres and characters. Each performance showcased her commitment to her craft and her dedication to bringing authenticity to every role she undertakes.  Beyond her on-screen achievements, Flockhart's legacy extends to the cosmos itself. As a testament to her star-studded journey, someone named a star in her honor through International Star Registry. This heartfelt gesture saw a star being christened "Calista Flockhart" on December 25, 1998. The star's celestial coordinates, Camelopardalis RA 9h 3m 52.14s D 83° 6′ 10.06″, place it within the Camelopardalis constellation, adding a touch of cosmic wonder to her impressive accomplishments.  The Camelopardalis constellation, often referred to as the "Giraffe" constellation, holds a special place in astronomy. Positioned in the northern hemisphere, this constellation boasts a number of faint stars and deep-sky objects, making it a fascinating subject for both amateur and professional astronomers alike. Its unique shape and location make it a captivating celestial sight, contributing to the allure of the night sky. 
International Star Registry, the organization behind this celestial dedication, offers a one-of-a-kind opportunity to record a star name in honor of loved ones or cherished moments. The act of naming a star is not just a symbolic gesture; it's a way to immortalize memories, celebrate milestones, and express love and appreciation in a way that connects us to the cosmos. Whether as a gift for memorials, weddings, or birthdays, the option to buy a star package from International Star Registry allows individuals to leave an everlasting mark on the universe itself.  The concept of naming stars has gained popularity over the years as a thoughtful and meaningful gift idea. For those seeking memorable 30th birthday gift ideas or looking to commemorate life's special moments, the act of naming a star adds a touch of celestial magic to any occasion. It's a gesture that transcends time, creating a legacy that shines as brightly as the stars themselves. 
In conclusion, Calista Flockhart's life and career have been nothing short of awe-inspiring. From her breakout role in Ally McBeal to her impactful performances in film and television, Flockhart's talent and passion have left an indelible mark on the entertainment industry. Her star, named in her honor by International Star Registry, beautifully encapsulates her journey – a shining beacon in the night sky that mirrors her own luminous achievements. 
References: