Carol Channing: A Shining Star in Broadway and Beyond
Modified: July 1, 2023     Author: International Star Registry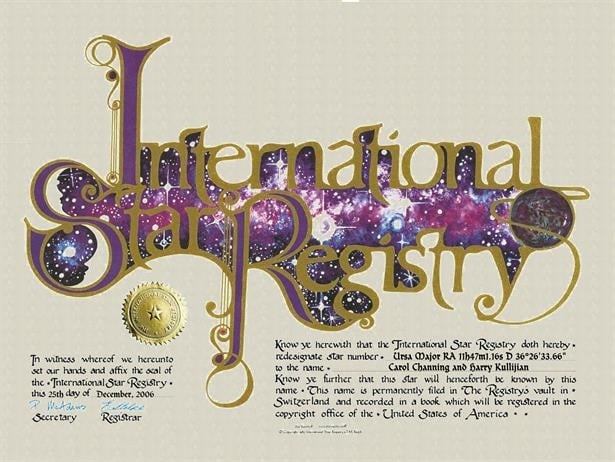 Carol Elaine Channing, a luminary figure born on January 31, 1921, left an indelible mark on American entertainment. Her illustrious career as an actress, singer, dancer, and comedian illuminated both Broadway and the silver screen. Possessing a distinctive voice and an unparalleled expressiveness, Channing enthralled audiences with her captivating performances.  Channing's journey to stardom began with her captivating portrayal of lead roles in iconic productions. Her breakout performance as Lorelei Lee in "Gentlemen Prefer Blondes" in 1949 showcased her comedic brilliance and marked the start of her ascent to fame. However, it was her role as Dolly Gallagher Levi in "Hello, Dolly!" in 1964 that cemented her legacy. This unforgettable performance earned her the prestigious Tony Award for Best Actress in a Musical. Throughout her remarkable career, Channing reprised these roles multiple times, including her final Broadway portrayal of Dolly in 1995.  Her Tony Award nominations reflected her exceptional range and versatility. In 1956, Channing earned her first nomination for her performance in "The Vamp." This was followed by another nomination in 1961 for "Show Girl." The musical "Lorelei" garnered her a fourth Tony Award nomination in 1974, further showcasing her multifaceted talent. 
Channing's artistry transcended the stage to reach the silver screen. Her remarkable performance as Muzzy in "Thoroughly Modern Millie" (1967) earned her the Golden Globe Award and an Academy Award nomination for Best Supporting Actress. Her cinematic journey also included appearances in films like "The First Traveling Saleslady" (1956) and "Skidoo" (1968).  Television also embraced Channing's luminosity. She charmed audiences with her entertaining presence on various variety shows. In 1985, she graced the small screen as The White Queen in the TV production of "Alice in Wonderland." Moreover, her first TV special, "An Evening with Carol Channing," debuted in 1966, marking the beginning of a series of specials that allowed her to connect intimately with her audience.  Channing's prodigious contributions to the performing arts did not go unnoticed. In 1981, she earned her place in the American Theater Hall of Fame, a testament to her enduring impact on the industry. Her lifetime of achievements culminated in the receipt of a Lifetime Achievement Tony Award in 1995. Even into her 90s, Channing continued to grace stages with her renditions of beloved songs and anecdotes, endearing herself to her fans in an intimate cabaret-style setting. 
Amid her illustrious career, Channing's luminosity was immortalized in the cosmos. As a heartfelt gift from someone through International Star Registry, a star was named to honor her legacy alongside her husband, Harry Kullijian. On December 25, 2006, a star was christened "Carol Channing and Harry Kullijian," etching their names into the celestial tapestry. This stellar tribute found its home in the Ursa Major constellation, at coordinates RA 11h 47m 1.16s D 36° 26′ 33.66″.  The Ursa Major constellation, also known as the Great Bear or the Big Dipper, is one of the most recognizable patterns in the night sky. It holds a special place in human history, having been referenced in various cultures' myths and navigational practices. Its prominence makes it an ideal celestial locale for such a commemorative gesture. 
International Star Registry offers a unique and meaningful way to honor loved ones or celebrate special occasions. Naming a star is a poignant gesture that transcends time, serving as a lasting testament to one's affection and admiration. This heartfelt tribute is a particularly touching gift for occasions like Mother's Day, Father's Day, or as a memorial for someone dear. With options to buy a star package, the International Star Registry provides an opportunity to connect with the cosmos in a profound and personal way.  As you contemplate gifts for momentous occasions, consider the splendor of gifting a star. Whether commemorating a milestone, expressing love and appreciation, or cherishing the memory of a departed soul, International Star Registry's offerings hold a celestial allure that goes beyond ordinary presents. Celebrate birthdays, create lasting memorials, or explore 100th birthday gift ideas through this extraordinary avenue of cosmic connection.  In the grand tapestry of human achievement, Carol Channing's name shines brightly. Her legacy spans the stages of Broadway, the silver screen, and even the constellations. A trailblazer in entertainment, her vivacity and charm continue to inspire generations. By naming a star, we can find a similar connection to the cosmos – a way to leave an enduring mark that transcends time and space. 
References: