Viola Davis Has a Star Named for Her
Modified: July 1, 2023     Author: International Star Registry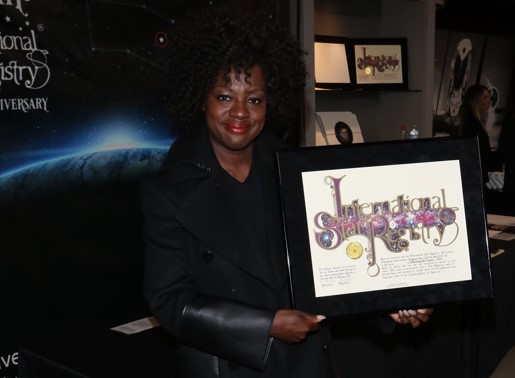 Viola Davis, born on August 11, 1965, is an extraordinary American actress and producer who has left an indelible mark on the entertainment industry. Her remarkable talent and dedication have earned her numerous accolades, making her one of the most celebrated performers of our time. Viola's journey to stardom began in Central Falls, Rhode Island, where she honed her craft in small stage productions. After her graduation from the prestigious Juilliard School in 1993, she quickly rose to prominence, winning hearts and awards with her remarkable performances.
Throughout her illustrious career, Viola Davis has achieved the coveted EGOT status, a distinction awarded to only a few exceptional artists who have won an Emmy, a Grammy, an Oscar, and a Tony. Her remarkable achievements in acting have set her apart as a trailblazer in the entertainment industry. Moreover, she is the first African American to attain the Triple Crown of Acting, a testament to her outstanding talent and hard work. Time magazine has recognized her influence and named her one of the 100 most influential people in the world, not once but twice, in 2012 and 2017. Additionally, The New York Times has acknowledged her greatness, ranking her as the ninth greatest actor of the 21st century in 2020.
Viola's breakthrough came with her role in the drama "Doubt" (2008), for which she received her first Academy Award nomination for Best Supporting Actress. Her mesmerizing portrayal of a troubled mother resonated with audiences and critics alike. However, it was her role as a 1960s housemaid in the comedy-drama "The Help" (2011) that garnered her an Academy Award nomination for Best Actress. This pivotal moment in her career further solidified her position as a powerhouse actress in Hollywood.
In 2015, Viola Davis made history by becoming the first black actress to win the Primetime Emmy Award for Outstanding Lead Actress in a Drama Series for her remarkable performance as lawyer Annalise Keating in the ABC drama series "How to Get Away with Murder" (2014-2020). This groundbreaking achievement served as an inspiration to countless aspiring actors, especially women of color.
Not only has Viola excelled in film and television, but she has also made her mark on the stage. Her Tony Award-winning performance as Rose Maxson in the Broadway revival of August Wilson's play "Fences" in 2010 further exemplified her talent and versatility.
Beyond her professional accomplishments, Viola Davis is known for her philanthropic efforts and advocacy for human rights and equal rights for women and women of color. Together with her husband, Julius Tennon, she founded JuVee Productions, a production company that aims to bring diversity and inclusivity to the entertainment industry.
In recognition of her exceptional contributions to the world of entertainment, Viola Davis received a star on the Hollywood Walk of Fame in 2017 and became a L'Oréal Paris ambassador in 2019. Her dedication to storytelling and captivating narration earned her a Grammy Award for the audiobook of her memoir, "Finding Me," in 2023.
As a unique and thoughtful gift, someone recorded a star name for Viola Davis through the International Star Registry on February 24, 2019. The star is located in the Leo constellation, with coordinates RA10h 33m 40.75s and D 14° 20' 9.75". Leo, the zodiac sign associated with this constellation, is characterized by its strong, confident, and charismatic individuals, which perfectly aligns with Viola Davis's personality and accomplishments.
The International Star Registry offers a heartfelt and celestial way to honor and celebrate loved ones, whether it's for birthdays, Christmas, or as a memorial to cherish the memory of those who have passed away. Naming a star for someone is a unique and meaningful gesture that allows them to shine brightly in the night sky, just like Viola Davis does in the world of entertainment.
In conclusion, Viola Davis's life and career have been nothing short of extraordinary. Her exceptional talent, dedication, and trailblazing achievements in the entertainment industry have made her an iconic figure and an inspiration to aspiring actors around the world. From her humble beginnings in Rhode Island to her star-studded Hollywood career, Viola Davis has proven time and again that she is a true star in every sense of the word.
FAQ
Q. How do I name a star near the star for Viola Davis?

A. Ms. Davis's star is in the constellation Leo. You can select a star from any constellation from the dropdown menu when you buy a star package.
Q. Are there stars named for other award winners?

A. We have named hundreds of stars for winners of Oscar, Tony, Emmy and Grammy Winners.
Q. Where will the star named for Viola Davis be recorded?

A. All of the star names are published in the book Your Place in the Cosmos which is registered in the US Copyright Office.