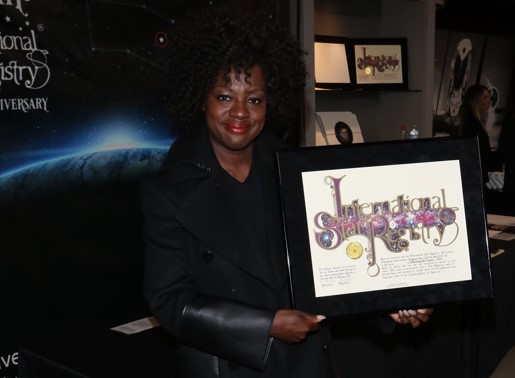 We were star-struck to meet the legendary Viola Davis at an Academy Awards event in Los Angeles.
Davis is just the 18th person to have won all four major entertainment awards.
She is one of just 18 people in the history of Hollywood with EGOT status — meaning she has won an Emmy, Grammy, Oscar and Tony Award in her career. Despite being true show business royalty, she spent time speaking with member of the International Star Registry staff in attendance. She was exactly as she appears, down-to-earth and gracious. We were also thrilled when she asked us to name a star! She is shown here holding the International Star Registry certificate!
Beautiful and talented Viola Davis has brought power and emotion to the stage and screen. Her characters have moved audiences worldwide with her performances in "The Help", "Fences", "Ma Rainey's Black Bottom", "The Woman King" and television's "How to Get Away with Murder". Her numerous awards and nominations include winning an Academy Award, Golden Globe, BAFTA Award, Grammy, Emmy, Tony, and numerous awards from the Screen Actors Guild.  In 2017 she was also awarded a well-deserved star on the Hollywood Walk of Fame.
The star named for Ms. Davis is located in her zodiac sign, Leo. Leo means "the Lion" is one of the most beautiful constellations in the spring sky. Like the lion itself, Leo represents strength and determination, much like the strength that Ms. Davis brings to life in her many iconic characters.
Viola Davis, you are a star!
Viola Davis – Leo RA 10h 33m 40.75s D 14° 20′ 9.75″