Sir Patrick Stewart has 5 stars in his name!
Modified: July 1, 2023     Author: International Star Registry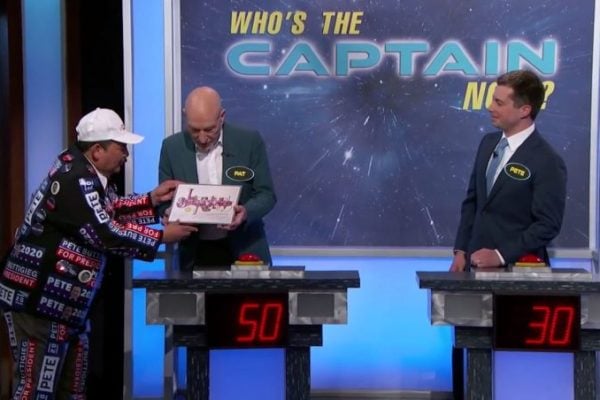 Sir Patrick Stewart OBE, born on July 13, 1940, is an esteemed English actor whose illustrious career has spanned an incredible seven decades, encompassing exceptional performances in theater, film, television, and even video games. Renowned for his extraordinary talent, he has garnered numerous accolades, including nominations for prestigious awards like Olivier, Tony, Golden Globe, Emmy, and Screen Actors Guild Awards. In 1996, his brilliance was immortalized with a star on the iconic Hollywood Walk of Fame, and in 2010, he was bestowed the title of knighthood by Queen Elizabeth II in recognition of his invaluable contributions to drama. 
Sir Patrick Stewart's journey into the world of acting began in 1966 when he joined the esteemed Royal Shakespeare Company, where he honed his craft and showcased his remarkable range. His Broadway debut came in 1971 when he mesmerized audiences with his portrayal in A Midsummer Night's Dream. Subsequently, in 1979, he earned the prestigious Laurence Olivier Award for Best Actor in a Supporting Role for his exceptional performance in Antony and Cleopatra in London's West End. Television audiences were first introduced to his talent in 1967, when he made his debut on the popular show Coronation Street. His captivating presence on the small screen continued to grow with significant roles in Fall of Eagles (1974), I, Claudius (1976), and Tinker Tailor Soldier Spy (1979). Notably, in 2008, he triumphed as King Claudius in Hamlet, receiving both his second Olivier Award and his first Tony Award nomination for his outstanding contributions to the West End and Broadway productions. 
However, it was his iconic portrayal of Captain Jean-Luc Picard in the groundbreaking series Star Trek: The Next Generation (1987–94) that catapulted him to international stardom. Sir Patrick Stewart's commanding and compassionate performance as the captain of the USS Enterprise captured the hearts of millions and solidified his place in pop culture history. His association with the Star Trek franchise extended to its subsequent films and the recent series, Star Trek: Picard (2020–23), reaffirming his status as an enduring star. 
Beyond Star Trek, Stewart's versatility shone brightly as he breathed life into various unforgettable characters. He portrayed the enigmatic Captain Ahab in Moby Dick (1998), embodied the classic role of Ebenezer Scrooge in TNT's A Christmas Carol (1999), and mesmerized audiences as King Henry II in Showtime's The Lion in Winter (2003). Additionally, his comedic prowess was on full display with memorable appearances on the sitcom Frasier and Ricky Gervais' Extras, earning him a Primetime Emmy Award nomination for Outstanding Guest Actor in a Comedy Series. Further showcasing his talent, he led the cast of Blunt Talk (2015–2016) as the central character, Walter Blunt, and currently delights audiences as the voice of CIA Deputy Director Avery Bullock on American Dad!. 
Sir Patrick Stewart's filmography is equally impressive, boasting a diverse array of roles in various genres. He made his film debut in Trevor Nunn's Hedda (1975) and went on to star in iconic movies like John Boorman's Excalibur (1981) and David Lynch's Dune (1984). His stature soared further when he took on the role of Professor Charles Xavier in the X-Men series (2000–2014) and its subsequent spin-offs, including Logan (2017) and a memorable appearance in the Marvel Cinematic Universe film Doctor Strange in the Multiverse of Madness (2022). His cinematic credits also include beloved films such as L.A. Story (1991), Robin Hood: Men in Tights (1993), Jeffrey (1995), and The Kid Who Would Be King (2019). Additionally, his rich and resonant voice has graced animated films like The Pagemaster (1994), The Prince of Egypt (1998), Jimmy Neutron: Boy Genius (2001), Chicken Little (2005), Gnomeo & Juliet (2011), and Ted (2012), enchanting audiences young and old. 
In a touching and extraordinary gesture, someone named a star after Sir Patrick Stewart, honoring him with the title "Patrick Stewart Star." This heartfelt gift was presented by the International Star Registry, with the star's dedication date being July 13, 2000. The celestial coordinates of this special star are located within the constellation Cancer, with an RA (Right Ascension) of 9h 12m 5.32s and a declination of 15° 21′ 23.15″. The constellation Cancer holds significance for those born under the zodiac sign of the same name, characterized by their nurturing and protective nature. People born under Cancer are known for their deep emotional connections, intuition, and loyalty, making this star name a meaningful tribute to Sir Patrick Stewart's own warm and caring personality. 
The International Star Registry offers a truly unique and unforgettable gift to celebrate important milestones and events like memorials, anniversaries, and birthdays. By allowing individuals to name a star after their loved ones, the Registry provides an everlasting symbol of affection and remembrance. A star package from the International Star Registry is an 80th birthday gift idea that stands apart from the ordinary, providing the recipient with a tangible connection to the vast cosmos, sparking wonder and awe.
Sir Patrick Stewart's legacy extends far beyond his extraordinary achievements in the entertainment industry. He is an inspiration to aspiring actors and artists worldwide, a beacon of talent and dedication, and a living testament to the transformative power of storytelling. His star will forever shine brightly, a guiding light for generations to come. 
In conclusion, Sir Patrick Stewart's life and career have been nothing short of remarkable. From his early days at the Royal Shakespeare Company to his iconic role as Captain Jean-Luc Picard and his diverse contributions to the film and television world, he has left an indelible mark on the hearts of audiences across the globe. His name gracing a star in the heavens, a heartfelt gift from the International Star Registry, is a fitting testament to his enduring brilliance and the impact he continues to have on countless lives. 
Stars named for Patrick Stewart:
Patrick Stewart Star
Cancer RA 9h 12m 5.32s D 15° 21′ 23.15″
July 13, 2000
Patrick Stewart
Pegasus RA 22h 10m 17.03s D 30° 9′ 16.53″
January 1, 1990
Patrick Stewart
Draco RA 16h 20m 30.00s D 55° 23′ 0.00″
August 1, 1990
Patrick Stewart
Canes Venatici RA 12h 23m 57.00s D 44° 38′ 0.00″
August 16, 1993
Patrick Stewart
Vela RA 8h 27m 34.72s D-52° 21′ 29.92″
November 18, 2013
Q. Do other Star Trek Actors have stars named?

A. Yes, we have been asked to name a star for William Shatner, Leonard Nemoy, Nichelle Nichols, Originator Gene Roddenberry, Marina Sirtis and many more.
Q. When I buy a star package will it be like the stars named for celebrities?

A. Yes, Star Trek celebrities, and other celebrities have received the same beautiful star certificate you will receive
Q. Can someone have more than one star named?

A. Each star is only named once, even when there are multiple stars with the same name. Each of the stars named after Sir Patrick Stewart is unique!