There are 3 Stars Named for Sir Elton John
Modified: July 1, 2023     Author: International Star Registry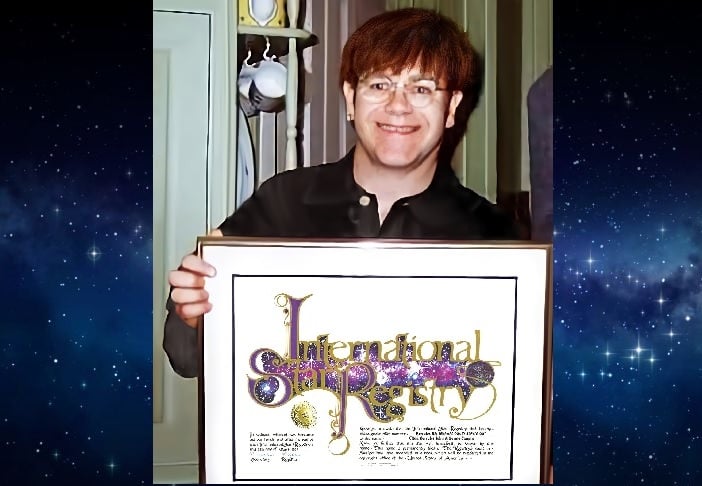 Sir Elton Hercules John, born Reginald Kenneth Dwight on March 25, 1947, is a British musical legend known for his exceptional talents as a singer, pianist, and composer. His extraordinary career and countless achievements have left an indelible mark on the music industry, earning him widespread acclaim from critics and fellow musicians alike. Elton John's influence on popular music is immeasurable, and his creative partnership with lyricist Bernie Taupin is hailed as one of the most successful collaborations in the history of music.
Born and raised in the suburb of Pinner in London, Elton John's passion for music began at an early age. He showed exceptional promise as a pianist, leading him to win a scholarship to the prestigious Royal Academy of Music, where he honed his skills for five years. In 1962, he formed the blues band Bluesology, but it was in 1967 that he decided to pursue a solo career. That same year, he met Bernie Taupin, and together, they embarked on a journey of songwriting, crafting timeless classics for other artists while John worked as a session musician.
In 1969, Elton John released his debut album "Empty Sky," marking the beginning of his stellar solo career. A year later, he formed the Elton John Band, and the world was introduced to his first hit single, "Your Song." The 1970s proved to be a defining era for John, as he achieved critical and commercial success with a string of chart-topping albums such as "Honky Château" (1972) and "Rock of the Westies" (1975). His triumphs continued throughout the 1980s and 1990s, with multiple hit singles and albums in both decades. Remarkably, he has continued to produce new music, and his legacy remains an integral part of the music industry.
Beyond his musical talents, Sir Elton John is known for his philanthropic efforts. He became a devoted advocate in the fight against HIV/AIDS in the late 1980s, establishing the Elton John AIDS Foundation in 1992. This foundation has raised over £300 million to support various AIDS-related causes. Additionally, he hosts an annual AIDS Foundation Academy Awards Party, which has evolved into one of Hollywood's most prominent Oscar parties.
Elton John's impact extends beyond music and charity work. He was the chairman and director of Watford F.C. during two periods, and he holds the honorary title of life president of the club. Throughout the late 1970s and 1980s, John battled drug and alcohol addiction, but he achieved sobriety in 1990, setting an example of strength and resilience for others facing similar struggles.
As one of the best-selling music artists in history, Elton John has garnered more than fifty top-40 hits on both the UK Singles Chart and the US Billboard Hot 100. He boasts nine number-one singles in each country and has sold over 300 million records worldwide. Notably, his tribute single to Princess Diana, "Candle in the Wind 1997," a revised version of his 1974 hit, holds the distinction of being the best-selling chart single of all time, with over 33 million copies sold.
Elton John's illustrious career has been showered with accolades and recognition. He has received numerous awards, including five Grammy Awards, five Brit Awards, two Academy Awards, two Golden Globes, a Tony Award, and a Laurence Olivier Award, among others. In 1992, he was inducted into the Songwriters Hall of Fame, followed by his induction into the Rock and Roll Hall of Fame in 1994. As a testament to his outstanding contributions to music and charitable services, he was knighted by Queen Elizabeth II in 1998 and received the Order of the Companions of Honour from King Charles III in 2021.
On March 25, 1999, an extraordinary gift commemorated Sir Elton John's impact on the world of music and beyond. Someone named a star in his honor through the International Star Registry. This star, located in the constellation Cepheus at RA 21h 21m 52.58s D 60° 50′ 7.96″, now forever bears the name "Sir Elton John." The International Star Registry offers a unique and thoughtful way to celebrate and honor special occasions, making it an ideal gift for anniversaries, Mother's Day, and even corporate events. Naming a star through the International Star Registry allows individuals to create enduring and meaningful connections to the cosmos.
Astronomy enthusiasts and stargazers can find the star named after Sir Elton John in the constellation Cepheus. Cepheus is a constellation in the northern hemisphere and is part of the ancient Ptolemaic constellation system. Its name originates from Cepheus, the mythical king of Aethiopia in Greek mythology. The constellation boasts several notable celestial objects, making it an intriguing and captivating part of the night sky for observers.
In conclusion, Sir Elton John's life and career have been nothing short of remarkable. From his humble beginnings to becoming a global music icon, he has left an indelible mark on the world of entertainment and philanthropy. His contribution to music is unparalleled, and his charitable efforts in the fight against HIV/AIDS have made a significant difference in countless lives. The star named in his honor by the International Star Registry serves as a symbol of his enduring impact and influence on both the musical realm and the wider cosmos.
Stars named for Elton John:
Elton Hercules John & Bernie Taupin
Hercules RA 18h 3m 55.00s D 40° 4′ 0.00″
March 24, 1997
Elton John
Lacerta RA 22h 1m 57.00s D 40° 39′ 0.00″
December 25, 1993
Sir Elton John
Cepheus RA 21h 21m 52.58s D 60° 50′ 7.96″
March 25, 1999
FAQ
Q. Is Elton John holding an International Star Registry Certificate

A. Superstar Elton John has Several stars named for him! On March 24, 1997 he received a star in his name for his 50th Birthday called "Elton Hercules John & Bernie Taupin" which he is shown holding his "name a star" Certificate here.
Q. Where are Elton John's Stars recorded?

A. The stars named for Elton John are recorded in three different volumes of Your Place in the Cosmos. The first star named is in Volume 4 which was published and copyrighted 1996. Two later stars are recorded in volume 7 which was copyrighted in 1999.
Q. My friend is a huge Elton John Fan. Can I name a star nearby?

A. Absolutely, you can buy a star kit for your friend near one of Elton's stars. We can look up the location of any star and find a numbered star nearby for you to name.