Anthony Anderson Has a Real Star Named for Him
Modified: July 1, 2023     Author: International Star Registry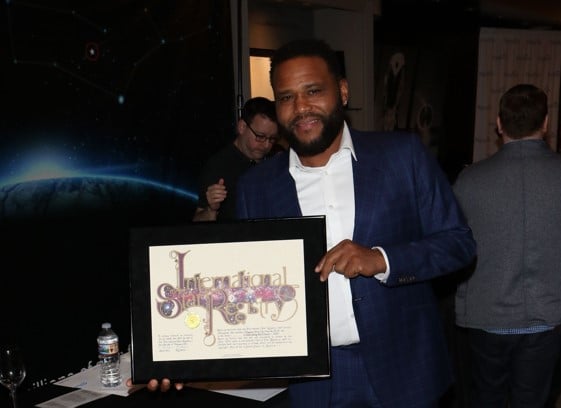 Anthony Anderson, born on August 15, 1970, is a multi-talented American actor, comedian, and game show host who has left an indelible mark on the entertainment industry. With his remarkable performances and infectious humor, he has charmed audiences around the world. Anderson's illustrious career spans leading roles in television series, prominent appearances in feature films, and his engaging presence as a game show host.  One unique tribute to Anderson's brilliance came in the form of a special gift from the International Star Registry. On February 24, 2019, someone named a star after Anthony Anderson, a celestial dedication to his accomplishments in the entertainment realm. This star, aptly named "Anthony Anderson," holds a special place in the Leo constellation, a prominent group of stars visible in the night sky. 
The International Star Registry offers a unique and meaningful way to celebrate special occasions and accomplishments. Instead of merely gifting material possessions, naming a star after someone is a truly remarkable and everlasting gesture. The process of "naming a star" through the International Star Registry is simple and elegant, making it a wonderful gift idea for birthdays, christenings, memorials, or any other milestone events.  For instance, for a milestone like a 40th birthday, a "buy a star" package from the International Star Registry could be a truly standout gift. Imagine the delight on the face of the recipient when they receive a beautiful certificate with the star's name, date of record, and its precise coordinates in the night sky. This unique gift will stand as a symbol of the recipient's significance in the universe, making it an extraordinary and touching present.  The star named after Anthony Anderson finds its place within the Leo constellation. Leo is one of the 12 zodiac signs, and it is symbolized by the Lion. People born under this sign are known for their confidence, leadership qualities, and vibrant personalities. Leos are often the life of the party, just like Anthony Anderson's infectious charm on the screen. 
Anthony Anderson's career is a constellation of achievements in both television and film. He gained fame for his role as Andre "Dre" Johnson on the hit comedy series "Black-ish," where he showcased his exceptional acting skills and impeccable comedic timing. The series received critical acclaim and numerous awards, including several Emmy nominations.  Beyond his success on "Black-ish," Anderson's versatility shone through in his roles in various television series. Notably, he played Marlin Boulet on the drama series "K-Ville" and portrayed NYPD Detective Kevin Bernard on the NBC crime drama "Law & Order." Additionally, he demonstrated his comedic prowess in the sitcom "Guys with Kids."  Venturing into the film industry, Anderson made a significant impact with his roles in popular movies. He delivered memorable performances in films like "Me, Myself & Irene," "Kangaroo Jack," "Agent Cody Banks 2: Destination London," "The Departed," "Transformers," and "Scream 4." His ability to seamlessly transition between comedic and dramatic roles showcased his versatility as an actor. 
As a game show host, Anderson's charisma and wit delighted viewers. His notable hosting role on Food Network's "Iron Chef America" further solidified his presence in the entertainment world. Additionally, he captivated audiences as the host of the ABC version of the game show "To Tell the Truth."  Anthony Anderson's journey from a talented actor to a beloved entertainer has been nothing short of stellar. With a career spanning comedy series, drama shows, feature films, and game show hosting, he has left an indelible mark on the entertainment industry. The honor of having a star named after him by the International Star Registry reflects the brilliance of his achievements and the lasting impact he has had on audiences worldwide. 
Q. Is Anthony Anderson holding an International Star Registry Certificate

A. Yes, Anthony Anderson received a star in his name during Academy Awards week in Los Angeles. The star is dated for that day. It's easy to buy a star package from the Star Registry.
Q. Where will Anthony Anderson's star be recorded?

A. The star named Anthony Anderson will be recorded in Your Place in the Cosmos, Volume 11. This unique star catalog will be published and copyrighted in 2023.
Q. Are there other stars to name in the constellation Leo?

A. Absolutely, there are millions of numbered stars available to name in every constellation. If you buy a star package and can't choose a constellation, International Star Registry will be happy to select one for you.