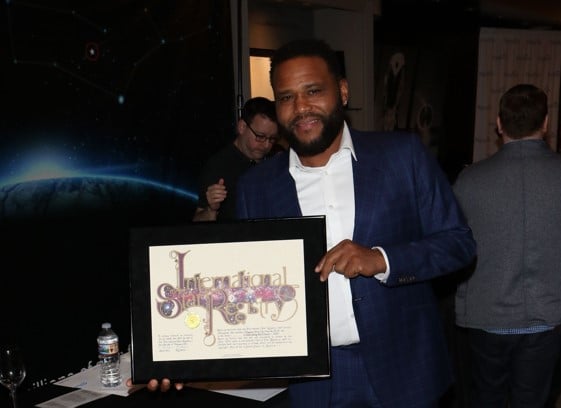 In 2019, we were excited to meet many of the brightest celebrities in the universe. One of our favorites was one of the most likeable people on television, Award-Winning Comedian, Actor and Executive Producer Anthony Anderson.
Our meeting became even more memorable when he requested we name a star for him in his zodiac sign, Leo.
Our staff was star-struck!  Anthony was also kind enough to pose for this terrific photo with his International Star Registry certificate!
Known to most audiences as Andre "Dre" Johnson, Sr on the hit televisions series Black-ish, or as teenager Theodore "Teddy" Brodis in the teen sitcom Hang Time from 1996 to 1998.  Mr. Anderson has been nominated for dozens of awards for his many roles over the past 30 years.  
Always up for a good time, he is a favorite guest host on food shows, talk shows and game shows. He is also known for appearing on television with his scene-stealing mom, Doris Hancox. He and mom launched their own travel show in 2023, Trippin with Anthony Anderson and Mama Doris.
Meeting him is a highlight we won't soon forget!
Anthony Anderson
February 24, 2019
Leo RA 10h 22m 17.29s D 16° 31′ 0.56″