Governor William Forrest Winter has a Star Named
Modified: July 1, 2023     Author: International Star Registry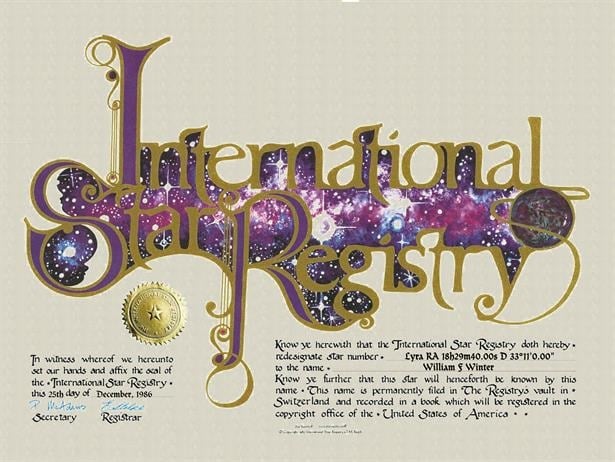 William Forrest Winter was a prominent figure in American politics, leaving a lasting impact on the state of Mississippi and beyond. Born on February 21, 1923, in Grenada, Mississippi, Winter's journey from a small-town upbringing to becoming the 58th governor of Mississippi is a testament to his dedication, resilience, and commitment to public service. Throughout his illustrious career, Winter demonstrated unwavering integrity and a genuine desire to improve the lives of his fellow Mississippians. 
After completing his education at the University of Mississippi, Winter enlisted in the United States Army. He played a pivotal role in training troops and was later deployed to the Philippines. Upon his return to the United States, Winter pursued a career in law and embarked on his political journey. In 1947, he won a seat in the Mississippi House of Representatives, where he championed various bills aimed at governmental reform. Winter's dedication and commitment to serving the people of Mississippi were evident in his successful re-elections and his unwavering support for progressive policies. 
Winter's impact on Mississippi's political landscape continued to grow. In 1956, he was appointed as the State Tax Collector, a position he believed to be wasteful. Determined to enact change, Winter successfully convinced the legislature to abolish the office, and in 1963, he was elected as the State Treasurer. In this role, he displayed his astute financial acumen and commitment to responsible governance. 
Beyond his roles in state government, Winter also contributed significantly to the preservation of Mississippi's rich history. From 1969 to 2007, he served as the chair of the board of trustees of the Mississippi Department of Archives and History, safeguarding the state's cultural heritage for future generations. 
Winter's aspirations extended beyond his successful tenure as lieutenant governor in 1971 and his subsequent election as governor in 1979. During his time as governor, he spearheaded transformative reforms, particularly in the field of education. Understanding the crucial role of education in shaping the future of the state, Winter tirelessly advocated for the improvement of Mississippi's educational system. His dedication culminated in the passage of the groundbreaking 1982 Education Reform Act, which increased funding for public education and introduced public kindergartens. 
In addition to his achievements in politics, Winter's contributions extended to the national stage. He shared his expertise as a professor at the Harvard Institute of Politics and played pivotal roles in Bill Clinton's presidential campaigns in 1992 and 1996. Winter's commitment to fostering racial harmony was exemplified by his co-chairmanship of Clinton's Advisory Board on Race, where he worked to address and alleviate racial tensions in the United States. 
Throughout his life, Winter remained deeply committed to the betterment of his beloved Mississippi. His tireless efforts to promote progressive policies, preserve the state's history, and champion education reform have left an indelible mark on the fabric of Mississippi's society. 
On December 18, 2020, William Forrest Winter passed away, leaving behind a legacy of principled leadership and a steadfast commitment to public service. His influence and impact continue to resonate, and his memory serves as an inspiration to those who strive to create positive change in their communities. 
In honor of his accomplishments and the significant contributions he made to the state of Mississippi, someone named a star after Governor William Forrest Winter. The star, named William F Winter, was recorded on December 25, 1986, and can be located in the constellation Lyra at the coordinates RA 18h 29m 40.00s and D 33° 11′ 0.00″. 
Naming a star is a truly unique and meaningful gift, and International Star Registry offers an exceptional way to commemorate special occasions. Whether it's for graduations, birthdays, anniversaries, or as a remembrance gift for someone who has lost a parent, naming a star through the International Star Registry allows you to create a lasting tribute that shines brightly in the night sky. 
Astronomy has fascinated humanity for centuries, offering a glimpse into the vastness and beauty of the universe. The constellation Lyra, where the star named after Governor William Forrest Winter resides, has captivated stargazers throughout history. Lyra, which represents the lyre of Orpheus in Greek mythology, is home to numerous celestial wonders. It is adorned with stars that form the distinctive shape of a lyre, making it a captivating sight in the night sky. 
International Star Registry provides a range of star-naming packages that offer a personalized and meaningful way to celebrate special occasions. Whether it's purchasing a star package for a loved one who has experienced the loss of a parent or as a heartfelt remembrance gift, International Star Registry allows you to create a lasting memory that will shine eternally. 
Governor William Forrest Winter's life and achievements exemplify the profound impact that individuals can have on their communities and the world at large. Through his dedicated public service and unwavering commitment to progressive policies, he left an indelible mark on the state of Mississippi. The star named in his honor serves as a celestial reminder of his enduring legacy. 
In conclusion, Governor William Forrest Winter was a visionary leader whose tireless efforts transformed Mississippi and left an indelible impact on the lives of its people. From his early days in the Mississippi House of Representatives to his tenure as governor, Winter's commitment to education, governmental reform, and responsible governance was unwavering. His legacy serves as a beacon of inspiration for future generations, reminding us of the power of principled leadership and public service. 
References: