Governor George Corley Wallace has a Star Named
Modified: July 1, 2023     Author: International Star Registry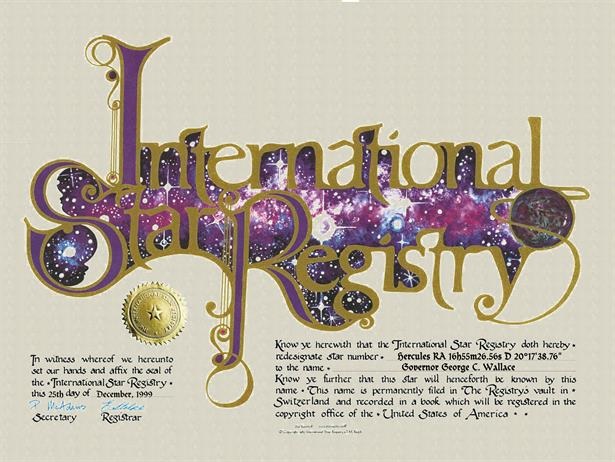 Governor George Corley Wallace: A Stellar Legacy 
George Corley Wallace Jr., a prominent American politician, was born on August 25, 1919, in Clio, Alabama. He left an indelible mark on the history of Alabama and the United States as the 45th governor of Alabama, serving an unprecedented four terms. While he is remembered for his controversial views on segregation, Wallace also made significant contributions to industrial development, low taxes, and trade schools during his tenure. Today, we commemorate his life, career, and accomplishments, recognizing his complex and evolving legacy. 
Wallace's political journey began after his service in the United States Army Air Force during World War II. He attended the University of Alabama School of Law and went on to win election to the Alabama House of Representatives. Wallace's passion for public service led him to serve as a state judge before seeking the Democratic nomination in the 1958 Alabama gubernatorial election. Initially, Wallace held more moderate views on racial issues. However, following his defeat in the 1958 nomination, he adopted a hard-line segregationist stance that defined much of his subsequent political career. 
In 1962, Wallace ran for governor once again and emerged victorious. It was during this time that he gained national notoriety for his opposition to the racial integration of the University of Alabama. In a highly publicized event, Wallace famously stood in front of the university's entrance, barring the path of black students seeking admission. His actions solidified his image as a segregationist leader, and he declared in his 1963 inaugural address, "segregation now, segregation tomorrow, segregation forever." 
Although Wallace left office in 1967 due to term limits, his wife, Lurleen, succeeded him, effectively maintaining his influence over Alabama politics. Tragically, Lurleen passed away from cancer in 1968. Wallace had known about her diagnosis since 1961 but chose not to inform her. Her death marked the end of his initial period of power and signaled a turning point in his life and political career. 
Undeterred, Wallace continued his political aspirations and challenged President Lyndon B. Johnson in the 1964 Democratic presidential primaries. However, Johnson emerged victorious in the race. In the subsequent 1968 presidential election, Wallace ran as a third-party candidate, aiming to force a contingent election in the United States House of Representatives. His strategy aimed to increase the political clout of segregationist Southern leaders. While he succeeded in winning five Southern states, Wallace failed to force a contingent election, making him the most recent third-party candidate to receive pledged electoral college votes from any state. 
The year 1970 marked Wallace's return to the governorship of Alabama. Having moderated his stance on segregation, he ran in the 1972 Democratic presidential primaries. Tragically, his campaign was cut short when he was shot in Maryland by Arthur Bremer, leaving him paralyzed below the waist for the remainder of his life. Despite this setback, Wallace's determination remained unwavering. 
In the late 1970s, Wallace underwent a transformation, announcing his conversion to born-again Christianity and renouncing his past support for segregation. He also moderated his views on race, recognizing the need for reconciliation and unity. After leaving office in 1979, Wallace re-entered politics and achieved a remarkable feat by winning election to a fourth and final term as governor in 1982. With a total of 5,848 days in office, Wallace became the third-longest-serving governor in U.S. history. 
Governor George Corley Wallace left an indelible mark on Alabama's political landscape and the nation's history. While his legacy is fraught with controversy and mixed emotions, it is crucial to acknowledge the evolution of his views and the impact of his actions. Wallace's contributions to industrial development, low taxes, and trade schools remain part of his lasting legacy. 
In honor of Governor George C. Wallace's memory, someone graciously recorded a star name for him as a gift from the International Star Registry. This celestial tribute, known as "Governor George C. Wallace," was recorded on December 25, 1999, and is located in the constellation Hercules at coordinates RA 16h 55m 26.56s and D 20° 17′ 38.76″. 
The International Star Registry offers a unique and thoughtful way to commemorate special occasions, such as birthdays, anniversaries, and memorials. By naming a star, individuals can create a lasting tribute that shines brightly in the night sky. Whether it's for a bereavement gift for men or women, the act of recording a star name provides a meaningful and enduring symbol of remembrance. 
Astronomy, with its vast expanse of celestial wonders, captivates the human imagination. The constellation Hercules, where Governor George C. Wallace's named star resides, is one of the 88 recognized constellations. Hercules, named after the mythological hero, is visible in the northern hemisphere during the summer months. With its notable star clusters and galaxies, Hercules offers a mesmerizing backdrop for Wallace's celestial dedication. 
In conclusion, Governor George Corley Wallace made a significant impact on Alabama and the nation, leaving a complex legacy that continues to spark dialogue. His contributions to industrial development and his evolution on racial issues shape our understanding of his life and career. Through the act of recording a star name, like the one gifted to Governor Wallace by the International Star Registry, we find solace in creating lasting tributes that transcend time and honor the memory of extraordinary individuals. 
References: