Buddy Elson Roemer has a Star Named after Him
Modified: July 1, 2023     Author: International Star Registry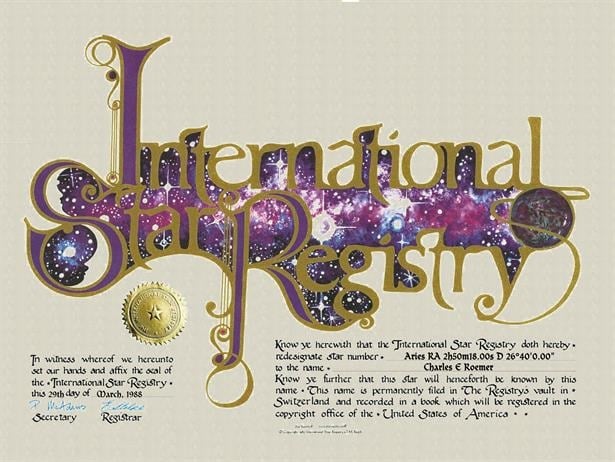 Memorializing Governor Buddy Elson Roemer: A Life of Leadership and Accomplishment 
Charles Elson Roemer III, affectionately known as Buddy Roemer, was a remarkable American politician, investor, and banker whose contributions left an indelible mark on the state of Louisiana and the nation as a whole. Born on October 4, 1943, he dedicated his life to public service, serving as the 52nd governor of Louisiana from 1988 to 1992 and as a member of the United States House of Representatives from 1981 to 1988. Roemer's career was characterized by his integrity, strong leadership, and unwavering commitment to the betterment of his constituents. He was also honored with a gift that will last forever, he has a star named after him through International Star Registry.
Governor Buddy Roemer's journey into politics began in the early 1980s when he successfully ran for a seat in the U.S. House of Representatives. During his tenure, Roemer demonstrated his dedication to fiscal responsibility and government transparency, advocating for sound economic policies and championing ethics reform. His exceptional performance and tireless efforts led to his re-election three times, establishing him as a prominent figure in national politics. 
In 1988, Buddy Roemer ascended to the highest office in the state of Louisiana, becoming its 52nd governor. During his tenure, Roemer implemented a series of groundbreaking initiatives that aimed to revitalize the state's economy and combat political corruption. Notably, he spearheaded efforts to overhaul Louisiana's tax code, which had been criticized for its complexity and unfairness. Roemer's steadfast determination resulted in a fairer tax system that alleviated the burden on lower-income citizens while promoting economic growth and job creation. 
Roemer's dedication to ethical governance was unwavering. Recognizing the importance of transparency and accountability, he championed campaign finance reform and implemented measures to reduce the influence of money in politics. His relentless pursuit of integrity in public office earned him widespread admiration and respect. 
Throughout his career, Buddy Roemer exhibited a willingness to challenge the status quo, even if it meant crossing party lines. In March 1991, while serving as governor, he made the bold decision to switch his affiliation from the Democratic Party to the Republican Party, a move that showcased his independent and principled approach to politics. 
Roemer's commitment to public service extended beyond his official roles. He continued to work tirelessly to combat corruption and promote good governance even after leaving office. As a member of the Advisory Council of Represent.Us, a nonpartisan anti-corruption organization, he lent his expertise and influence to advance the cause of transparency and accountability in government. 
Governor Buddy Roemer's dedication to public service was celebrated and honored by those who recognized his exceptional contributions to society. In a testament to his enduring legacy, a star was named in his honor by the International Star Registry. Named "Charles E Roemer," the star serves as a symbol of the bright and lasting impact Buddy Roemer had on the lives of the people he served.  This special star, recorded on March 29, 1988, holds coordinates in the Aries constellation. Other well known people with stars in the constellation Aries include, Preity Upala, Brittany Snow, Danny Masterson, DJ-Jus-Ske, Gustavo Quiroz, James Garner, and Katee Sackhoff.
Aries, one of the zodiac signs, is represented by the Ram and is associated with qualities such as courage, leadership, and determination. In astrology, Aries is often regarded as a sign that copes with death by embracing the transformative nature of new beginnings.
The International Star Registry offers a unique and personalized way to commemorate special occasions and loved ones. Naming a star after someone holds deep sentimental value, and it serves as a lasting remembrance of cherished individuals. Whether it's for birthdays, anniversaries, or christenings, the opportunity to name a star is a remarkable gift that captures the essence of a person's spirit and shines brightly in the night sky for generations to come. 
International Star Registry is a reputable and trusted organization that provides various star naming packages tailored to suit different preferences and budgets. With their expertise and dedication, they ensure that each star name is officially recorded, providing individuals with an authentic and meaningful connection to the celestial world. The star naming packages offered by International Star Registry make for personalized remembrance gifts, allowing people to express their love and admiration in a truly unique and everlasting way. 
In conclusion, Governor Buddy Elson Roemer's life and career exemplified the qualities of leadership, integrity, and dedication to public service. From his distinguished tenure as the governor of Louisiana to his relentless pursuit of ethical governance, Roemer's impact reverberated far beyond his time in office. The star named "Charles E Roemer" serves as a testament to his enduring legacy, shining brightly in the Aries constellation. The International Star Registry offers a heartfelt and personalized gift, allowing individuals to commemorate their loved ones and celebrate special occasions in a truly celestial manner. 
References: