Governor Richard Joseph Hughes has a Star Named
 Modified: July 1, 2023     Author: International Star Registry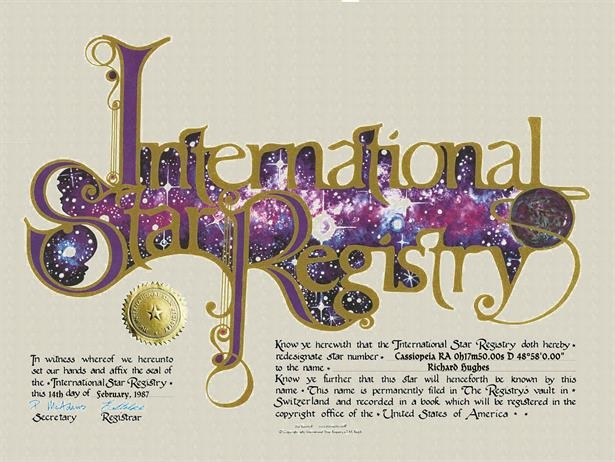 Memorializing Governor Richard Joseph Hughes: A Life of Service and Achievements 
Richard Joseph Hughes, a distinguished American lawyer, politician, and judge, was born on August 10, 1909. His legacy is one that embodies a lifetime of public service and remarkable accomplishments. As the 45th governor of New Jersey from 1962 to 1970, and later as Chief Justice of the New Jersey Supreme Court from 1973 to 1979, Hughes left an indelible mark on the state's political and judicial landscape. Furthermore, he holds the unique distinction of being the only individual to have served New Jersey in both capacities—governor and chief justice. In addition to his exceptional career, Governor Hughes was honored with a star named after him in the constellation Cassiopeia, a gift from the International Star Registry on February 14, 1987. 
Richard Hughes began his career as a lawyer, having earned his law degree from the School of Law at Rutgers University. His legal expertise and unwavering commitment to justice propelled him into the political arena, where he became a prominent figure within the Democratic Party. In 1961, Hughes secured a landslide victory in the New Jersey gubernatorial election, thus commencing his tenure as governor the following year. 
During his two consecutive terms as governor, Hughes enacted a series of progressive policies that had a lasting impact on the state of New Jersey. Recognizing the importance of education, he initiated significant reforms, increasing funding for schools and expanding access to higher education. Under his leadership, New Jersey established a state income tax, providing a stable source of revenue for the government while easing the tax burden on lower-income residents. Additionally, Governor Hughes was a strong advocate for civil rights, implementing measures to combat discrimination and promote equality within the state. 
In 1970, Hughes concluded his governorship and transitioned into the judicial branch, where he served as Chief Justice of the New Jersey Supreme Court from 1973 to 1979. His appointment to this prestigious position solidified his reputation as an astute legal mind and a fair and impartial arbiter of justice. During his tenure as chief justice, Hughes led the court in groundbreaking decisions that furthered the cause of civil liberties, labor rights, and environmental protection. 
It is worth noting that Governor Richard Joseph Hughes was the first Roman Catholic to hold the governorship in the history of New Jersey. His election was not only a testament to his leadership qualities but also a milestone for religious diversity in the state's politics. As a devout Catholic, Hughes brought a strong moral compass to his decision-making, guided by principles of compassion, fairness, and social justice. 
In recognition of Governor Hughes's outstanding contributions, the International Star Registry honored him with a star named Richard Hughes in the constellation Cassiopeia. This symbolic gesture serves as a lasting tribute to his remarkable life and achievements. Located at the coordinates Cassiopeia RA 0h 17m 50.00s D 48° 58′ 0.00″, the star shines brightly as a symbol of Governor Hughes's enduring legacy. 
Cassiopeia, the constellation in which the star named Richard Hughes resides, is one of the most recognizable and iconic constellations in the night sky. Its distinctive "W" or "M" shape makes it easily identifiable to stargazers worldwide. Cassiopeia has a rich astronomical history and is associated with various mythological tales. The constellation contains many notable celestial objects, including stars, clusters, and galaxies, making it a fascinating subject for amateur and professional astronomers alike. 
The International Star Registry, the organization responsible for naming the star after Governor Richard Joseph Hughes, offers a unique and thoughtful gift option for various occasions. Whether it's Mother's Day, Father's Day, or corporate events, the opportunity to name a star is a truly special way to honor and commemorate loved ones. The Star Registry's packages provide individuals with the chance to buy a star package tailored to their preferences, complete with official certificates and star charts, offering a memorable and lasting keepsake for any recipient. 
For those seeking the best memorial gifts or sympathy gifts for a friend, the International Star Registry's services are particularly poignant. The act of naming a star after a departed loved one serves as a touching tribute, allowing their memory to shine brightly in the night sky. It offers solace and comfort during times of loss, providing a unique and enduring symbol of remembrance. 
In conclusion, Governor Richard Joseph Hughes led a remarkable life dedicated to public service, marked by his contributions as governor of New Jersey and chief justice of the New Jersey Supreme Court. His progressive policies, commitment to civil rights, and unwavering pursuit of justice left an indelible impact on the state and its citizens. Furthermore, his enduring legacy is commemorated by a star named Richard Hughes, located in the constellation Cassiopeia, a testament to his lasting presence in the cosmos. 
References: