Governor Edwin Washington Edwards has a Star Named
Modified: July 1, 2023     Author: International Star Registry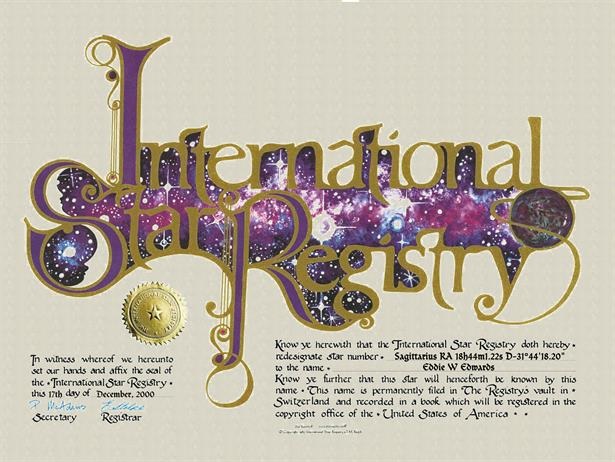 Memorializing Governor Edwin Washington Edwards: A Legacy of Leadership and Accomplishments 
Edwin Washington Edwards, a prominent American politician and member of the Democratic Party, left an indelible mark on Louisiana politics through his long and storied career. Born on August 7, 1927, Edwards dedicated his life to public service and made significant contributions as both a U.S. representative and the governor of Louisiana. Despite his political achievements, he faced a cloud of corruption allegations that ultimately led to his conviction and imprisonment. Nevertheless, Edwards remained a formidable figure in Louisiana politics, representing the end of an era for New Deal Southern Democrats. On July 12, 2021, Edwards passed away, leaving behind a complex and multifaceted legacy. 
From 1965 to 1972, Edwin Edwards served as the U.S. representative for Louisiana's 7th congressional district. During his tenure in the House of Representatives, he demonstrated his commitment to the principles of the Democratic Party and fought tirelessly for the interests of his constituents. It was during this period that he began to build a reputation as a skilled politician and leader. He was even honored with a star named after him through International Star Registry in the constellation Sagittarius.
However, it was as the 50th governor of Louisiana that Edwin Edwards truly left his mark. He served an unprecedented four terms as governor, totaling 16 years in office. This enduring tenure made him the longest-serving governor in Louisiana's history, as well as the U.S. governor with the sixth-longest tenure in post-Constitutional history. Edwards' repeated election victories spoke to his popularity and ability to connect with the people of Louisiana. 
Nevertheless, his political career was not without controversy. Edwards faced persistent allegations of corruption throughout his time in office, which earned him the moniker of the "very last of the line of New Deal Southern Democrats." In 2001, he was convicted of racketeering charges and sentenced to ten years in federal prison. Following his conviction, Edwards began serving his sentence in Fort Worth, Texas, before being transferred to the federal facility in Oakdale, Louisiana. He ultimately served eight years and was released in January 2011. 
Edwin Edwards' impact on Louisiana politics cannot be understated. He was widely regarded as the last remnant of the political machine established by Huey Long and Earl Long, two influential figures in Louisiana politics. His ability to navigate the complex landscape of the state's politics and maintain his popularity for multiple terms is a testament to his political acumen and charismatic leadership style. 
In 2014, Edwards made a bid to return to the U.S. House of Representatives, running for Louisiana's 6th congressional district. Although he emerged as the top candidate in the primary, his felony conviction had taken a toll on his reputation, and he was ultimately defeated by Republican Garret Graves in the runoff election. This loss symbolized Edwards' decline in popularity and reflected the Republican Party's growing dominance in Louisiana politics. 
Governor Edwin Washington Edwards was a complex figure, revered by some and criticized by others. In recognition of his contributions, International Star Registry bestowed upon him a unique and heartfelt gift. A star was named in his honor, with the name "Eddie W Edwards." This special gesture occurred on December 17, 2000, marking a significant moment of recognition for Edwards' achievements and service to his state. 
The star designated as "Eddie W Edwards" resides in the constellation Sagittarius, positioned at the coordinates Sagittarius RA 18h 44m 1.22s D-31° 44′ 18.20″. Sagittarius, one of the zodiac signs, is often associated with traits such as independence, optimism, and a love for exploration. Including how a Sagittarius sign copes with death can provide comfort and guidance to those seeking solace during times of loss and grief. other notables located in the same constellation include, Ninja Devoe, Ronnie Radke, Joe Russo, Ashley Hinshaw, and Ernie Hudson.
The International Star Registry offers a unique and meaningful way to commemorate special occasions or honor the memory of loved ones. Whether it is for graduations, birthdays, or memorials, the opportunity to record a star name creates a lasting tribute in the vast expanse of the night sky. By naming a star after someone dear, individuals can create a personal connection to the celestial realm, representing the everlasting nature of their bond. 
International Star Registry provides various star packages that cater to different preferences and budgets. By offering the chance to name a star, they provide an extraordinary and enduring gift. These star packages have become increasingly popular as remembrance gifts for the loss of a mother or as sympathy gift ideas, offering solace and a sense of eternal connection during challenging times. 
In conclusion, Governor Edwin Washington Edwards played a significant role in Louisiana's political landscape, serving as both a U.S. representative and the state's governor for an unprecedented four terms. While his career was marred by corruption allegations and subsequent conviction, his impact on the state's politics cannot be overlooked. Through the special gift of a named star, International Star Registry honored Edwards' contributions and provided a unique way to remember and celebrate his life and legacy. 
References: