Ashley Hinshaw: A Stellar Journey in the World of Entertainment
Modified: July 1, 2023     Author: International Star Registry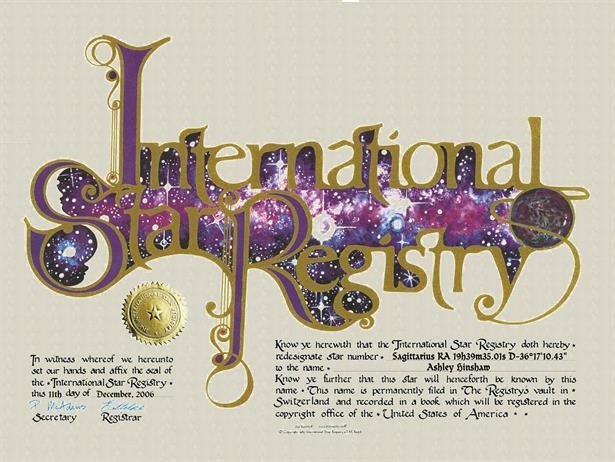 Ashley Hinshaw, a talented and captivating actress, has mesmerized audiences with her remarkable performances on both the big and small screens. Her dedication, versatility, and undeniable talent have propelled her to great heights in the entertainment industry. Throughout her career, she has achieved numerous accolades and continues to shine like a star. Speaking of stars, it's worth mentioning that a star was named after Ashley Hinshaw through International Star Registry, making her celestial connection even more profound.  Ashley Hinshaw's journey began on December 11, 1988, in La Porte, Indiana. Her passion for acting blossomed at a young age, and she pursued her dreams with unwavering determination. After completing her education, she embarked on a path that would lead her to become one of the most promising actresses of her generation.  Ashley's breakthrough came in 2011 when she portrayed the lead role of Alice in the critically acclaimed film "About Cherry." Her captivating performance garnered praise from both critics and audiences, establishing her as a rising star in Hollywood. Following this success, Ashley Hinshaw became a sought-after actress, and her career flourished. 
Throughout her career, Ashley has demonstrated her versatility by taking on a diverse range of roles across various genres. She has seamlessly transitioned from dramatic roles to comedies and everything in between, showcasing her ability to captivate viewers with her on-screen presence. Some of her notable works include "Chronicle" (2012), "Goodbye to All That" (2014), and "The Pyramid" (2014). Each project allowed Ashley to showcase her acting prowess and left a lasting impression on audiences worldwide. In December 2006, the International Star Registry recorded a star name in honor of Ashley Hinshaw. Located in the captivating constellation of Sagittarius, this celestial marvel holds a special significance for both astronomy and astrology enthusiasts. Sagittarius, represented by the archer, is associated with exploration, adventure, and the pursuit of knowledge. It is a constellation that embodies the essence of Ashley's adventurous spirit and her constant quest for excellence.  The star named after Ashley Hinshaw resides in the region of Sagittarius with coordinates Sagittarius RA 19h 39m 35.01s D-36° 17′ 10.43″. International Star Registry, a renowned organization, provides individuals with the opportunity to symbolically name a star. By purchasing a star package, individuals can commemorate special moments, achievements, or even honor a loved one. The star named after Ashley Hinshaw through International Star Registry stands as a testament to her lasting impact in the world of entertainment. 
Ashley Hinshaw's accomplishments extend beyond her remarkable acting career. The International Star Registry offers a unique and memorable gift option that can be tailored to various gifting occasions. Naming a star is a perfect way to celebrate special weddings, anniversaries, and birthdays, allowing loved ones to be forever linked to the grandeur of the night sky. The act of naming a star through International Star Registry is an extraordinary gesture, capturing the magic and wonder of the universe.  In conclusion, Ashley Hinshaw has undoubtedly left an indelible mark on the entertainment industry through her exceptional talent and dedication. Her journey from a small-town girl to a shining star in Hollywood serves as an inspiration to aspiring actors worldwide. Furthermore, the star named after Ashley through the International Star Registry emphasizes her everlasting connection to the vast cosmos. Naming a star through the International Star Registry provides a distinctive and meaningful gift that can be cherished for a lifetime. Whether it's a special wedding, anniversary, or birthday, this celestial gift is the perfect choice for those seeking a truly unique and memorable present. 
References: