Brendan Thomas Byrne has a Star Named
Modified: July 1, 2023     Author: International Star Registry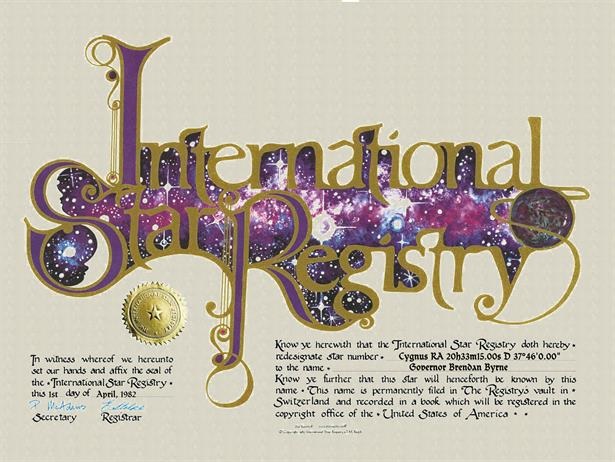 Brendan Thomas Byrne, a distinguished American attorney and Democratic Party politician, left an indelible mark on the state of New Jersey during his tenure as the 47th Governor from 1974 to 1982. Born on April 1, 1924, Byrne embarked on a remarkable career that saw him rise to prominence through his unwavering commitment to justice and ethical standards. In recognition of his success, he has a star named after him in the constellation Cygnus.
Before assuming the role of governor, Byrne established himself as a respected attorney, practicing law in Newark and East Orange. His dedication and legal acumen led to an appointment by Governor Robert B. Meyner in 1959 as Essex County Prosecutor, a position he held until 1968. During this period, Byrne gained national attention when local mobsters referred to him as "the man who couldn't be bought" in an FBI wiretap. This incident catapulted him into the limelight and resonated with a public that yearned for integrity in a time of widespread political corruption. 
Following his successful stint as prosecutor, Byrne served as the President of the New Jersey Board of Public Utilities from 1968 to 1970, and later as a Superior Court judge. In 1973, he seized the opportunity to run for Governor, adopting the campaign slogan "the man who couldn't be bought" as a testament to his unwavering integrity. With strong backing from the influential Hudson County political machine, Byrne won the Democratic primary and subsequently emerged victorious in the general election. His resounding win, the largest in the state's history at that time, was viewed as a response to the bribery and Watergate scandals that had plagued the nation. 
Governor Byrne's first term saw the enactment of the state's first income tax, a decision that initially faced substantial opposition from both sides of the political spectrum. Despite the backlash, Byrne demonstrated his commitment to fiscal responsibility and successfully navigated the challenges associated with this groundbreaking policy. In 1977, he faced a formidable array of challengers for the Democratic party nomination but secured a narrow victory in the primary. Contrary to expectations, Byrne staged a remarkable comeback, securing a second term as Governor, even when faced with strong competition from Raymond Bateman in the general election. 
Throughout his governorship, Byrne made significant contributions to the state of New Jersey. He played a pivotal role in the establishment of the New Jersey Department of the Public Advocate, ensuring that the voices of the marginalized and vulnerable were heard and protected. Furthermore, Byrne oversaw the introduction of the first gambling casinos in Atlantic City, revitalizing the city's economy and transforming it into a vibrant entertainment hub. His commitment to environmental preservation was also noteworthy, as he implemented measures to safeguard the state's woodlands and wildlife areas, effectively curbing uncontrolled development and preserving the natural heritage for future generations. 
In recognition of his contributions and legacy, a star was named after Governor Brendan Byrne as a gift from the International Star Registry. The star, aptly named "Governor Brendan Byrne," was recorded on April 1, 1982, and is located in the Cygnus constellation at coordinates RA 20h 33m 15.00s D 37° 46′ 0.00″. Cygnus, also known as the Northern Cross, is a prominent constellation in the northern hemisphere and holds great significance in the realm of astronomy. It represents the mythological story of Zeus, who transformed into a swan to seduce the mortal Leda. many celebrities and dignitaries have stars name in Cygnus, such as, Leonard Cohen, Naomi Judd, Reba McEntire, and George W Bush.
International Star Registry offers a unique and meaningful gift for various occasions such as weddings, graduations, or birthdays. Naming a star after a loved one through their "name a star" service is a thoughtful and enduring gesture. By purchasing a star package from International Star Registry, individuals can create lasting memories and honor their cherished ones in a celestial manner. These personalized memorial gifts provide a tangible connection to the vastness of the universe, offering solace and comfort during times of loss or remembrance. International Star Registry specializes in modern sympathy gifts that transcend traditional offerings, allowing individuals to find solace in the heavens above. 
In conclusion, Governor Brendan Thomas Byrne's life and career exemplify a tireless pursuit of justice, unwavering integrity, and an enduring commitment to public service. His contributions as Governor of New Jersey, including the landmark introduction of the state's income tax, the establishment of the New Jersey Department of the Public Advocate, and the preservation of woodlands and wildlife areas, continue to shape the state's landscape. Governor Byrne's star, recorded as "Governor Brendan Byrne" in the Cygnus constellation, serves as a fitting tribute to his enduring legacy and the mark he left on both New Jersey and the heavens above. 
References: