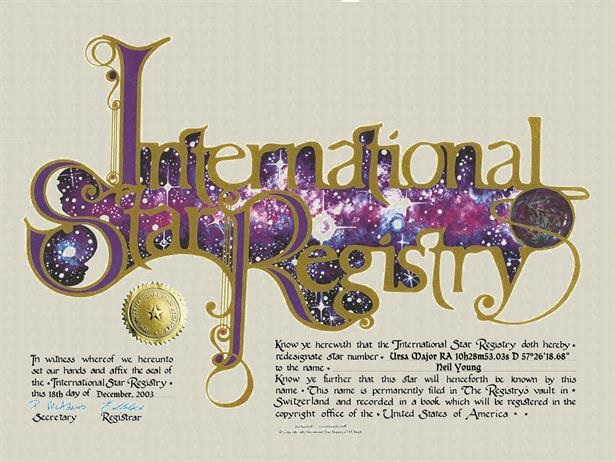 On November 12, we celebrate the 78th birthday of the legendary musician, Neil Young. His extraordinary career in the world of music has spanned decades, touching the hearts of countless fans across the globe. In this blog post, we'll discuss his remarkable career and explore a star tribute that befits his enduring legacy – a star named after him through International Star Registry, offering a unique and heartfelt 78th birthday gift idea with a buy a star certificate.
Neil Young's Musical Journey
Born on November 12, 1945, in Toronto, Canada, Neil Young embarked on a musical journey that would redefine rock and folk music. His career began in the 1960s as a member of the folk-rock band Buffalo Springfield, where his songwriting talent and distinctive voice began to shine.
Neil Young's solo career took off in the early 1970s, marked by iconic albums like "After the Gold Rush" (1970) and "Harvest" (1972), which included timeless classics such as "Heart of Gold" and "Old Man." His unique blend of folk, rock, and country music made him a trailblazer in the music industry.
Over the years, Neil Young continued to push boundaries and explore new musical territories, never conforming to a single genre. His albums, like "Rust Never Sleeps" (1979) and "Harvest Moon" (1992), showcased his versatility and enduring creativity. His activism and commitment to causes such as environmental conservation have further cemented his status as a cultural icon.
A Celestial Tribute: Buy a Star Certificate
As we celebrate Neil Young's 78th birthday, we search for unique and meaningful ways to honor his lasting contributions to the world of music. One extraordinary gesture is someone named a star in his honor through International Star Registry. When you buy a star certificate, you create a celestial connection between the person and a distant star, symbolizing the enduring presence in our hearts.
International Star Registry offers the opportunity to dedicate a star in the night sky to a loved one or an admired figure. In the case of Neil Young, it allows us to celebrate his music, artistry, and profound impact on the world.
78th Birthday Gift Idea
Naming a star as a 78th birthday gift idea is a thoughtful and heartfelt tribute. Imagine gazing up at the night sky and finding the star dedicated, shining brilliantly among the constellations.
In conclusion, as we wish Neil Young a happy 78th birthday on November 12, let's reflect on his extraordinary career and the indelible mark he has left on the world of music. And as we celebrate him, consider the celestial tribute of  buying a star certificate, a gift that will forever link his name to the vast expanse of the night sky, ensuring that his musical legacy continues to shine brightly for generations to come. Happy Birthday, Neil Young, a true star among the stars.