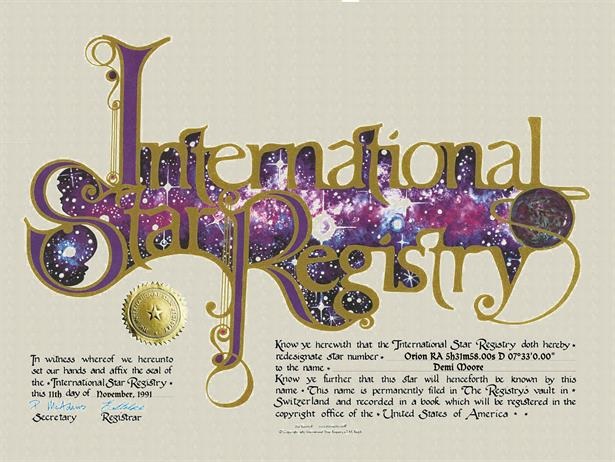 On November 11, we have the privilege of celebrating the 61st birthday of the talented and iconic actress, Demi Moore. With a career spanning decades, Demi has captivated audiences with her exceptional talent and beauty. In this blog post, we'll delve into her remarkable career, and we'll explore a celestial tribute that befits her enduring legacy – a star named after her through International Star Registry.
Demi Moore's Illustrious Career
Born on November 11, 1962, in Roswell, New Mexico, Demi Moore embarked on a journey that would establish her as one of Hollywood's most celebrated actresses. Her early career saw her appearing in television soap operas and minor film roles, but it was her breakout performance in "St. Elmo's Fire" (1985) that catapulted her to stardom.
Demi's talent and charisma shone brightly in a series of critically acclaimed films, including "Ghost" (1990), "A Few Good Men" (1992), and "Indecent Proposal" (1993). Her portrayal of complex and multifaceted characters earned her accolades and solidified her status as a leading lady in Hollywood.
Throughout her career, Demi Moore has continued to take on challenging and diverse roles, from action-packed films like "G.I. Jane" (1997) to heartwarming dramas like "The Juror" (1996). Her enduring appeal and undeniable talent have made her a respected figure in the entertainment industry.
A Celestial Tribute: Name a Star in the Sky
As we celebrate Demi Moore's 61st birthday, we seek unique ways to honor her remarkable contributions to the world of entertainment. One extraordinary gesture is she has a star named in her honor through the International Star Registry. The concept of naming a star in the sky is a touching and symbolic way to pay tribute.
International Star Registry offers the opportunity to dedicate a star in the night sky to a loved one or an admired figure. By naming a star after Demi Moore, we create a celestial connection between her name and a distant star, symbolizing her lasting presence in our hearts.
61st Birthday Gift Idea
Naming a star in the sky after Demi Moore as a 61st birthday gift idea is a thoughtful and heartfelt gesture that reflects her enduring impact on the entertainment industry. Imagine looking up at the night sky and finding the star dedicated to her, shining brilliantly among the constellations. It serves as a constant reminder of the joy and inspiration she has brought into our lives through her performances.
In conclusion, as we wish Demi Moore a happy 61st birthday on November 11th, let's reflect on her remarkable career and the indelible mark she has left on the world of film. And as we celebrate her, consider the celestial tribute of naming a star in the sky, a gift that will forever link her name to the vast expanse of the night sky, making her birthday truly exceptional. Happy Birthday, Demi Moore!