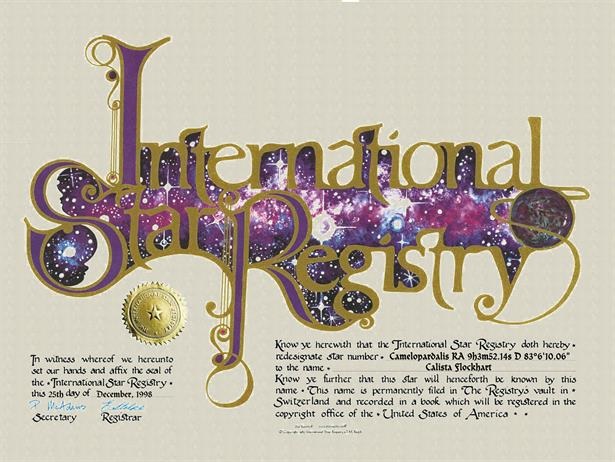 On November 11, we have the joy of celebrating the 59th birthday of the talented and beloved actress, Calista Flockhart. With a career that has spanned both television and film, Calista has captured the hearts of audiences worldwide. In this blog post, we'll delve into her remarkable career, and we'll explore a celestial tribute that befits her enduring legacy – a star named after her through International Star Registry.
Calista Flockhart's Distinguished Career
Born on November 11, 1964, in Freeport, Illinois, Calista Flockhart embarked on a journey that would establish her as a prominent figure in the entertainment industry. She began her acting career in theater before transitioning to television and film. Her early roles included appearances in TV shows like "The Guiding Light" and "Naked in New York" (1993).
However, it was her portrayal of the iconic character Ally McBeal in the eponymous series "Ally McBeal" (1997-2002) that catapulted her to stardom. Her performance as the quirky lawyer dealing with the ups and downs of her personal and professional life earned her a Golden Globe Award and critical acclaim.
Throughout her career, Calista Flockhart continued to shine in both television and film. She appeared in movies like "A Midsummer Night's Dream" (1999) and "The Birdcage" (1996), showcasing her versatility as an actress. Her enduring talent and appeal have made her a respected and beloved figure in the entertainment industry.
A Celestial Tribute: Buy a Star for Someone
As we celebrate Calista Flockhart's 59th birthday, we seek unique ways to honor her remarkable contributions to the world of entertainment. One extraordinary gesture is someone named a star in her honor through International Star Registry. The concept of buying a star for someone is a touching and symbolic way to pay tribute.
International Star Registry offers the opportunity to dedicate a star in the night sky to a loved one or an admired figure. By naming a star after Calista Flockhart, we create a celestial connection between her name and a distant star, symbolizing her lasting presence in our hearts.
59th Birthday Gift Idea
Naming a star as a 59th birthday gift idea is a thoughtful and heartfelt gesture that is sure to be appreciated.  Imagine looking up at the night sky and finding the star dedicated to a loved one, shining brilliantly among the constellations. It serves as a constant reminder of the joy and inspiration the stars bring to our lives.
In conclusion, as we wish Calista Flockhart a happy 59th birthday on November 11th, let's reflect on her remarkable career and the indelible mark she has left on the world of television and film. And as we celebrate her, consider the celestial tribute of buying a star for someone, a gift that will forever link her name to the vast expanse of the night sky, making her birthday truly exceptional. Happy Birthday, Calista Flockhart!