George C. Wallace: Governor of Alabama with a Named Star in Hercules
Modified: July 1, 2023     Author: International Star Registry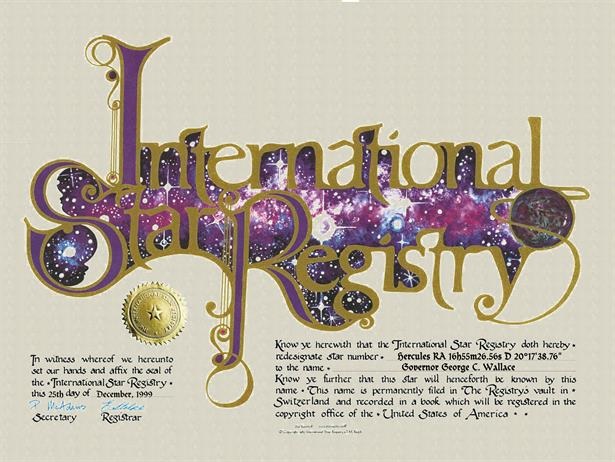 George Corley Wallace was an American politician who served as the governor of Alabama four times from 1963 to 1987. Born on August 25, 1919, in Clio, Alabama, Wallace attended the University of Alabama Law School and began his career as a lawyer. He entered politics in 1947, serving in various positions before being elected governor in 1962.  During his political career, Wallace became known for his staunch opposition to civil rights, famously standing in the doorway of the University of Alabama to prevent the enrollment of African American students. However, in later years, he publicly apologized for his segregationist views and actions.  Wallace's time in office was marked by controversy and protests, but he also had his supporters, who appreciated his efforts to improve the state's infrastructure and economy. He died on September 13, 1998, after suffering from Parkinson's disease for several years. 
Interestingly, someone named a star after Governor George C. Wallace in 1999 through the International Star Registry. The star is located in the constellation Hercules, which is one of the largest constellations in the sky. Hercules is named after the Greek mythological hero and is known for its many bright stars and deep-sky objects.  Astronomically, the stars in the Hercules constellation are fascinating to study, as they offer insights into the evolution of stars and galaxies. In astrology, Hercules is associated with courage, strength, and heroism, making it a popular choice for those who want to name a star after someone who embodies those qualities. 
If you're interested in naming a star after someone special, the International Star Registry can help. The Registry allows you to buy a star package and choose a name for your star, which will then be recorded in their Registry's book, Your Place in the Cosmos. It's a unique and thoughtful gift idea that can be used for any occasion. 
FAQ
Q. Can you buy a star?
A. Yes, you can buy a star naming package through the International Star Registry. They offer various packages that allow you to name a star after yourself or someone else.
Q. Where is Governor Wallace's star located?
A. Governor Wallace's star is located in the Hercules constellation. Hercules represents the Champion.
In conclusion, George Corley Wallace was a controversial figure in American politics, but he remains an important part of Alabama's history. Naming a star after him through the International Star Registry is a unique and memorable way to honor his legacy. Whether you're celebrating an anniversary or a birthday, naming a star is a thoughtful and meaningful gift that will be appreciated for years to come. 
References: 
George Wallace Biography. Encyclopedia of Alabama. 
Hercules Constellation. Constellation Guide. 
International Star Registry. 
15 Important Events in Astronomy. Space.com.