Honoring James Robert Thompson: A Named Star in Hercules | International Star Registry
Modified: July 1, 2023     Author: International Star Registry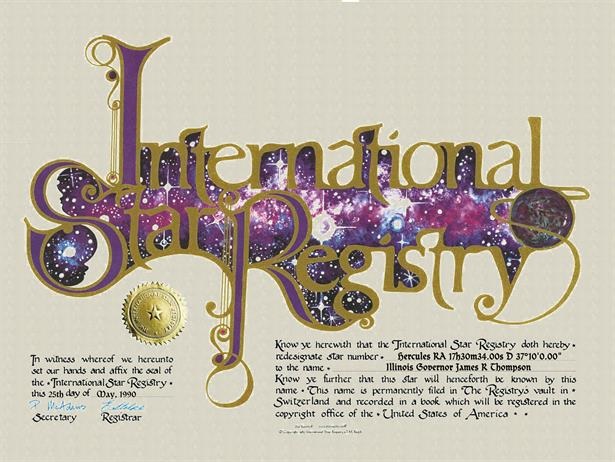 James Robert Thompson, also known as Jim Thompson, was an American politician who served as the Governor of Illinois for 14 years, from 1977 to 1991. Thompson was born in Chicago, Illinois, on December 8, 1936, and passed away on August 14, 2020, at the age of 83. He was one of the longest-serving governors in Illinois history and is remembered for his achievements during his tenure. 
Thompson's career in public service began in 1966 when he was elected to the Illinois House of Representatives. In 1972, he became the U.S. Attorney for the Northern District of Illinois, where he gained a reputation as a tough prosecutor. In 1976, he ran for governor and won, and was re-elected four times. During his time in office, Thompson focused on economic development, job creation, and fiscal responsibility. He also supported education and environmental protection and made efforts to improve transportation infrastructure. Thompson was an accomplished politician and leader, and his contributions to Illinois continue to be recognized today.
In fact, he has been honored in a unique way – someone named a star after him! In 1990, the International Star Registry recorded a star in the Hercules constellation in Thompson's name. The star's official name is "Illinois Governor James R Thompson," and its coordinates are Hercules RA 17h 30m 34.00s D 37° 10′ 0.00″.  The Hercules constellation is one of the largest constellations in the night sky and has been known since ancient times. In Greek mythology, Hercules was a hero known for his strength and courage, and the constellation is named after him. In astrology, the Hercules constellation is associated with strength, courage, and determination, and is said to be a symbol of power and achievement.
The International Star Registry is a unique company that offers people the opportunity to name a star in honor of someone special. It is a popular gift for weddings, birthdays, and other special occasions. When you buy a star package from the International Star Registry, you receive a personalized certificate that includes the star's name, date, and coordinates, as well as a sky chart and other information about the star. 
In conclusion, James Robert Thompson was a respected politician who made a significant impact on the state of Illinois. He was known for his leadership, vision, and commitment to public service. The fact that someone named a star after him is a testament to his legacy and the impact he had on people's lives. The International Star Registry is a unique and meaningful gift that can be used for any occasion and is a fitting tribute to someone who has made a difference in the world. 
References: 
FAQ:
Q. How much does it cost to name a star?
A. For those interested in recording a star name for their loved ones, the International Star Registry offers a variety of packages to choose from, starting at $54. By purchasing a star package, individuals can name a star and receive a certificate of record, as well as a star chart and other commemorative items.
Q. Where is Governor Thompson's star located?
A. Governor Thompson's star is located in the Hercules constellation. Hercules is associated with Greek mythology and known as the Champion.