Governor Richard Hughes: A Named Star in Cassiopeia | International Star Registry
Modified: July 1, 2023     Author: International Star Registry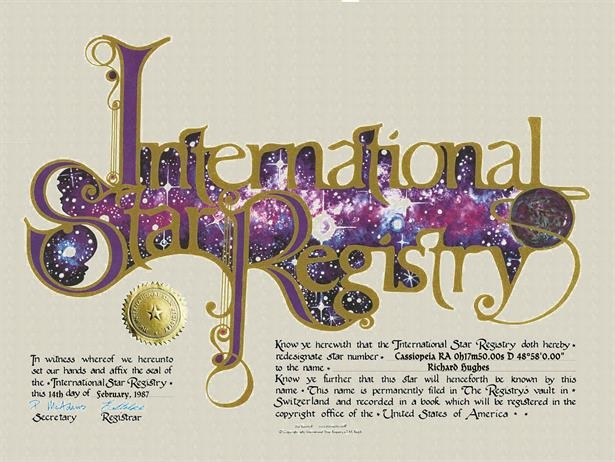 Richard Joseph Hughes was an American lawyer and politician who served as the Governor of New Jersey from 1962 to 1970. He was born on August 10, 1909, in Florence Township, New Jersey, and grew up in Trenton. Hughes went to Trenton Central High School and later attended the College of the Holy Cross in Massachusetts. He went on to study law at Fordham University and was admitted to the bar in 1935. Hughes began his career in public service as an assistant prosecutor in Mercer County in 1939. He later served as a deputy attorney general and was appointed as the state's Attorney General by Governor Robert B. Meyner in 1958. In 1961, Hughes announced his candidacy for Governor of New Jersey, and he was elected the following year. 
As Governor, Hughes implemented several significant initiatives that impacted the state's economy, education, and civil rights. He established the New Jersey Economic Development Authority and created the state's first Department of Higher Education. He also signed the state's first law against discrimination in housing and employment. 
One of the interesting things about Richard Hughes is that a star has been named after him. In 1987, someone used International Star Registry to record a star name in honor of the former governor. The star is located in the constellation Cassiopeia and has the following coordinates: RA 0h 17m 50.00s D 48° 58′ 0.00″. 
Cassiopeia is a constellation in the northern sky that is easily recognizable due to its distinctive "W" shape. According to both astronomy and astrology, the stars in Cassiopeia are associated with powerful energy and determination. Many people believe that the stars in this constellation can bring good fortune and success. 
If you're interested in recording a star name, International Star Registry is the perfect place to do so. This company has been in business since 1979 and has named over two million stars for people around the world. You can buy a star package that includes a certificate, a star chart, and other fun extras. It's a unique gift that can be used for any occasion, whether you're celebrating a birthday, anniversary, or other special event. 
In conclusion, Richard Joseph Hughes was a prominent figure in New Jersey politics who made significant contributions to the state during his time as governor. The fact that someone chose to record a star name in his honor is a testament to the impact he had on people's lives. International Star Registry is a unique and meaningful way to celebrate the people you love, and it's a gift that will be cherished for years to come. 
References: 
"Richard J. Hughes Papers," Rutgers University Libraries, Special Collections and University Archives. 
"Governor Richard J. Hughes," New Jersey State Library, https://www.njstatelib.org 
"Star Registry," International Star Registry, https://www.starregistry.com/ 
FAQ
Q. Is star naming a good gift for a
memorial
?
A. Naming a star is a great gift for any occasion. People name stars as memorials, for birthdays, anniversaries, etc.
Q. Where is Governor Hughes' star located?
A. Governor Hughes' star is located in the Cassiopeia constellation. This constellation is best seen from the Northern hemisphere all year round.