Honoring Jim Florio: A Named Star in Lacerta | International Star Registry
Modified: July 1, 2023     Author: International Star Registry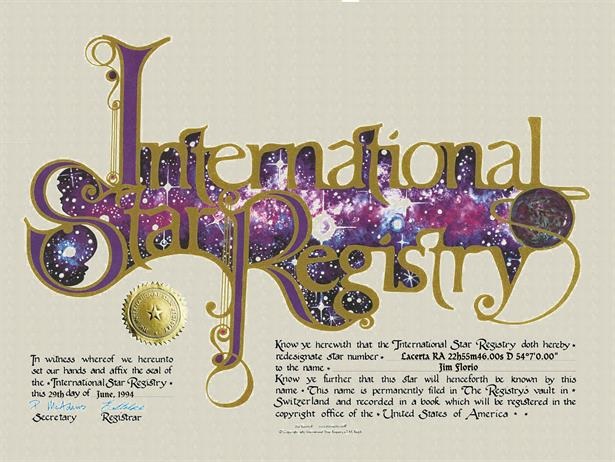 James Joseph Florio, commonly known as Jim Florio, was born in Brooklyn, New York, on August 29, 1937. He served as the 49th Governor of New Jersey from 1990 to 1994. Prior to his governorship, he represented New Jersey's first congressional district in the United States House of Representatives from 1975 to 1990. During his tenure, he enacted major environmental reforms and expanded healthcare access for low-income residents.  Florio attended Trenton State College, now known as The College of New Jersey, where he earned a Bachelor of Science degree in education. He later attended Rutgers Law School and was admitted to the New Jersey bar in 1962. 
As Governor of New Jersey, Florio was a champion of environmental issues. He signed the landmark New Jersey Wetlands Act into law, which established some of the strictest wetland protections in the nation. He also implemented the New Jersey Pinelands Protection Act, which designated more than one million acres of land in the Pinelands National Reserve as protected forest, agricultural, and wetland areas. 
In addition to his environmental work, Florio was a strong advocate for healthcare reform. He expanded Medicaid coverage for low-income residents and signed the New Jersey Health Care Reform Act, which required insurance companies to cover mammograms, prostate exams, and other preventive care. 
Florio's legacy also extends beyond his political career. In June of 1994, someone named a star after him through the International Star Registry. The star, located in the constellation Lacerta, was given the name "Jim Florio" and its coordinates are RA 22h 55m 46.00s D 54° 7′ 0.00″. Lacerta is a small, faint constellation in the northern sky that was first introduced by the Polish astronomer Johannes Hevelius in the 17th century. In astrology, Lacerta is associated with strength and persistence, which are qualities that Florio undoubtedly possessed during his tenure as governor. 
The International Star Registry offers individuals the opportunity to "name a star" in honor of a loved one, friend, or public figure like Governor Florio. Customers can buy a star package that includes a certificate of record, star charts, and other materials to commemorate the star's name and location.  The International Star Registry is a unique and thoughtful gift option for any occasion. Whether you're celebrating a birthday, anniversary, or graduation, naming a star after someone is a timeless and memorable way to honor them. The Star Registry has been in operation since 1979 and has helped thousands of people record star names for their loved ones. 
FAQ
Q. How do you find your star from International Star Registry?
A. Call 800-282-3333, and ISR's friendly staff will assist you.
Q. Where is Governor Florio's star located?
A. Governor Florio's star is located in the Lacerta constellation. Lacerta symbolizes strength and persistence.
In conclusion, Jim Florio is a celebrated figure in New Jersey politics, known for his dedication to environmental protection and healthcare reform. His legacy also includes a star named after him through the International Star Registry, which offers individuals the opportunity to name a star in honor of someone special. Whether you're looking for a unique gift or want to commemorate a loved one's life, the International Star Registry is a one-of-a-kind option that is sure to leave a lasting impression. 
References: 
"Jim Florio." New Jersey State Library,

https://www.njstatelib.org

 

"International Star Registry." International Star Registry,

https://www.starregistry.com/

.