Andrew Lloyd Webber has a Star Named after Him
Modified: July 1, 2023     Author: International Star Registry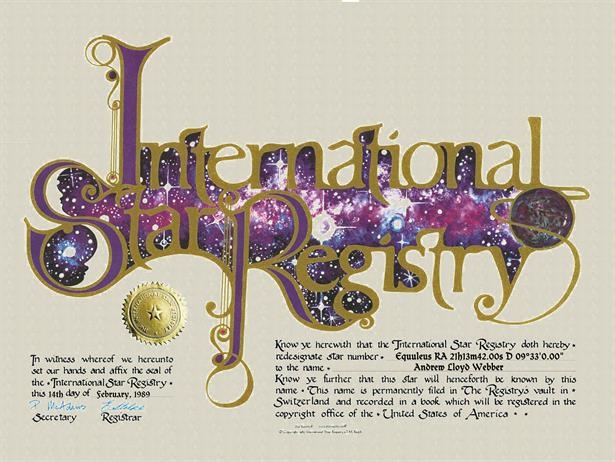 Andrew Lloyd Webber, Baron Lloyd-Webber Kt, was born on March 22, 1948, in London, England. He is widely recognized as an English composer and impresario of musical theatre, renowned for his remarkable contributions to the genre. With a career spanning several decades, Lloyd Webber has left an indelible mark on the world of musicals with his exceptional talent and creative vision. 
Throughout his illustrious career, Andrew Lloyd Webber has composed an impressive body of work. He has crafted 21 musicals, a song cycle, a set of variations, two film scores, and even a Latin Requiem Mass. Many of his musicals have achieved remarkable success, running for more than a decade on both the West End and Broadway stages. Lloyd Webber's songs have garnered widespread acclaim and have been recorded by numerous artists, enjoying success beyond the confines of their original productions. 
Some of his most popular compositions include "Memory" from Cats, "The Music of the Night" and "All I Ask of You" from The Phantom of the Opera, "I Don't Know How to Love Him" from Jesus Christ Superstar, "Don't Cry for Me Argentina" from Evita, and "Any Dream Will Do" from Joseph and the Amazing Technicolor Dreamcoat. The global recognition and popularity of his work have led The New York Times to dub him "the most commercially successful composer in history" in 2001. Moreover, in 2008, the Daily Telegraph ranked him as the "fifth most powerful person in British culture," with lyricist Don Black praising his ability to reinvent the musical genre single-handedly. 
Andrew Lloyd Webber's contributions to the world of music and theatre have not gone unnoticed. Over the years, he has been honored with numerous awards and accolades. In 1992, he received a knighthood, and later a peerage for his outstanding services to the arts. Lloyd Webber has won six Tony Awards, three Grammys (including the Grammy Legend Award), an Academy Award, 14 Ivor Novello Awards, seven Olivier Awards, a Golden Globe, and a Brit Award. He is among a select group of 18 individuals who have achieved the prestigious distinction of winning an Oscar, an Emmy, a Grammy, and a Tony. In addition, Lloyd Webber has a star on the Hollywood Walk of Fame and has been inducted into the Songwriters Hall of Fame. He is also a fellow of the British Academy of Songwriters, Composers, and Authors. 
As the founder and owner of the Really Useful Group, Andrew Lloyd Webber oversees one of the largest theatre operators in London. Under the license from the Really Useful Group, producers in various parts of the UK have staged productions of Lloyd Webber's musicals, including national tours. Additionally, he holds the position of president at the Arts Educational Schools in London, a renowned performing arts school located in Chiswick, West London. Lloyd Webber is actively involved in several charitable endeavors, supporting organizations such as the Elton John AIDS Foundation, Nordoff Robbins, Prostate Cancer UK, and War Child. In 1992, he established the Andrew Lloyd Webber Foundation, which provides support to the arts, culture, and heritage of the United Kingdom. In a philanthropic gesture, Lloyd Webber designed a Cats-themed Paddington Bear statue in 2014, which was auctioned to raise funds for the National Society for the Prevention of Cruelty to Children (NSPCC). 
In recognition of his outstanding achievements and enduring contributions to the world of music and theatre, someone named a star after Andrew Lloyd Webber. This unique gift from the International Star Registry celebrates his exceptional talent and serves as a testament to his lasting legacy. The star, named Andrew Lloyd Webber, was registered on February 14, 1989, and is located in the constellation of Equuleus at the following coordinates: RA 21h 13m 42.00s, D 09° 33′ 0.00″. Equuleus, also known as "The Little Horse," is a small constellation in the northern hemisphere's celestial sphere. It is often associated with Pegasus, the larger neighboring constellation. While Equuleus may be small in size, its inclusion in the night sky adds to the beauty and wonder of the cosmos. 
Astronomy, the scientific study of celestial objects and phenomena, has captivated humanity since ancient times. From the wonder of observing stars, planets, and galaxies to unraveling the mysteries of the universe, astronomy provides us with a deeper understanding of our cosmic surroundings. It enables us to comprehend the vastness of space, the forces shaping celestial bodies, and the intricate workings of the cosmos. Through technological advancements, such as telescopes and space exploration, astronomers continue to make groundbreaking discoveries, expanding our knowledge and reshaping our understanding of the universe. 
The International Star Registry offers a unique and meaningful gift for special occasions such as 50th birthdays, sweet 16 celebrations, and Father's Day. By allowing individuals to name a star after their loved ones, the International Star Registry provides a personalized and lasting tribute that symbolizes the eternal bond and significance of these cherished relationships. With a range of buy-a-star packages available, individuals can choose the perfect option to suit their preferences and occasion. Whether it's commemorating a milestone birthday, celebrating a coming-of-age moment, or expressing love and appreciation on Father's Day, the act of naming a star serves as a touching and enduring gesture. 
In conclusion, Andrew Lloyd Webber's life and career have been nothing short of extraordinary. As a prolific composer and influential figure in musical theatre, he has enriched the world with his unparalleled talent and creativity. From his timeless melodies to his theatrical masterpieces, Lloyd Webber's contributions have garnered critical acclaim, commercial success, and numerous awards. Alongside his musical achievements, he has dedicated himself to philanthropy and supporting the arts. The star named after him by the International Star Registry is a fitting tribute to his lasting legacy. As the star bearing his name continues to shine brightly in the night sky, it serves as a reminder of his immense contributions and the enduring power of his artistry. 
References: