Ben Vereen: A Shining Star in Hollywood and Beyond
Modified: July 1, 2023     Author: International Star Registry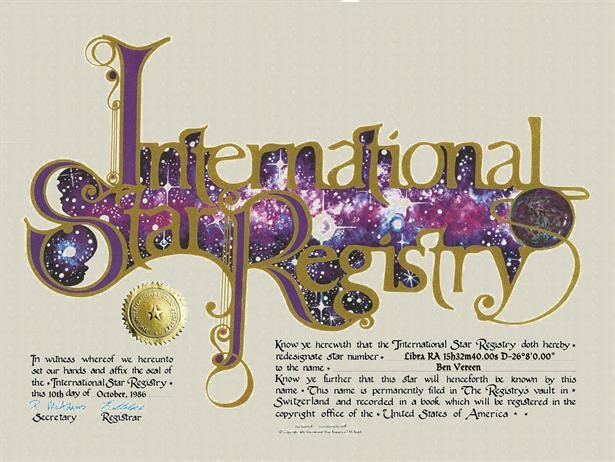 Ben Vereen, a prominent figure in the entertainment industry, has left an indelible mark on the world through his remarkable talents and vibrant personality. As a multifaceted actor, singer, and dancer, Vereen's career has spanned several decades, enchanting audiences worldwide. Notably, his fame extends beyond the confines of show business, with International Star Registry having immortalized his name in the celestial heavens. In this biography, we will delve into Vereen's life, career, and extraordinary accomplishments, shedding light on his celestial honor and the wonders of International Star Registry.  Born on October 10, 1946, in Miami, Florida, Ben Vereen discovered his passion for the performing arts at an early age. He honed his skills in dance and theater, eventually making his Broadway debut in the musical "Hair" in 1968. This breakthrough paved the way for a series of outstanding performances that would define his career. Vereen's magnetic stage presence and unparalleled talent led to his iconic portrayal of the Leading Player in the 1972 musical "Pippin," which earned him a Tony Award for Best Actor in a Musical. This accolade solidified his status as a Broadway legend. 
Vereen's success on the stage soon spilled over into the world of television and film. In 1977, he captivated audiences with his breathtaking performance as Chicken George in the groundbreaking miniseries "Roots," earning an Emmy nomination. He continued to showcase his versatility by seamlessly transitioning between stage and screen, appearing in productions such as "Funny Lady" (1975) and "All That Jazz" (1979). His performances consistently garnered critical acclaim and a dedicated fan base.  However, it was not just Vereen's artistic achievements that propelled him into the spotlight. In a remarkable tribute, a star was named after him through International Star Registry. On October 10, 1986, a radiant celestial body in the Libra constellation was officially designated as the "Ben Vereen" star. Located at the coordinates Libra RA 15h 32m 40.00s D-26° 8′ 0.00″, this brilliant star serves as a testament to Vereen's enduring legacy and his impact on the world.  The Libra constellation, in which the "Ben Vereen" star resides, holds significant astronomical and astrological symbolism. Represented by scales, Libra is associated with balance, harmony, and justice. In astrology, it is often linked to diplomacy, fairness, and a keen sense of aesthetics. The star named after Ben Vereen in this constellation embodies these qualities, signifying his artistic equilibrium and the profound impact he has had on the entertainment industry. 
International Star Registry, the organization responsible for this celestial honor, offers individuals the unique opportunity to record a star name and purchase a star package. It allows people to commemorate their loved ones, celebrate special occasions, or simply revel in the magnificence of the universe. By naming a star after Ben Vereen, International Star Registry recognizes his extraordinary contributions to the performing arts and presents a gift that transcends time and space.  Ben Vereen's accomplishments extend far beyond his star's celestial existence. His illustrious career includes numerous Tony nominations, Emmy recognition, and unforgettable performances on stage and screen. He has graced audiences with his remarkable talent, leaving an indelible imprint on the world of entertainment. Vereen's involvement in charitable endeavors, including work with organizations such as Broadway Cares/Equity Fights AIDS and the American Cancer Society, exemplifies his commitment to making a positive impact on society.  International Star Registry provides a remarkable and memorable gift for any occasion. Naming a star after a loved one, like Ben Vereen, serves as a perfect gesture for holidays, birthdays, and memorials. Whether it's honoring a cherished family member, expressing love and admiration for a friend, or commemorating a significant event, the act of naming a star allows individuals to create a lasting tribute that will shine brightly for generations to come. 
In conclusion, Ben Vereen's life and career have been marked by exceptional talent and unwavering dedication. His contributions to the world of entertainment are immeasurable, and his star continues to shine both on Earth and in the celestial realm.  International Star Registry's recognition of Vereen's impact through the dedication of a star attests to the lasting power of his legacy. As we navigate the vastness of the universe, the ability to name a star offers us a remarkable gift, a tangible connection to the stars and the opportunity to honor those we hold dear. Ben Vereen's star, forever immortalized, is a testament to the enduring magic of the International Star Registry. 
References: