Charlize Theron: A Shining Star in Hollywood and Beyond
Modified: July 1, 2023     Author: International Star Registry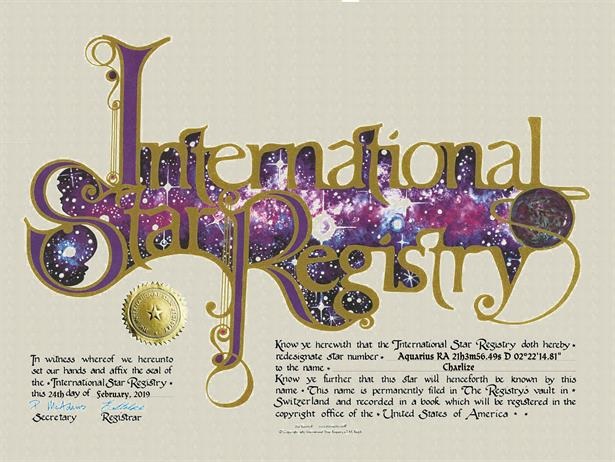 Charlize Theron, a name synonymous with grace, talent, and cinematic brilliance, has illuminated both the silver screen and the night sky with her exceptional achievements. Born on August 7, 1975, in South Africa, she later embraced American citizenship, embodying the essence of cross-continental success. With a career spanning a decade and a multitude of accolades under her belt, Theron has proven herself to be a luminary in the world of entertainment.  Theron's journey to stardom began in the 1990s when she graced Hollywood with her presence. Emerging as a leading lady, she took on captivating roles in iconic films like "The Devil's Advocate" (1997), "Mighty Joe Young" (1998), and "The Cider House Rules" (1999). Her on-screen prowess was undeniable, capturing hearts and garnering attention from audiences and critics alike.  A pivotal moment in Theron's career arrived in 2003 when she portrayed the enigmatic serial killer Aileen Wuornos in "Monster." This transformative performance earned her the Silver Bear award and the ultimate recognition – an Academy Award for Best Actress. This triumph marked a milestone not only for Theron herself but also for her homeland, as she became the first South African to claim an acting Oscar. Her commitment to her craft was further acknowledged with an Academy Award nomination for her poignant role as a woman seeking justice in "North Country" (2005). 
In the realm of action-packed blockbusters, Theron's star continued to rise. She embraced roles in successful films such as "The Italian Job" (2003), "Hancock" (2008), "Snow White and the Huntsman" (2012), "Prometheus" (2012), "Mad Max: Fury Road" (2015), "The Fate of the Furious" (2017), "Atomic Blonde" (2017), "The Old Guard" (2020), "F9" (2021), and "Fast X" (2023). Her ability to portray complex characters while captivating audiences with thrilling narratives showcased her versatility as an actress.  While displaying a penchant for embodying troubled women, Theron's performances in films like Jason Reitman's "Young Adult" (2011) and "Tully" (2018) received well-deserved acclaim. Her portrayal of Megyn Kelly in the biographical drama "Bombshell" (2019) earned her yet another Academy Award nomination, a testament to her exceptional range and dedication to her craft. 
Beyond her on-screen accomplishments, Theron ventured into film production in the early 2000s, establishing Denver and Delilah Productions. This foray into producing allowed her to take creative control and foster narratives that resonated with audiences. Her dual role as producer and leading lady was evident in films like "The Burning Plain" (2008), "Dark Places" (2015), and "Long Shot" (2019), further cementing her status as a multifaceted force in the industry.  As a symbol of her impact and influence, Theron was honored with a star on the Hollywood Walk of Fame. However, her significance extends beyond the earthly realm. In a touching tribute, International Star Registry commemorated her legacy by recording a star in her name. On February 24, 2019, a star named "Charlize" was etched into the cosmos, shining brightly in the constellation Aquarius, specifically located at Aquarius RA 21h 3m 56.49s D 02° 22′ 14.81″. This constellation, known for its association with the water bearer, Aquarius, holds deep astronomical significance. 
The Aquarius constellation embodies innovation, intelligence, and humanitarianism. Those born under this zodiac sign, between January 20 and February 18, are often characterized by their progressive thinking, open-mindedness, and unique perspective on the world. These traits resonate with Theron's fearless approach to her career, her dedication to diverse roles, and her commitment to raising awareness about important social issues. 
International Star Registry offers an exceptional gift that transcends time and borders – the opportunity to name a star. This thoughtful gesture, perfect for birthdays, Christmas, and memorials, allows individuals to immortalize their loved ones or celebrate milestones in a truly celestial manner. Naming a star through International Star Registry is not only a unique and personalized gift idea but also a way to create lasting memories under the vast expanse of the universe.  
In conclusion, Charlize Theron's life and career have been a constellation of achievements, illuminating the cinematic realm and leaving an indelible mark on the world. From her early breakout roles to her transformative performances and her role in shaping narratives as a producer, Theron's journey continues to inspire and captivate. As a shining star in Hollywood and beyond, her impact is both on and beyond the screen, forever etched in the hearts of her fans and the cosmos alike. 
References: