Ashley Tisdale: A Stellar Journey of Talent and Success
Modified: July 1, 2023     Author: International Star Registry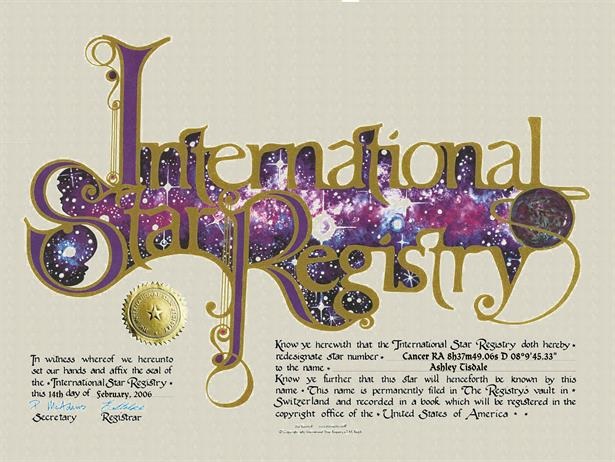 Ashley Tisdale, a multifaceted actress, singer, and producer, has captured the hearts of millions with her remarkable talent and radiant personality. From her early days as a child star to her rise to fame on the Disney Channel, Tisdale's career has been nothing short of extraordinary. Alongside her numerous accomplishments, Tisdale has been honored with a star named after her through International Star Registry, a unique and meaningful gift that highlights her stellar achievements. Let's explore the life, career, and accomplishments of Ashley Tisdale, and discover the celestial wonders of the star named in her honor.  Ashley Michelle Tisdale was born on July 2, 1985, in Monmouth County, New Jersey, and from a young age, she exhibited a natural inclination towards the performing arts. Her passion for acting led her to audition for various television and theater roles, and her talent quickly caught the attention of industry professionals. Tisdale's breakthrough came in 2005 when she landed the role of Sharpay Evans in Disney Channel's hit movie "High School Musical." 
The release of "High School Musical" in 2006 catapulted Tisdale to international fame. Her portrayal of the sassy and ambitious Sharpay Evans resonated with audiences of all ages, making her a household name. Tisdale's mesmerizing performances and undeniable chemistry with her co-stars further solidified the movie's success. The overwhelming popularity of the franchise led to two sequels, where Tisdale reprised her role, cementing her status as a Disney icon.  Following the immense success of "High School Musical," Ashley Tisdale ventured into the music industry. Her debut album, "Headstrong," was released in 2007 and showcased her versatile singing abilities. The album's lead single, "He Said She Said," climbed the music charts, propelling Tisdale into the realm of pop stardom. She continued to release music, collaborating with renowned artists and refining her sound. Tisdale's music career allowed her to explore different genres, further establishing her as a versatile artist. 
Tisdale's talent extended beyond music and into television and film. She appeared in various television shows, including the critically acclaimed series "The Suite Life of Zack & Cody" and its spin-off "The Suite Life on Deck." Her ability to effortlessly transition between comedic and dramatic roles showcased her versatility as an actress. Tisdale also pursued film projects, starring in movies such as "Sharpay's Fabulous Adventure" and "Scary Movie 5," where she exhibited her comedic timing and acting prowess.  In recognition of Ashley Tisdale's remarkable achievements, someone honored her by naming a star after her through International Star Registry. The star, recorded on February 14, 2006, holds the name "Ashley Tisdale" and is located in the constellation Cancer. Cancer, known as "The Crab," is a prominent constellation in the zodiac. In astronomy, constellations like Cancer provide a framework for locating stars in the night sky, allowing us to explore the vastness of the universe. In astrology, Cancer is associated with qualities such as sensitivity, intuition, and nurturing, making it a fitting location for Ashley Tisdale's named star. 
International Star Registry offers a one-of-a-kind opportunity to name a star after a loved one, capturing a personal connection to the cosmos. With options to "name a star" and "buy a star package," individuals can celebrate special occasions by immortalizing a person's name among the stars. This extraordinary gift allows people to symbolically embrace the wonder of the universe and create lasting memories.  Ashley Tisdale's journey from a young starry-eyed performer to an accomplished actress, singer, and producer is a testament to her immense talent and dedication. Her portrayal of Sharpay Evans in the "High School Musical" franchise solidified her status as a beloved Disney icon. Moreover, the star named after her through International Star Registry is a testament to her enduring impact on the entertainment industry. With its ability to commemorate special moments, International Star Registry offers a unique and meaningful gift for various occasions, including birthdays, Mother's Day, and weddings. The opportunity to name a star is a truly celestial and everlasting way to honor loved ones and celebrate their achievements. Consider International Star Registry as the perfect gift to make any occasion truly memorable. 
References: