Alex Landi Has a Star in the Sky
Modified: July 1, 2023     Author: International Star Registry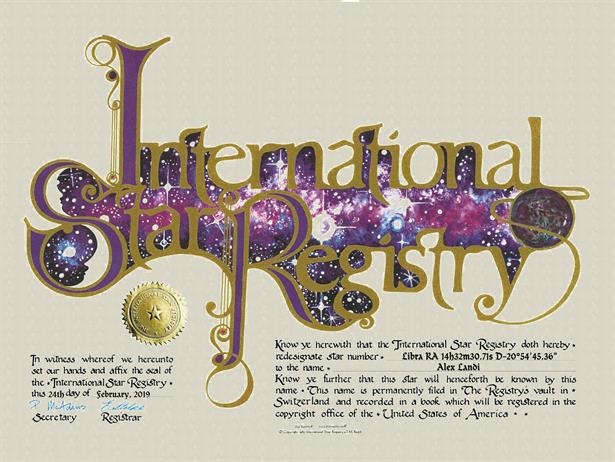 Alex Landi, born on September 28, 1992, is a talented American actor and model of Korean-Italian heritage. With his undeniable charisma and remarkable acting skills, Landi has made a significant impact on the entertainment industry. Best known for his groundbreaking role as Dr. Nico Kim on ABC's Grey's Anatomy, Landi has become an influential figure, breaking barriers and captivating audiences around the world.  Landi's career reached new heights on September 6, 2018, when it was announced that he had been cast as Dr. Nico Kim in Grey's Anatomy's fifteenth season. This role not only marked Landi's breakthrough in the television industry but also made history as he became the first gay male surgeon and the first male surgeon of Asian descent in the series. The significance of his casting earned him a feature spread in Women's Wear Daily (WWD.com) in September 2018, showcasing his immense talent and paving the way for future accomplishments.  The year 2019 proved to be another remarkable chapter in Landi's career. He secured a recurring role in the second season of Netflix's popular series Insatiable, further showcasing his versatility and range as an actor. Landi's ability to captivate audiences with his performances earned him critical acclaim and a growing fan base. 
Continuing to expand his repertoire, Landi embarked on a new project in 2021, joining the cast of The CW's Walker. Portraying the character Bret Nam, he demonstrated his dedication to his craft and the ability to seamlessly embody diverse roles. Additionally, Landi had the opportunity to feature in the music video for Doja Cat's hit single "Kiss Me More" alongside SZA, further showcasing his presence in the entertainment industry.  Outside of his acting career, Landi has also received a unique and remarkable gift that truly embodies the star power he possesses. On February 24, 2019, a star was officially named after him, courtesy of the International Star Registry. This special star, located in the Libra constellation, holds the coordinates Libra RA 14h 32m 30.71s D-20° 54′ 45.36″. The Libra constellation, known for its association with balance and harmony, adds an extra layer of symbolism to this meaningful gesture.  Astrology enthusiasts understand the profound influence the stars and constellations have on human lives. The Libra constellation, symbolized by scales, is often associated with justice, balance, and harmonious relationships. Its placement in the zodiac signifies the importance of finding equilibrium and fairness in one's life. The star named after Alex Landi within this constellation represents his unique presence, illuminating the path he treads and inspiring others to seek balance and harmony in their own lives. 
The International Star Registry offers a fascinating and meaningful gift for various occasions, including weddings, birthdays, and holidays. With the ability to "name a star" and record it officially, the International Star Registry provides individuals with the opportunity to commemorate their loved ones or celebrate special events in a truly extraordinary way. Buying a star package from the International Star Registry allows people to express their love and appreciation with a lasting, celestial tribute that can be admired for generations to come.  In conclusion, Alex Landi has become a beacon of inspiration and representation in the entertainment industry. His groundbreaking role on Grey's Anatomy, along with his captivating performances in various other projects, have solidified his status as a rising star. The star named after him in the Libra constellation through the International Star Registry serves as a testament to his influence and impact on those around him. Through his talent, charisma, and dedication, Landi continues to shine brightly and forge a path for future generations of actors and performers. 
References: