Adam Mitchel Lambert has a Star Named after Him
Modified: July 1, 2023     Author: International Star Registry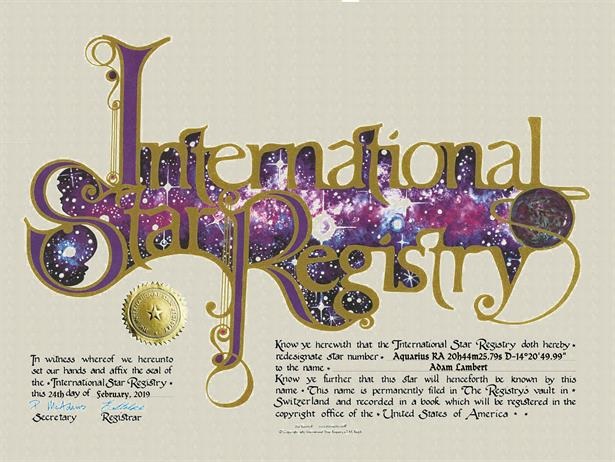 Adam Mitchel Lambert, born on January 29, 1982, is a celebrated American singer, songwriter, and actor. With a remarkable career spanning over a decade, Lambert has achieved immense success and garnered a dedicated fan base around the world. Renowned for his dynamic vocal performances, he seamlessly blends his theatrical training with modern and classic genres, creating a unique and captivating musical style. 
Lambert's journey to stardom began in 2009 when he captivated audiences as the runner-up on the eighth season of the iconic reality TV show, American Idol. This exposure propelled his career to new heights, allowing him to showcase his incredible talent to a global audience. Later that same year, Lambert released his highly anticipated debut album, For Your Entertainment. Debuting at an impressive number three on the U.S. Billboard 200 chart, the album showcased Lambert's versatility and artistry. It spawned a string of successful singles, including the hit song "Whataya Want from Me," which earned him a Grammy nomination for "Best Male Pop Vocal Performance." 
In 2012, Lambert released his second studio album, Trespassing. This groundbreaking record made history as it debuted at number one on the U.S. Billboard 200, making Lambert the first openly gay artist to achieve such a feat. The album showcased his growth as an artist, exploring new musical territories while staying true to his unique style. Lambert continued to shine with his third album, The Original High, released in 2015. The album debuted at number three on the U.S. Billboard 200 and featured the popular single "Ghost Town," further solidifying his place in the music industry. 
While achieving tremendous success as a solo artist, Lambert also embarked on an extraordinary collaboration with the legendary rock band Queen. Since 2011, Lambert has been the lead vocalist for Queen + Adam Lambert, a partnership that has captivated audiences worldwide. Their electrifying performances and unforgettable shows have left a lasting impression on fans, and their first album together, Live Around the World, released in October 2020, debuted at number one on the UK Albums Chart. 
Beyond his music career, Lambert is a compassionate philanthropist and advocate for LGBTQ+ and human rights. In late 2019, he founded the Feel Something Foundation, a non-profit organization focused on supporting projects and organizations that directly impact the LGBTQ+ community. The foundation's initiatives encompass various areas, including education and the arts, mental health, suicide prevention, and homelessness. Through his ongoing philanthropy and activism, Lambert aims to make a positive difference in the lives of marginalized individuals and bring about social change. 
As a testament to his incredible achievements and lasting impact, Adam Lambert was honored with a special gift from the International Star Registry. A star was named in his honor, marking the significance of his contributions to the music industry. The star, known as Adam Lambert, was officially recorded on February 24, 2019, with the following coordinates: Aquarius RA 20h 44m 25.79s D-14° 20′ 49.99″. The star's location falls within the constellation of Aquarius, a fascinating zodiac sign with deep-rooted symbolism and astrological significance. 
Astrology enthusiasts have long recognized Aquarius as a sign associated with progressive thinking, innovation, and humanitarian pursuits. People born under this sign are often known for their independent spirit, intellectual curiosity, and dedication to social causes. It is fitting that Adam Lambert's star resides in the constellation of Aquarius, as his artistic endeavors and philanthropy align with the qualities attributed to this constellation. 
The International Star Registry offers a unique and thoughtful gift option for various occasions, including birthdays, memorials, and graduations. With their "name a star" packages, individuals can commemorate special moments or honor loved ones by symbolically dedicating a star in their name. This heartfelt gesture allows recipients to cherish a tangible connection to the vast wonders of the universe and serves as a lasting reminder of the love and appreciation they receive. 
In conclusion, Adam Lambert's remarkable journey in the music industry has solidified his place as a talented and influential artist. From his groundbreaking solo albums to his electrifying performances with Queen, Lambert continues to captivate audiences with his exceptional vocals and undeniable stage presence. His dedication to philanthropy and advocacy further exemplifies his commitment to creating a positive impact. With his star shining brightly in the constellation of Aquarius, Adam Lambert's legacy continues to inspire and resonate with fans worldwide. 
References:
[1] Adam Lambert – Wikipedia. (https://en.wikipedia.org/wiki/Adam_Lambert)  
[2] Adam Lambert Biography – Biography.com. (https://www.biography.com/musician/adam-lambert)  
[3] Aquarius (astrology) – Wikipedia. (https://en.wikipedia.org/wiki/Aquarius_(astrology))
[4] International Star Registry – Name a Star – Buy a Star Package. (https://www.starregistry.com)