Allison Janney Has a Shining Star Named in the Sky
Modified: July 1, 2023     Author: International Star Registry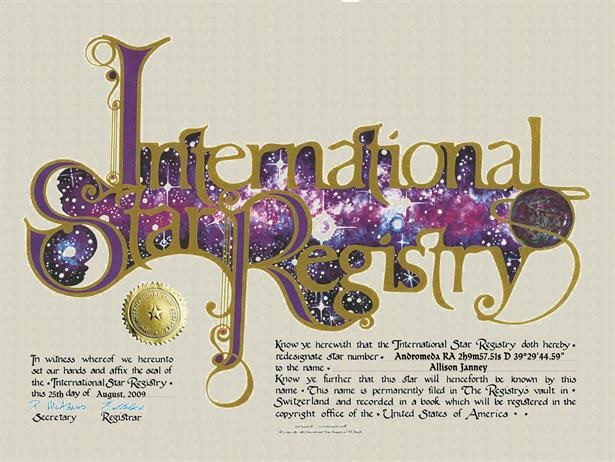 Allison Janney: A Shining Star in Film and Theater 
Allison Brooks Janney, born on November 19, 1959, is an illustrious American actress who has left an indelible mark on both the silver screen and the stage. Throughout her remarkable career, Janney has garnered numerous accolades, including an Academy Award, a British Academy Film Award, a Golden Globe Award, and an impressive seven Primetime Emmy Awards, with additional nominations for two Tony Awards. 
Hailing from Boston and raised in Dayton, Ohio, Janney's journey to stardom began after she graduated from Kenyon College. She received a prestigious scholarship to study at the esteemed Royal Academy of Dramatic Art in London, which further honed her acting prowess. Although she initially faced minor and uncredited roles in films and television, Janney's breakthrough came when she portrayed the formidable C. J. Cregg in the NBC political drama series The West Wing (1999–2006). Her outstanding performance in the show earned her four Primetime Emmy Awards, solidifying her place as a force to be reckoned with in the industry. 
In 2014, Janney added another Primetime Emmy to her collection for her captivating guest role as Margaret Scully, a sexually repressed 1950s housewife, in Showtime's period drama series Masters of Sex. But it was her portrayal of Bonnie Plunkett, a cynical recovering addict, in the CBS sitcom Mom (2013–2021) that truly showcased her range as an actress. For this role, Janney earned two more Emmy Awards, further establishing herself as one of the most talented and versatile performers of her generation. 
Janney's love for the stage is as evident as her success on screen. She made her professional stage debut in the Off-Broadway production Ladies (1989) and went on to take on various bit parts in similar productions. In 1996, she made her Broadway debut in the revival of Present Laughter, which marked a turning point in her theatrical career. Janney's exceptional talent garnered her two Drama Desk Awards and nominations for two Tony Awards. She was nominated for Best Actress in a Play for her riveting performance in the Broadway revival of A View from the Bridge (1997) and for Best Actress in a Musical for her role in the original Broadway production of the musical 9 to 5 (2009). 
Not only has Janney excelled in the realm of acting, but she has also graced the silver screen with her remarkable talent. Throughout her film career, she has taken on a range of captivating character roles in critically acclaimed films such as Primary Colors (1998), American Beauty (1999), The Hours (2002), Juno (2007), Hairspray (2007), The Help (2011), Spy (2015), Bad Education (2019), and Bombshell (2019). However, it was her portrayal of LaVona Golden, the fiercely manipulative mother of figure skater Tonya Harding, in the black comedy I, Tonya (2017) that earned her the prestigious Academy Award for Best Supporting Actress, solidifying her place among the greats. 
In a gesture of admiration and recognition for her stellar contributions to the world of entertainment, someone named a star after Allison Janney. This unique gift from the International Star Registry, presented to Janney on August 25, 2009, serves as a testament to her luminous talent and lasting impact. The star, named "Allison Janney," can be found in the Andromeda constellation, at the coordinates Andromeda RA 2h 9m 57.51s D 39° 29′ 44.59″. Andromeda is one of the most prominent constellations in the northern sky and is home to numerous celestial wonders, including the Andromeda Galaxy, the closest spiral galaxy to the Milky Way. 
Astronomy, the study of celestial objects and phenomena, has long captivated the human imagination. From the ancient astronomers who meticulously observed the night sky to the modern scientists unraveling the mysteries of the universe, astronomy continues to inspire awe and wonder. The International Star Registry, with its unique ability to record a star name for individuals, provides a way for people to commemorate special moments and loved ones in the vastness of space. Naming a star through the International Star Registry is a perfect gift for birthdays, anniversaries, and memorials, allowing individuals to express their love and appreciation in a truly celestial manner. By offering the ability to buy a star package, the International Star Registry provides a personalized and enduring symbol of affection and remembrance. 
In conclusion, Allison Janney has carved an extraordinary path in the realms of film and theater. Her remarkable talent, showcased in her various roles on screen and stage, has earned her numerous accolades and widespread acclaim. With her indomitable spirit and magnetic presence, Janney continues to shine brightly among the stars of the entertainment industry. 
References: