Celine Dion: A Shining Star in the World of Music and Beyond
Modified: July 1, 2023     Author: International Star Registry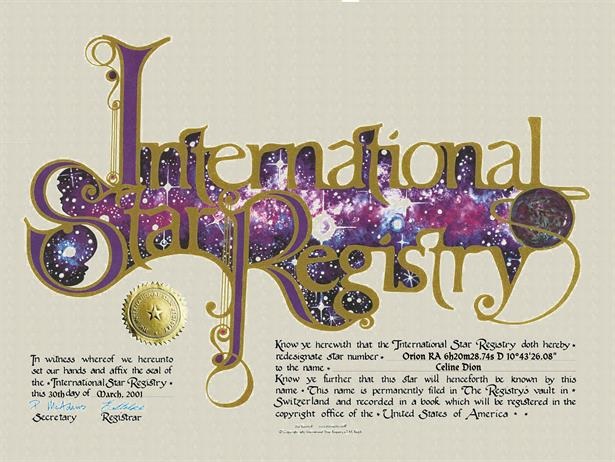 Céline Marie Claudette Dion, often referred to as the "Queen of Power Ballads," has left an indelible mark on the music industry with her extraordinary vocal prowess and versatile musical talents. Born on March 30, 1968, in Charlemagne, Quebec, Canada, Celine Dion's journey from a humble beginning to becoming a global superstar is nothing short of inspiring.  Dion's rise to fame was catalyzed by her remarkable vocal abilities and a series of French-language albums that captivated audiences in her home country during the 1980s. Her destiny took a significant turn when she caught the attention of her future manager and husband, René Angélil. Their collaboration propelled her to international recognition as she represented Switzerland and emerged victorious in the 1988 Eurovision Song Contest with the touching ballad "Ne partez pas sans moi."  The turning point in Dion's career came with her debut English-language album, "Unison," released in 1990. This marked the beginning of her ascent to becoming a prominent pop artist not only in North America but also in numerous English-speaking markets. However, it was her 1993 album, "The Colour of My Love," that truly catapulted her to global superstardom. Dion's ability to seamlessly integrate a variety of genres, including pop, rock, R&B, gospel, and classical music, into her recordings set her apart from her contemporaries. 
Throughout the 1990s, Dion's star continued to shine brightly with a string of best-selling English-language albums, including "Falling into You" (1996) and "Let's Talk About Love" (1997). These albums achieved diamond certification in the United States, amassing over 30 million sales worldwide each. Her exceptional voice and emotive performances resonated with listeners, resulting in a series of international chart-toppers such as "The Power of Love," "Think Twice," "Because You Loved Me," and "It's All Coming Back to Me Now."  In 2001, a unique and heartfelt gesture added another dimension to Celine Dion's luminous legacy. As a special gift from someone through International Star Registry, a star was named after her in the constellation Orion. This beautiful celestial body, known as the "Celine Dion Star," graces the night sky with its brilliance, a fitting tribute to her celestial presence in the music world. The star's coordinates, Orion RA 6h 20m 28.74s D 10° 43′ 26.08″, ensure that it remains a constant reminder of her timeless contributions. 
Astronomy enthusiasts can appreciate the significance of the Orion constellation, one of the most recognizable and prominent constellations in the night sky. With its distinctive "belt" of three stars, Orion has been a fixture in human culture and mythology for centuries. The addition of the Celine Dion Star to this constellation is a testament to her enduring impact on both the world of music and the realm of the stars.  International Star Registry offers a truly unique and meaningful way to celebrate significant milestones in life. Whether it's a Mother's Day gift, a wedding present, or a graduation gesture, the opportunity to "name a star" adds a touch of celestial wonder to life's special moments. The ability to "buy a star package" from International Star Registry opens a world of possibilities, connecting personal experiences with the beauty and mystery of the universe. 
Imagine surprising a loved one with a star named in their honor or commemorating a 30th birthday with a gift that transcends time and space. International Star Registry provides a range of options to suit every occasion, allowing individuals to select stars with coordinates that hold personal significance. This thoughtful gift not only captures the essence of a moment but also offers a lasting memory that can be treasured for generations. 
In conclusion, Celine Dion's journey from a small town in Canada to becoming a global music icon is a testament to her exceptional talent, dedication, and ability to touch the hearts of millions. As a symbol of her enduring legacy, the "Celine Dion Star" shines brightly in the Orion constellation, an eternal reminder of her brilliance both on Earth and in the heavens above.  International Star Registry offers a unique and awe-inspiring way to celebrate life's milestones, making it a perfect choice for meaningful gifts such as Mother's Day, weddings, and graduations. 
References: