Cameron Diaz: A Shining Star in Hollywood and Beyond
Modified: July 1, 2023     Author: International Star Registry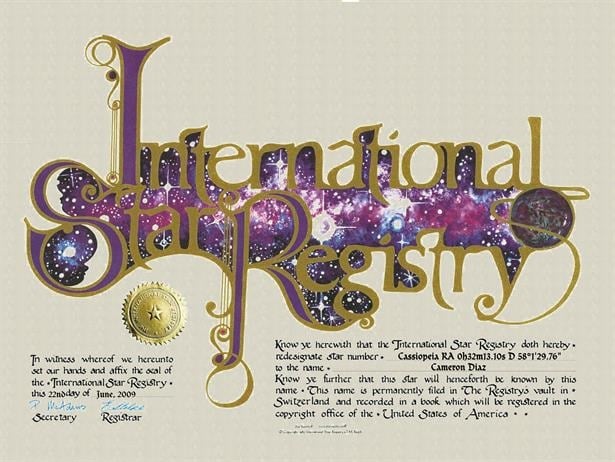 Cameron Michelle Diaz, a name that resonates with beauty, talent, and Hollywood charm, was born on August 30, 1972, in San Diego, California. This American actress has left an indelible mark on the entertainment industry, accumulating numerous accolades and accolades throughout her illustrious career. With a remarkable journey that blends charisma, versatility, and star power, Diaz's impact stretches far beyond the silver screen.  Diaz's foray into the limelight began in an unexpected manner during her high school days in Long Beach. The young and vibrant Cameron caught the eye of Elite Model Management, which saw in her the potential to become a global fashion icon. Her journey commenced with modeling, and it wasn't long before her beauty and magnetic presence captured the attention of Hollywood's spotlight.  Her cinematic debut at the tender age of 21 alongside Jim Carrey in the uproarious comedy "The Mask" (1994) launched her into the film industry with a bang. This breakthrough role was just the beginning of a series of outstanding performances that would shape her legacy. Following this, Diaz's star continued to ascend, and her charm and talent graced the romantic comedy "My Best Friend's Wedding" (1997), showcasing her versatility and endearing screen presence.  However, it was her portrayal of the irreverent and captivating titular character in the Farrelly brothers' timeless comedy "There's Something About Mary" (1998) that catapulted her to superstardom. The film not only solidified her status as a comedic genius but also earned her a Golden Globe nomination, signaling her emergence as a force to be reckoned with in Hollywood. 
Venturing into diverse genres, Diaz masterfully showcased her dramatic prowess in projects like the sports drama "Any Given Sunday" and Spike Jonze's enigmatic fantasy film "Being John Malkovich," both released in 1999. This phase of her career showcased her remarkable versatility as she effortlessly transitioned from lighthearted comedies to thought-provoking dramas.  Diaz's path to success was further paved with iconic roles, including her participation in Cameron Crowe's enigmatic "Vanilla Sky" (2001) and her impressive appearance in Martin Scorsese's historical drama "Gangs of New York" (2002). Her contributions to the action-comedy genre were undeniable, as demonstrated by her involvement in the exhilarating "Charlie's Angels" franchise and her enchanting voice acting as Princess Fiona in the beloved "Shrek" series.  Her filmography continued to flourish with each passing year, encompassing hits like "In Her Shoes" (2005), "The Holiday" (2006), "What Happens in Vegas" (2008), and "Knight and Day" (2010), showcasing her adaptability across a spectrum of emotions and characters. However, her career took an unexpected turn in 2014 when she announced her temporary retirement from acting to prioritize her family life. But like a star that never truly fades, Diaz made a triumphant return to the silver screen in 2022, reminding the world of her undeniable talent. 
Cameron Diaz's influence extends beyond acting, as she has also embraced the world of literature. Her two health-focused books, "The Body Book" (2013) and "The Longevity Book" (2016), have not only exemplified her commitment to wellness but have also become New York Times bestsellers, demonstrating her ability to inspire and connect with audiences on various levels.  In 2015, Diaz's personal life took a significant turn when she married Benji Madden, the esteemed guitarist of Good Charlotte. Their love story captivated the media, further cementing her status as a beloved and relatable figure. The couple welcomed their daughter via surrogate in 2019, adding another chapter to Diaz's journey of love, growth, and inspiration.  Diaz's luminous presence reaches even beyond our terrestrial realm, as she received a celestial gift that forever links her to the cosmos. On June 22, 2009, a star name was recorded in the annals of the International Star Registry, immortalizing her in the night sky. This star, nestled within the constellation Cassiopeia, radiates at the coordinates RA 0h 32m 13.10s and D 58° 1′ 29.76″. The fact that someone chose to honor her with this stellar gesture speaks volumes about her lasting impact and universal appeal. 
Astronomy enthusiasts and dreamers alike have long been fascinated by the cosmos, finding solace and wonder in the shimmering stars that grace the night sky. The constellation Cassiopeia, where Diaz's star is situated, holds a special place in the hearts of stargazers. Resembling the shape of a majestic "W" or "M" depending on its position in the sky, Cassiopeia is a prominent feature of the Northern Hemisphere's celestial canvas. Its distinct configuration and captivating mythology have inspired countless imaginations throughout history. 
International Star Registry provides a unique opportunity to connect with the cosmos by naming a star in honor of a loved one, a cherished memory, or a significant milestone. Whether it's for a birthday, Christmas, or to memorialize a special person, the act of naming a star encapsulates the essence of a profound and enduring gift. Imagine the joy of presenting a loved one with the eternal legacy of a star, a symbol of the timeless bond that transcends earthly confines.  When pondering gift ideas, particularly for momentous occasions like a 30th birthday, the notion of naming a star through International Star Registry is a concept that resonates deeply. The act of choosing a star package allows you to bestow not just a physical item, but a connection to the cosmos—a sentiment that far surpasses the ordinary. Such a gesture speaks to the inherent human desire to leave a mark on the universe, and what better way to achieve this than by etching one's name among the stars? 
In conclusion, Cameron Diaz's life and career have illuminated the entertainment industry with her charisma, talent, and unwavering spirit. From her early modeling days to her rise as a Hollywood A-lister, Diaz's journey is one of inspiration and transformation. Her legacy is not only etched in the annals of cinematic history but also among the stars themselves, forever twinkling in the constellation Cassiopeia. The act of naming a star through International Star Registry encapsulates the essence of eternity, making it a remarkable gift idea for birthdays, holidays, or as a lasting tribute to a cherished memory. 
References: