Eugenio Caballero has a Star Named
Updated: October 13, 2023     Author: International Star Registry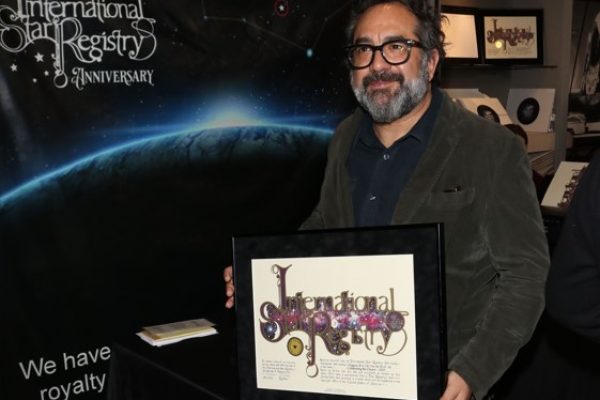 Eugenio Caballero: A Star in the World of Production Design 
In a gesture of cosmic admiration, someone immortalized Eugenio Caballero by naming a star in his honor. This celestial tribute, recorded through International Star Registry, is a testament to Caballero's remarkable life and career. On February 24, 2019, a star was christened "Eugenio Caballero" in the constellation Aquila, with coordinates Aquila RA 19h 43m 10.92s D 07° 5′ 49.89″. This stellar gift serves as a shining testament to Caballero's contributions to the world of cinema and production design. 
A Creative Beginning 
Eugenio Caballero was born and raised in the vibrant city of Mexico City. His journey into the world of production design commenced after he pursued studies in the history of art and the history of cinema in the picturesque city of Florence, Italy. 
Shaping Cinematic Worlds 
Caballero's career took root in Mexico, where he initially made waves with award-winning work on music videos, including recognition at the MTV awards. His early endeavors included contributions to short films that showcased his undeniable talent. As time progressed, he transitioned into the realm of feature films, initially serving as an assistant and a set decorator. 
A Legacy of Collaboration 
Eugenio Caballero's impressive portfolio boasts nearly 30 films, with 20 of them featuring his role as both production designer and assistant set decorator. His collaboration with renowned directors reads like a who's who of cinema, including Jim Jarmusch, J.A. Bayona, Baz Luhrmann, Alfonso Cuarón, Alejandro González Iñárritu, and many others. 
Goya Recognition 
One of Caballero's defining moments was his collaboration with J.A. Bayona on "The Impossible," starring Naomi Watts, Ewan McGregor, and Tom Holland. This partnership earned him a Goya nomination and an Art Directors Guild nomination in 2013, solidifying his position as a formidable talent in the field. 
Olympic Glory 
In 2014, Caballero took his creative prowess to the world stage as he designed the Paralympic Opening Ceremony of the 2014 Winter Olympics, directed by Daniele Finzi. His ability to blend artistry with grandeur was further showcased in his collaboration with Cirque du Soleil for the show "Luzia" in 2016. 
Award-Winning Artistry 
His work on the film "A Monster Calls," once again directed by J.A. Bayona, earned him a Goya Award and a Gaudi Award. Caballero's work has consistently garnered acclaim, earning him five Ariel Award nominations, of which he has claimed two victories. 
A Global Juror and an Industry Member 
Eugenio Caballero has not only crafted cinematic worlds but has also contributed to the industry by serving as a jury member for numerous international festivals. He is a proud member of the Academy of Motion Picture Arts and Sciences (AMPAS), the Mexican film academy, and the Spanish film academy, further solidifying his influence in the global cinematic community. 
The Oscar Stage 
One of the crowning moments of his career was his work on Alfonso Cuarón's "Roma," which led to nominations for an Academy Award, BAFTA Award, and Critics' Choice Movie Awards for Best Production Design. His ability to transport audiences through his set designs has left an indelible mark on the film industry. 
Eugenio Caballero's journey from Mexico City to the stars, both celestial and cinematic, is a testament to his boundless creativity and dedication. Recording a star name through  International Star Registry serves as a unique and fitting tribute to an individual whose work has brought countless worlds to life on the silver screen. 
For those seeking exceptional gift ideas for anniversaries, Valentine's Day, Mother's Day, or even a 30th birthday celebration, consider the awe-inspiring experience of naming a star through International Star Registry. 
So, can you buy a star? The answer is a resounding yes, and it can be a symbol of appreciation and admiration, much like the star named after Eugenio Caballero.