Billy Ray Cyrus: A Journey Through Country Music and the Cosmos
Modified: July 1, 2023     Author: International Star Registry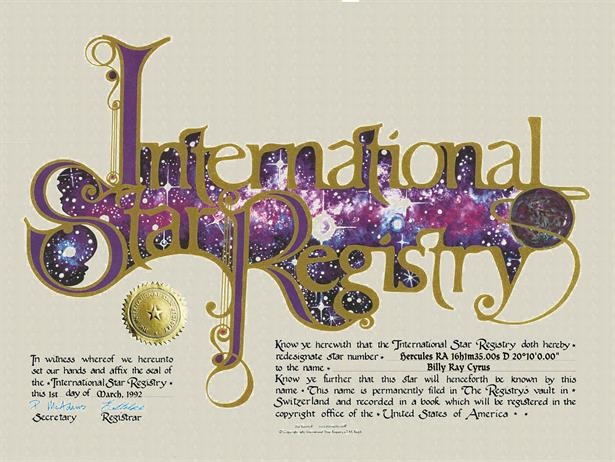 Billy Ray Cyrus, born on August 25, 1961, in Flatwoods, Kentucky, has etched his name into the annals of American country music as a prolific singer, songwriter, and actor. With a career spanning decades, and a multitude of accomplishments, Cyrus has left an indelible mark on the entertainment world.  Cyrus's musical journey began at the tender age of four when he first discovered his passion for singing. Born to Ron Cyrus, a steelworker-turned-politician, and Ruth Ann Casto, he grew up surrounded by the soulful melodies of bluegrass and gospel music, with his family being deeply entrenched in the world of musicians. His grandfather, a Pentecostal preacher, instilled in him a love for music that would shape his destiny.  Despite a brief hiatus from the strings of his father's guitar due to his left-handedness, Cyrus's determination and unwavering passion for music prevailed. He attended Georgetown College on a baseball scholarship, but it was a Neil Diamond concert that ignited his desire to pursue a musical career. Dropping out of college during his junior year, he set a 10-month goal to break into the music industry. In the 1980s, he played in a band called Sly Dog, a moniker inspired by a one-eyed dog that was Cyrus's loyal companion. 
The culmination of his efforts came when he signed a record contract with Mercury Nashville Records, setting the stage for his illustrious career as a country music sensation. His breakthrough came in 1992 with the release of his iconic single "Achy Breaky Heart." This chart-topping hit not only conquered the U.S. Hot Country Songs chart but also achieved a rare feat by earning triple platinum status in Australia, marking a milestone in Cyrus's career.  Following this meteoric success, Cyrus continued to deliver chart-topping hits and albums that solidified his position in the country music pantheon. His debut album "Some Gave All" reached unparalleled heights, achieving 9× multi-platinum status in the United States. It not only spent a record-breaking 17 consecutive weeks at number one on the Billboard 200 but also marked the first time a debut album entered the Billboard Top Country Albums chart at number one. 
Cyrus's accomplishments extended beyond the realm of country music, as he ventured into the world of acting. From 2001 to 2004, he starred in the television show "Doc," portraying a country doctor's journey from Montana to New York City. His on-screen presence continued to captivate audiences with his role in the Disney Channel series "Hannah Montana" from 2006 to 2011, where he played the fictional father of his real-life daughter, Miley Cyrus. This heartwarming portrayal added a new dimension to his artistic repertoire.  In 2016, Cyrus took on the role of Vernon Brownmule in the CMT sitcom "Still the King," showcasing his versatility as an actor. However, his musical roots remained at the core of his identity, and he continued to enthrall audiences with his ever-evolving sound and artistic expressions. 
As the world of entertainment celebrated Cyrus's achievements, another unique star was added to his legacy. On March 01, 1992, the International Star Registry bestowed the honor of a star name to Billy Ray Cyrus. Located in the Hercules constellation at coordinates RA 16h 1m 35.00s D 20° 10′ 0.00″, this celestial tribute added a touch of cosmic significance to his illustrious career.  Astronomy enthusiasts will find fascination in the Hercules constellation, a prominent feature in the night sky. Its mythology, deeply rooted in Greek legends, tells of a hero known for his incredible strength. Just as Billy Ray Cyrus exhibited strength in his musical journey, the Hercules constellation stands as a testament to human curiosity and the wonders of the cosmos. 
International Star Registry provides a remarkable opportunity to name a star, immortalizing special moments and individuals in the vast expanse of the night sky. This innovative and thoughtful gift is ideal for occasions such as Christmas, birthdays, and corporate celebrations. For those seeking unique and personalized presents, the option to buy a star package offers a timeless gesture that aligns the earthly and the ethereal.  In a world where artistic legacies and cosmic wonders intertwine, Billy Ray Cyrus stands as a shining example of resilience, creativity, and unbounded passion. From the stages of country music to the far reaches of the night sky, his journey continues to inspire and uplift. As he embarks on new chapters and celebrates milestones like his 60th birthday, the legacy of Billy Ray Cyrus remains etched in both the melodies of his music and the brilliance of his star.  In a harmonious convergence of artistry and astronomy, the name Billy Ray Cyrus graces both the hearts of music lovers and the canvas of the cosmos. 
References: